Many entrepreneurs start a company in Singapore because of the many business opportunities there as well as the business-friendly corporate taxation policies and laws.
Benefits of Starting a Business in Singapore
There are many international business opportunities which can be found in Singapore. This attractive nation, rich in history and culture, blends tradition with fresh ideas to successfully develop, maintain, and grow a plethora of business opportunities. Therefore, it is very easy to start a business in Singapore.
The dynamic business environment, first-class infrastructure, and outstanding international commercial viability of Singapore makes it a choice destination in which international companies may organize events or to which they may expand business operations. This beautiful city-state has all of the necessary convention services, exhibition halls, and state-of-the-art technology that any company needs. Therefore, it is not a problem for a company to hold a convention, conduct networking activities, or conduct business activities requiring additional equipment, infrastructure, or technology.
The many food, travel, and retail services across the country only add to the high level of convenience of operating a Singapore business. As long as the business is run in Singapore, it will never be a problem to obtain the physical necessities and additional comforts which aid operations of the business and boost employees' satisfaction.
With regard to taxation, Singapore is an excellent place for one to incorporate a company. This is because all companies conducting business operations in Singapore, whether they be local or foreign, are taxed at a flat rate of 17%. This is an extremely low rate by global standards. Furthermore, the Singaporean government offers tax exemptions to local small and medium-sized enterprises (SMEs). This increases the potential of small business opportunities. There is also no capital gains tax. This tax system contributes to Singapore's thriving corporate environment and does much to encourage the formation and growth of new businesses in the country.
Why Singapore Is Full of Business Opportunities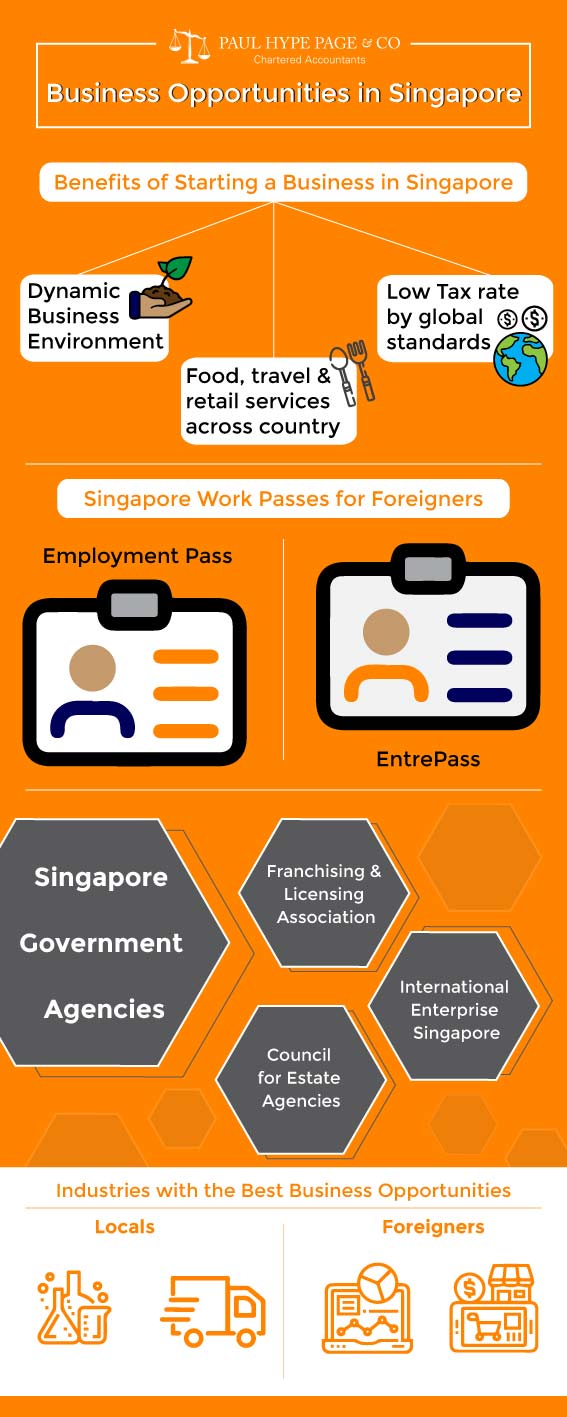 Singapore's booming technology, manufacturing, and industrial sectors give it an important role in the world of international trade. As the most developed nation in Southeast Asia, Singapore is recognized internationally as one of the best places in the world for trade and starting a business.
Among the reasons why Singapore is full of business opportunities are its extremely business-friendly policies and laws. Singapore's corporate policies, services, and laws make investing and working in the country much easier than the like in other countries. The Singaporean government has also provided assistance of various types to aid in these processes.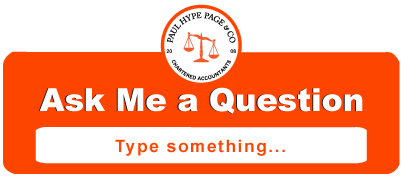 The low level of bureaucracy in Singapore is also a boon to businesses in the country. The Singaporean government promotes the growth of new industries by working with businesses, foreigners who live and work in the country, and municipal authorities. Singapore's government and its agencies are always seeking to improve the country's business growth and gain a financial advantage through new corporate ventures.
Singapore is also a country which encourages the entry of foreigners from all over the world. The Singaporean government has taken a proactive approach in recruiting and securing workers from abroad. The government does all it can to ensure that all job applicants from abroad have the requisite qualifications, skills, and education levels to suit whichever sector of the economy they are to enter. Therefore, Singapore has a high standard of human resources. To add to this, Singapore is also able to attract foreigners by way of the lifestyle it offers. Singapore has among the world's highest living standards. This can be seen in the outstanding quality of the country's healthcare system and education standards. It also boasts an extremely low crime rate. Thus, business owners from all over the world gain an interest in conducting business operations in Singapore for reasons beyond those of the corporate sphere.

Singapore Work Passes for Foreigners
Foreigners who would like to conduct business operations from within Singapore, whether working from home in a home-based business or in an office, are required to apply for an Employment Pass from the Ministry of Manpower (MOM). The EP is a work visa which allows foreign professionals, managers, executives, specialists and professionals to live and work in Singapore. Owning an EP gives foreigners more options and greater freedom of choice with regard to business opportunities in Singapore. This is because those who own an EP will then be able to enter any industry of their choice after obtaining one. EP holders may also travel to other countries without having to apply for an entry visa. They will also find it easier to become a permanent resident of Singapore when compared to those who do not hold an EP.
The EntrePass is another pass offered by the Singaporean government to help establish more business opportunities in the country. The EntrePass is a work pass for foreign entrepreneurs who are considering starting a full-time business in Singapore. It is valid for up to two years. By applying online, EntrePass applicants only have to wait for a few days before they can know about their application status. Successful applicants are provided with EntrePass, which is valid for up to two years. Subsequent EntrePass renewals extend the pass's validity for three years. However, it must also be noted that those planning to set up businesses such as food courts and food trucks, massage parlors, or employment agencies are likely to have their EntrePass application rejected.
Receiving an EP or EntrePass is not always easy. Fortunately for you, we at Paul Hype Page & Co can help you receive one if you need it. We will simplify the application process for you by working with the relevant authorities and thus allowing you to sooner receive the pass you need. Contact us via email, telephone, or social media to find out more.
Incorporate a Singapore Company – Private Limited Company
The most obvious step to take to unlock some of Singapore's business opportunities is the incorporation of a Singapore company. This is especially true in the case of foreigners. Some basic requirements for foreigners seeking to do so include the following: the business must not be illegal, the company must be registered as a private limited company, it must not be registered for more than six months at the point of application, foreign applicants must hold at least 30% of the shares in the business and the company needs to have at least S$50,000 of paid-up capital. Those who intend to incorporate a company as a sole proprietor or partnership will not be eligible for this visa.
Should you need incorporation of your company, we at Paul Hype Page & Co are able and willing to assist you with this task. Our team will see to it that every step of the incorporation process is properly completed. We will also ensure that your company's incorporation goes as smoothly s possible.


Singapore Government Agencies
The following are some of the most important Singapore government agencies with regard to the running of a business in Singapore.
Franchising and Licensing Association
The Franchising and Licensing Association is Singapore's national franchise body. Its task is to nurture and develop Singapore's franchise industry. Any franchise company is welcomed to join the Franchising and Licensing Association. The low levels of bureaucracy in Singapore ensure that there are few laws and regulations that govern the offer and sale of franchises. Therefore, there are many franchise opportunities to be had in Singapore.
International Enterprise Singapore
Singapore's international trade is assisted by International Enterprise Singapore.  This is the government agency tasked with assisting the growth of Singapore's economy on the global stage. It helps Singapore gain advantages in the global trade market. International Enterprise Singapore develops the overseas growth of companies and business associates which are based in Singapore to promote international trade. International Enterprise Singapore ultimately seeks to turn Singapore into a thriving hub for global corporate activity.
Council for Estate Agencies
The Council for Estate Agencies is the real estate sector of Singapore's government. It monitors changes in the prices of Singapore's real estate and works to stabilize them. It also uses certain measures to prevent inflation from causing real estate prices in Singapore from spiraling out of control. This is especially necessary in a country like Singapore because it is one of the world's smallest countries. Therefore, land is scarce. This in turn leads to homes, buildings, and business properties generally commanding high prices. Therefore, the Council for Estate Agencies has an extremely important role to play.
Other important Singapore government agencies related to business activity in the country include Enterprise Singapore, the Accounting and Corporate Regulatory Authority (ACRA), the Inland Revenue Authority of Singapore (IRAS), and the Economic Development Board. These agencies all play important roles in facilitating business success.
Industries with the Best Business Opportunities for Locals
Certain industries in Singapore have more business opportunities than others. For locals, one of the industries which has many opportunities for business success is the logistics industry. Singapore is one of the world's major logistics hubs. Its logistics industry strictly adheres to best practices and guidelines for security of supply chains. Many sustainable supply chain solutions are derived from Singapore. It also houses many of the world's largest third-party logistics companies and their regional centers. Taking these factors into account, it should not come as a surprise that this industry is an excellent choice for prospective local entrepreneurs to enter.
Another booming industry replete with business opportunities for Singaporeans is the chemical industry. Global demand for chemicals of all sorts has been increasing over recent years. Today, Singapore is a global center in the chemical industry. Singapore has been investing large amounts of money into infrastructure and technology related to the chemical industry. It does so in order to better serve markets in Asia and beyond. Singapore's chemical industry also spends much on training newcomers to the industry to enhance its overall quality. All of the preceding information gives evidence of why there are many opportunities awaiting those planning to enter Singapore's chemical industry.
Singapore's biomedical industry also has many excellent business opportunities for locals. Singapore is a major hub for biomedical activity. Some of the important biomedical activities that take place in Singapore include clinical development, healthcare services, product development, and basic research. Many international biomedical companies choose Singapore as their base for business operations in the Asia-Pacific region. These companies work on areas such as genetic research, medical technology, and discovery of medicines. These companies perform great services for hospitals, senior care facilities, and the like. Biomedical companies, like many other companies, are drawn to Singapore because of its high connectivity levels, outstanding infrastructure, and superior corporate environment.
Industries with the Best Business Opportunities for Foreigners
There are also some industries in which business opportunities are more open to foreigners who work in Singapore. One such industry is the tourism industry. Singapore's stature as a tourist destination has never been in doubt. More and more tourists from all over the world come to Singapore every year. As a result, many resorts, hotels, and other facilities catering to tourists have been set up. These facilities in turn provide ample business opportunities for those interested in entering the industry. This is especially true for foreigners, as they would be better positioned to connect with tourists from their home country.
The information technology (IT) industry in Singapore is also very open to business activity conducted by foreigners. Many IT professionals from abroad come to Singapore to work there. Several major international IT companies also have their regional headquarters and center of business operations in Singapore. These infusions of foreign IT professionals and companies have burnished Singapore's global standing as a technologically-advanced nation. Foreigners who have the necessary experience and skills will find that Singapore's IT industry has many opportunities for business which are ready to be taken.
Singapore's retail industry also has many business opportunities for foreigners. Many major global brands sell their products in Singapore. There are also smaller local brands and shops which are more than willing to accept the contributions of foreigners seeking to enter the industry. To enter the Singapore retail industry, one needs to have the necessary qualifications, skills, and experience which would aid in improving a brand's product campaigns and making it more marketable to prospective customers. Those seeking to establish their own brand can also do so while being secure in the knowledge that the prosperity of Singapore's retail industry should allow them to achieve much success if they do everything necessary in the proper manner.
Industries to Avoid Entering in Singapore
Of course, not every industry will always experience good times. Some industries are currently enduring difficulties. Therefore, business opportunities in these industries will be severely limited. Thus, it may be better for new entrepreneurs in Singapore to avoid these industries for the foreseeable future.
One of the industries in Singapore which is in the midst of a difficult period is the shipping industry. Around the world, the shipping industry has been mired in a severe decline. Lower global trade volume and market overcapacity have caused this to be the case. Many major shipping companies around the world are currently facing serious problems. The situation is no different in Singapore. Although Singapore's port is one of the busiest and most well-known in the world, the country's shipping industry has nevertheless suffered greatly in recent times. Therefore, it is recommended that new entrepreneurs stay out of the shipping industry for the time being.
It will also be difficult for prospective entrepreneurs to enter the airline industry. Despite its good global reputation, the economic growth of Singapore's airline industry has slowed dramatically. As global competition increases and more airlines jostle for position in the industry, many Singapore airlines increasingly find themselves with less space in which they can position themselves, thus making it more difficult to set themselves up for business success. Thus, business opportunities in the airline industry will also be limited.
Conclusion
Singapore's corporate world is full of business opportunities which can be claimed by locals and foreigners alike. Those who take and make full use of these opportunities will see much good come to them. As long as everything is done correctly, properly, and wisely, the business opportunities present in Singapore may allow one to claim great rewards through them.
Business Opportunities in Singapore FAQs
What is the duration of validity of the EP?
Tiwi
2020-06-23T12:38:54+08:00
Those who have received an EP for the first time will find that it is valid for two years. After it is renewed, its validity is extended to three years. All subsequent renewals will extend the validity period by three years.
Are Foreigners allowed to own a Business in Singapore?
Tiwi
2020-06-23T12:38:38+08:00
Anyone who has fulfilled the criteria for business ownership may own a business in Singapore. This is true of locals and foreigners alike. However, it should be noted that foreigners are not allowed to register on their own; they must do so via a local service provider.
Why do EP holders not require an Entry Visa when traveling to other Countries?
Tiwi
2020-06-23T12:38:09+08:00
One of the primary advantages of being an EP holder lies in the fact that when a EP holder travels to another country, the EP holder will not require an entry visa. This is because the EP itself effectively serves as a replacement for the entry visa. In a sense, it can be used to replace an entry visa.