ACRA Annual Filing Requirement

Compliance
All companies incorporated in Singapore must abide by the statutory compliance set by ACRA when it comes to annual filing requirements. If you have a registered company in Singapore, you are obligated to meet these requirements, including enlisting Company Secretary Services. ACRA is the Accounting and Corporate Regulatory Authority of Singapore.
To register a company in Singapore, you must have the required number of directors and shareholders. Corporate secretarial services are a requirement. You must also have an official company seal for business matters.
Your Singapore company secretary will over matters pertaining to the company. This includes assisting the directors, preparing the share certificates and share transfers, and overseeing the register of members and board resolution. The Company Secretary will also ensure all the legal requirements are met by the company.
Filing Annual Returns of a Local Company
All locally incorporated companies must hold their Annual General Meeting (AGM). They must also file their annual returns under S175, S197 and S201 of the Companies Act. At the AGM, directors shall present a true and fair view of the company's accounts to their shareholders. The Companies Act does not prescribe the minimum level of qualifications for the person preparing the accounts. However, the directors will be responsible for appointing individuals who have the required level of expertise to prepare the accounts.
When to Hold an AGM and File Annual Return?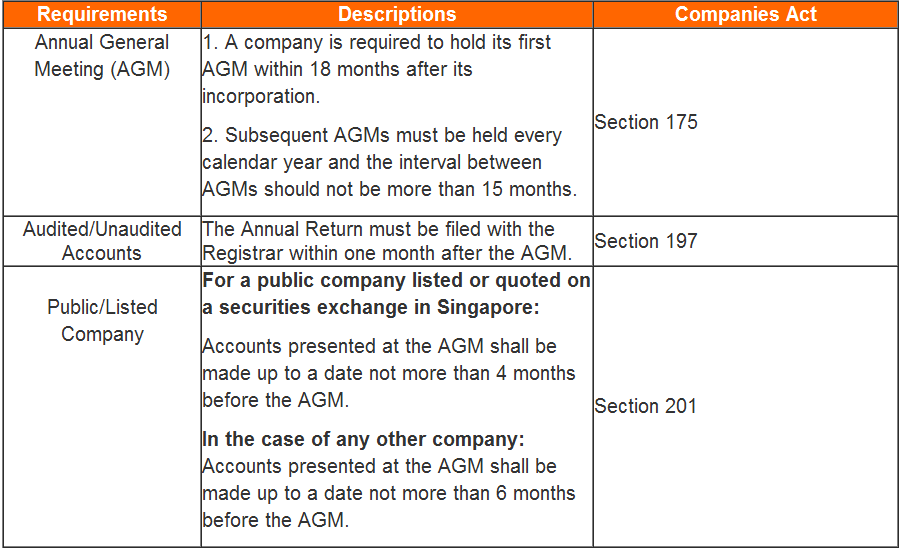 We Can Help
Paul Hype Page can assist you with your ACRA annual filing requirements. We can also assist with your company secretary service needs. For more information, contact us today.