Annual Tax Filing Requirements
Tax Exemption Scheme for New Start-Up Companies
Under this scheme, a newly incorporated branch that satisfies the qualifying conditions can claim for full tax exemption on the first $100,000 of normal chargeable income* (excluding Singapore franked dividends) for each of its first three consecutive YAs.
The exempted amount for each YA is summarised as follows:

Qualifying conditions
To qualify for the tax exemption for new start-up companies, your company must:
1. Be incorporated in Singapore (other than a company limited by guarantee**);
2. Be a tax resident* in Singapore for that YA;
3. Have no more than 20 shareholders throughout the basis period for that YA where:
All of the shareholders are individuals beneficially and directly holding the shares in their own names; OR
At least one shareholder is an individual beneficially and directly holding at least 10% of the issued ordinary shares of the company.
* A company is resident in Singapore if the control and management of its business is exercised in Singapore.
** With effect from YA 2010, the scheme will be extended to companies limited by guarantee, subject to the same conditions imposed on companies limited by shares.
Tax Rates
A company is taxed at a flat rate on its chargeable income regardless of whether it is a local or foreign company.
The tax rates and tax exemption / rebate for each Year of Assessment (YA) are as follows: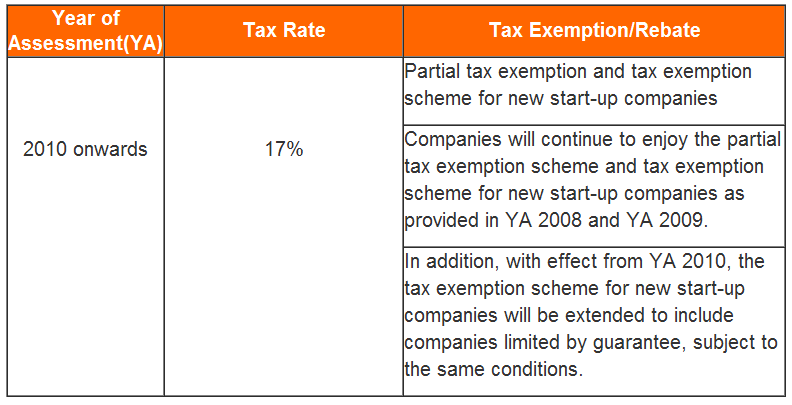 How to Determine Your First Year of Assessment
The first YA refers to the YA relating to the basis period during which the company was incorporated.
From the fourth YA onwards, your company will be given partial tax exemption instead of the exempted amount for new start-up companies.
Keeping Proper Records and Time limit to Raise Assessments
Company must maintain proper records of its financial transactions and retain the source documents, accounting records and schedules, bank statements and any other records of transactions connected with your business.
For YA 2008 and each subsequent YA, the record-keeping period has been reduced from seven to five years.