Annual Tax Filing Requirements
Tax Exemption Scheme for New Start-Up Companies
A tax exemption scheme designed to provide assistance for companies that recently commenced operations was introduced by the Singaporean government for the 2005 year of assessment (YA). This scheme was intended to promote local business initiatives and help them grow. 
Eligible companies benefit from this scheme for three YAs. During these YAs, the company receives a complete tax exemption on the first S$100,000 of normal chargeable income it earns. This exemption is then followed by a 50% exemption on the next S$200,000 of normal chargeable income earned. All income which is to be taxed at the prevailing corporate tax rate is regarded as normal chargeable income. 
However, this scheme will be changed starting from YA 2020. From YA 2020, qualifying companies will receive an exemption of 75% on the first S$100,000 of normal chargeable income over the first three YAs. The second exemption of 50% on the next S$200,000 of normal chargeable income earned will remain intact. The initial exemption was reduced because other forms of support for such companies are being developed in tandem with this scheme. 
Companies that are eligible for this tax exemption must have fulfilled certain qualifying conditions. The company must have been incorporated in Singapore. It must also have been a Singapore tax resident during the YA to which the exemption applies. During the basis period for the YA in question, the company cannot have more than 20 shareholders. Among these shareholders, all must be individuals unless at least one is an individual who holds a minimum of 10% of the company's ordinary shares. 
Two types of companies are permanently ineligible for the exemption. Companies whose primary business activity is investment holding and companies which undertake property development for investment, sale, or both cannot receive the exemption. 

Corporate Income Tax Rates
In Singapore, all companies are taxed based on their chargeable income. All chargeable income is taxable income and includes both locally-sourced and foreign-sourced income. This tax is imposed at a flat rate of 17% and applies to both local and foreign companies. This rate of 17% was introduced in 2010.  Certain corporate income tax rebates, dividends paid or received, complete or partial tax exemptions, withholding taxes, and tax treaties may also change the total amount of tax payable. 
Singapore's corporate tax rates are among the world's lowest. Corporate tax rates in Singapore are part of why the country is among the world's leading destinations for corporate activity, business expansion, and investment.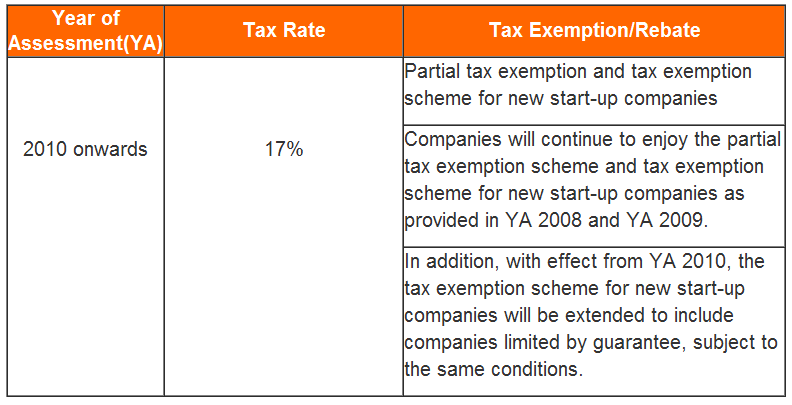 Years of Assessment and Basis Periods
Companies are taxed on all income earned during the preceding financial year. This applies to all local and foreign companies, regardless of their status as Singapore tax resident companies if they have it. The year in which a certain amount of income is assessed to tax is referred to as the YA. Tax is assessed after a taxpayer's income and expenses over a financial year are examined. This financial year in question is the one-year period directly preceding the YA. The financial year is also known as the basis period. 
As an example, income assessed to tax in YA 2019 is related to income and expenses over the 2018 basis period. 
A company's first YA is the YA that immediately follows the basis period containing the date of the company's incorporation. It must be noted that neither a company's YA nor basis period must be concurrent with a calendar year. The factors that determine the beginning and ending dates of a company's YA include the date on which the company has chosen as its financial year end, as well as the closing date of its first set of accounts. Therefore, even companies that were incorporated at the same time could have different beginning and ending dates for their respective YAs and basis periods. 
Maintenance of Financial Documents and Records
Every company is required to maintain records detailing its financial transactions. It must also retain accounting schedules and records, source documents, bank statements, and any other records containing information about the company's business activity. These documents and records are to be kept for five years. They are important in filing an income tax return, as the Inland Revenue Authority of Singapore (IRAS) may require references to them.