Register a Singapore Business
Many people dream of escaping from a routine office job and starting up a business. Owning a  business gives its owner great benefits, especially with regard to cash and time.  
However, issues such as lack of ability, amount of start-up funds, insufficient networking, and other risks involved prevent many from getting started.  There are also certain requirements to be fulfilled, such as a company business profile, one or more directors who are 18 years old or older, and corporate bank accounts.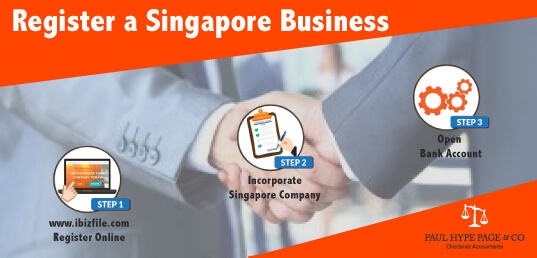 According to the World Bank, Singapore is one of the best places to conduct business in the Asia-Pacific region. However, there are factors that need to be considered before registering a Singapore business. 
The following are some of the questions a prospective business owner needs to ask before attempting to register a company in Singapore and become a successful entrepreneur through owning one or more registered companies.
Is Your Business Suitable for the 

Singapore Market?
Although there is no such thing as the 'right' or 'wrong' business, there are certain types of  businesses or industries that when incorporated in Singapore, will thrive in the Republic.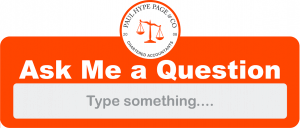 Tourism
The travel and tourism industry is one of the largest contributors to Singapore's economy. Singapore's high safety level, affordable shopping options, and modern infrastructures make it a preferred destination for travelers around the world. 
Hospitality
Destinations with booming tourism industries tend to have strong hospitality industries. Such is also the case in Singapore. Options available for those planning to enter this industry include bars, restaurants, cafés, hotels, and resorts. 
Information Technology
Globally-renowned IT service companies such as Microsoft, Apple, Google, and Micron Technology Inc have their regional headquarters in Singapore. Although those mentioned companies are MNCs, locals can also set up IT service provider firms in Singapore. Other IT firms have already set up businesses in Singapore owing to the growing potential and skilled labour available in this industry. The infrastructure in Singapore is at a level high enough to support what IT businesses will require in years to come. 
One could set up a business that provides a variety of IT services such as website development, social networking, web design, and others depending on the interests and skillset of the prospective business owner. 
Biotechnology
With international players such as Pfizer, Novartis, and GlaxoSmithKline making their presence felt in Singapore, the biotech industry has been attracting a lot of foreign attention. This industry is highly supported by the Singaporean government. 
Biotechnology is a rapidly developing industry in Singapore, just as it is in the rest of the world. The government invests in this industry by spending on the development of infrastructure, R&D facilities, technology, and other elements that support this industry. 
Telecommunications
Existing telecommunications providers have left a wide range of telecommunications services that have been left untapped. These services include mobile phone networks, mobile phone connections, Internet services, radio and television stations, and print and online media service providers. As the Singaporean populace becomes more tech-savvy and technologically literate, investment in this sector will be encouraged.  
Fashion Retail
This industry is closely tied to the tourism industry. With international high street fashion brands such as H&M, Aldo, Levi's, and Zara already making profits in Singapore,  the fashion retail industry in Singapore is bound to flourish further. 
Tourists coming from all over the world shop in Singapore and stock up on branded products. These products at more reasonable prices than those other countries. Thus, prospective business owners might open a retail outlet and profit from it.
Education
This is a growing industry in Singapore's business scene and it should stay that way for a long time. Not only do Singaporean institutes provide high-quality education at a reasonable price, but their courses are also in high demand.  Singapore is a preferred destination for many Southeast Asian students who want to study abroad but without venturing too far away from home. 
What Is the Most Suitable Business Entity to Set Up?
The right business entity to incorporate in Singapore will depend on the entrepreneur's business situation and personal plans.  
A Singapore citizen who would like to register a small business where the person would be the only owner and the products or services provided do not carry liability issues should set up a sole proprietorship.
If the business involves providing services and will include one or more partners, setting up a limited liability partnership (LLP) is the most suitable option.
However, in our professional opinion, incorporating a private limited company is the best choice in most cases. Although compliance requirements may be slightly more complex, it is by far the best structure in the majority of circumstances.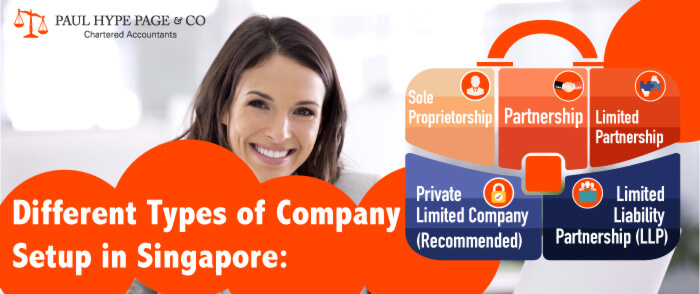 Different Types of Business Entities in Singapore
Private Limited Company (Recommended)  

 
Limited by shares and is a separate legal entity from its shareholders. It is recognized as a taxable entity.  
A business entity owned by one person.  
Two or more individuals carrying out a business. Assets and returns are typically shared internally, although the ratio may differ from partnership to partnership.   
A business owned by two or more individuals. At least one owner must be a general partner and one a limited partner.  
Limited Liability Partnership (LLP) 

 
Each partner's own liability is generally limited.
Types of Singapore Company Incorporation
Applicable to foreigners who are equipped with years of management skills and a formal tertiary education and have also met the minimum salary requirement. 
Also known as the Entrepreneur Pass. This is for foreign entrepreneurs who are actively involved in business operations and who do not have a formal tertiary education. Applications can be made with the Ministry of Manpower (MOM). Approval of this visa is given on a case-by-case basis.  
A local resident based in Singapore must act as the local nominee director of the company. This resident is defined as someone who has a local residential address. This rule applies to foreigners who do not want to relocate to Singapore, as well as those not involved in the daily operations of the business.  
Representative Office with Business Visa

 
A good exploratory option for foreigners to embrace business opportunities in Singapore and within the region. Businesses signed within companies in Singapore can enjoy the privilege of banking and trading in Singapore.  
Foreign Subsidiary Incorporation

 
This entity shares the same provisions as other local companies in Singapore even though the development of the company is foreign and separate.  
Foreign Branch Incorporation

 
Those who do not want to incorporate a local company in Singapore may nevertheless carry out business activities by registering a business as a foreign branch. This entity is an extension of the parent company and is not considered a legal entity separate from the parent company.  
Foreign Representative Office (RO)

 
An RO does not have a legal status but is merely an administrative arrangement. It is primarily designed for non-commercial activities.  
An offshore company incorporation can be advantageous for those uninterested in moving to Singapore or running everyday procedures related to the business to be established. 
The Company Structure that We at Paul Hype Page & Co Usually Recommend:
Private Limited Company + EP
The private limited company structure offers flexibility and is a very commercially feasible option. However, incorporating a company and starting a business in Singapore come with their own set of challenges.
Challenges of Incorporating a Singapore Business
Incorporating a company and starting a business in Singapore can be challenging tasks. The following are some challenges that one might face when incorporating a Singapore company. 
Visa Requirements
This is vital for every prospective business owner before incorporating a company. Singapore's laws require every company director to obtain the necessary visa. 
Foreign investors who plan to starting a business in Singapore need to engage the services of the Accounting and Corporate Regulatory Authority (ACRA). as the application for incorporation is submitted via ACRA's electronic portal. A SingPass ID is needed to log in. 
Note: A SingPass is only given to Singapore citizens, Singapore permanent residents and those who have been issued a Foreign Identification Number (FIN)  alongside the EP. 
As per Singapore law, an individual is unable to be a director of any Singapore company until the individual have the valid visa. Until the visa is approved, a nominee director will be appointed on the individual's behalf. Any individual with a valid Singapore ID and SingPass may be nominated.
Paul Hype Page & Co understands how tedious and time consuming the process of company incorporation can be. 
So, as Singapore's #1 ACRA licence corporate service provider, assisting you will be Paul Hype Page & Co's top priority! 
EP Application
EP applications focus on the individual and the individual's potential contributions to Singapore. Not all applications sent to the MOM will be approved. The criteria to obtain an EP include: 
A fixed monthly salary from S$3,300 to S$3,600

 
Acceptable educational qualifications, e.g. a diploma or degree

 

Professional qualifications

 

Specialist skills

 

Related work experience

 
Rejection and re-application
The reality is that not all Singapore company incorporation and EP applications are approved. The MOM and ACRA evaluate each applicant based on the company's and individual's respective credentials.
With more cases of EP applications being rejected in Singapore, foreigners need professional help more than ever. This is an area of expertise for us at Paul Hype Page & Co. We can help you with your EP application.
Violations that will lead to rejected applications
Failing the regulations Anti-Money Laundering and Countering the Financing of Terrorism Steering (AML/CFT) Committee

 
Failing the required Know Your Customer (KYC) process

 
However, if your rejection is not because of either of the two violations mentioned above, we will explore the reasons for the rejection with the MOM and ACRA and file an appeal by addressing the issues raised. If the additional details submitted are satisfactory to the MOM, your application will probably be approved.  
Note: The MOM normally takes at least three weeks to process an appeal. 
How Paul Hype Page & Co Can Assist You with Your EP Application
We will submit all EP applications electronically to the MOM so that you will learn of the outcome of your application sooner. Upon approval, the MOM will issue an In-Principle Approval (IPA) letter via email.  
The IPA letter must be produced upon collection of the EP at the Work Pass Division. An IPA letter is valid for six months from the date of notification of approval. 
To collect your EP, you will need to produce: 
A copy of the IPA letter

 

Passport-sized photo

 

Original passport

 

Medical report (if the In-Principle Approval states that you require one)
Any other documents that are requested in the approval letter.

 
We will also assist you in submitting the paperwork for a Dependent Pass visa if it is needed. 
The Most Tax-efficient Business Entities in Singapore
Singapores offer a start-up tax exemption scheme which allows new businesses to claim full tax exemptions. This exemption is worth up to S$100,000 on qualifying expenses for the first three years of tax assessments. 
Businesses qualifying for the tax exemption include:
Private limited companies

 

Representative offices with business visas 

 
Foreign subsidiary companies

 

Foreign branch companies

 

Foreign representative offices (RO) 

 

Singapore offshore companies

 
Documents Required for  Singapore Company Incorporation
Company name and SSIC code

 

A brief description of the company's business activities

 

Particulars of shareholders, directors, and company secretary

 

Registered office address

 
Company constitution (formerly known as the Memorandum and Articles of Association or M&AA)

 
For Residents
Scanned copy of Singapore NRIC (front and back)
For Non-Residents
Proof of overseas address (e.g. a utility bill or bank statement)

 

Full completion of ECRA's Know Your Client (or KYC) document

 

KYC documents and bank opening forms

 if required by banks
For Corporate Shareholders (if any) 
Scanned copy of certificate of incorporation

 

Scanned copy of business profile

 

Scanned copy of Memorandum and Articles of Association

 

Proof of address

 
As the #1 license corporate service provider in Singapore, we give advice to our clients on registering the most suitable type of company for their purposes. Choosing the right business structure for company registration in Singapore is an important decision as it can affect how the new business entity is to be taxed. 
Call us to get your business started in Singapore.