A branch office in Singapore is a company incorporated by a foreign parent company. Such a company must have a certificate of incorporation as well as a residential address which is located in Singapore.
To kick start a Singapore branch office registration in Singapore, these step by step guide are the general requirements and procedures needed.
However, it is important to identify the significant difference between a Singapore branch and Singapore subsidiary company.
What is the Statutory Requirement for a Branch Office Registration
Being a separate legal entity, a Branch Office must appoint at least two Singapore residents who will be the authorised representative of the branch. They can either be:
a Singapore citizen;
a Singapore permanent resident; or
a Branch office employee holding an Employment Pass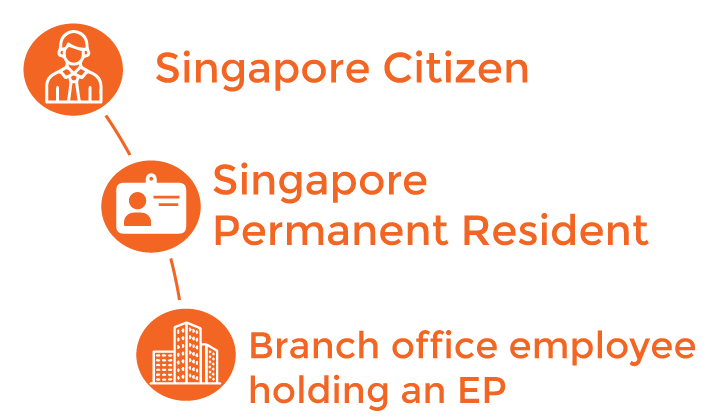 What are the documents required for an Incorporation
Setting up a company in Singapore is easy, however, we will first have to identify who you are. Below are the documents needed for the different types of incorporation and individuals.
For each Singapore resident individual shareholder and director: 
For each non-resident individual shareholder and director: 
Copy of passport; and Copy of residential address proof such as a recent utility bill, residential phone bill, tax bill, or cable TV bill for each corporate shareholder.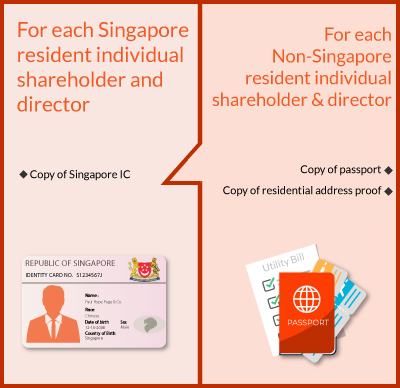 Documents required from the parent company 
A certified copy of the Certificate of Incorporation or registration in its place of incorporation or origin or a document of a similar effect. The documents must be certified by the Registrar of Companies.
A certified copy of its Charter, Statute or Memorandum and Articles (MAA) or other instrument constitution or defining its constitution. This too must be certified by the Registrar of Companies.
A certified true copy of the latest extract of the parent company's particulars, including the list of its directors and their personal particulars, i.e. passport no., residential address, nationality, date of birth, date of appointment as director of the foreign company (please provide clear copies of certified true copy of the directors' passport). 
Where the list includes directors' resident in Singapore who are members of the local board of directors, a memorandum duly executed by or on behalf of the foreign company stating the powers of the local directors will be required.
A Memorandum of Appointment or Power of Attorney under the seal of the foreign company or executed on its behalf in such manner as to be binding on the company, stating the names and addresses of 2 local agents authorized to accept on its behalf service of process and any notices required to be served on the company.
The Memorandum of Appointment or Power of Attorney must be verified and accompanied by a duly signed Statutory Declaration (for Commonwealth countries) or Affidavit (for non-Commonwealth countries).
All documents must be in English or officially translated in English, and it must be certified true copies by a notary public or you must bring the originals to our office for sighting.
If you are situated of based outside Singapore, you can email us the scanned copies of the required documents, so Paul Hype Page & Co's dedicated corporate specialist can proceed with preparing the necessary incorporation documents.
However, we must receive the certified true copies (or at least view the original documents at our office) before we can incorporate your Singapore branch office. Our compliance department may ask for additional information if deemed necessary.
The Role Paul Hype Page plays in Your Company Incorporation
Name check and reservation

 

Preparation of memorandum & articles of the company and other incorporation documents 

 

Preparation of registration forms Professional & Filing Fees E-Certificate of incorporation 

 

Preparation of compliance corporate kit, including corporate seal, share certificates, register and minutes book 

 

Minutes of first board meeting Resolution to open a bank account

 

Conduct the necessary KYC and AML checks on all our clients, adhering to regulations and standards set by Singapore's Company and Evidence Act.
Banking Solutions with a Company Incorporation
Once your Branch office is incorporated, you have to open a corporate bank account with any local or international banks in Singapore. Opening a corporate bank account in Singapore is simple and quick. However, it is important that you choose a bank which offers corporate accounts features that will fulfil the banking needs of your company.
Below are the required documents to open a corporate account in Singapore banks:
Completed Corporate Account Opening Forms
Board of Directors Resolution approving the opening of the account and the signatories to the account
Certified True Copy of Certificate of Incorporation (must be certified by the company secretary or one of the directors)
Certified True Copy of Company's Business Profile from Company Registrar
Certified True Copy of company's Memorandum and Articles of Association (MAA)
Certified True Copies of Passport (or Singapore IC) and residential address proof of Directors, signatories, and ultimate beneficiary owners.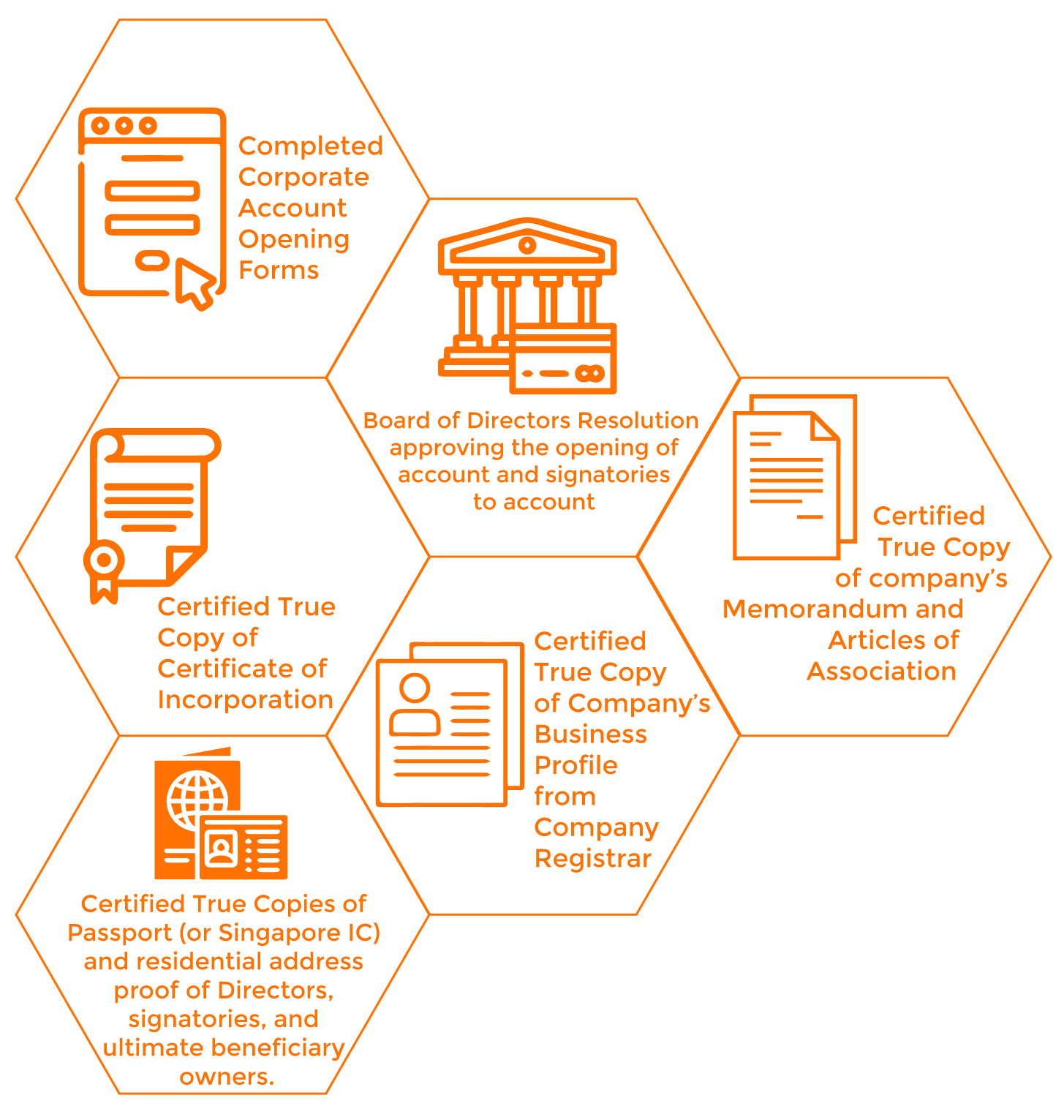 Generally, Singapore banks may ask you to produce additional documents on a case to case basis.
Most of the banks require the account signatories and directors to be physically present in Singapore for signatures during the opening of the company account.
Some of the international banks will accept the signing of documents at one of their overseas branches or in front of a Notary Public.
Singapore Branch Incorporation Requirements FAQs
What is the difference between a branch office and a subsidiary?
Tiwi
2020-10-27T08:57:40+08:00
A branch office is established by its parent company overseas; it is meant to perform the same type of business operations in a different country. On the other hand, the full or partial controlling interest of a subsidiary company is held by another company abroad.