Before a Singapore company may be incorporated, matters such as statutory requirements, incorporation documents, regulatory compliance, and the corporate bank account must be addressed. Once all these matters have been handled and ACRA has provided its approval, the company may be established.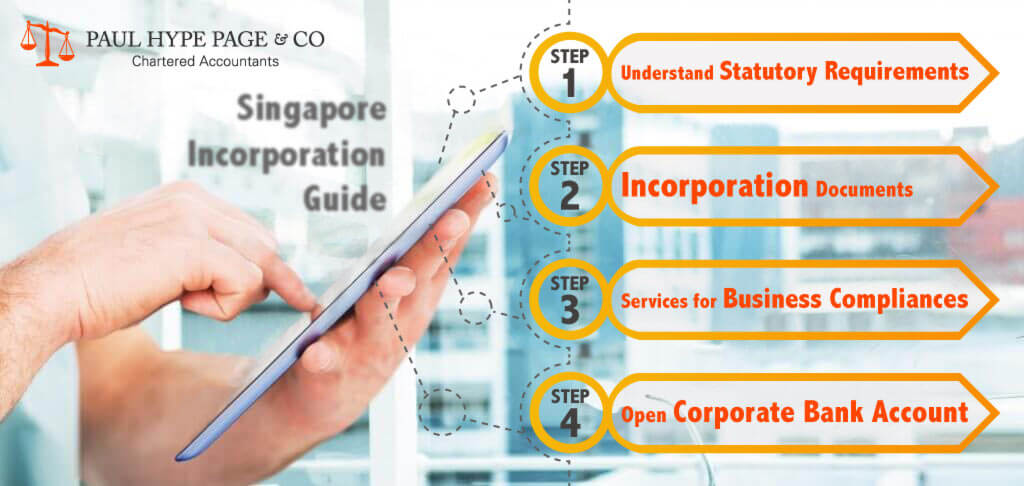 Singapore is recognized by the World Bank as the best place in Asia to do business. That statement looks true all the new businesses in Singapore that have been incorporated in the past decade.
From incorporating a Private limited company, to set up a representative office, Paul Hype Page & Co is the NO. 1, one-stop solution center you need.
Below are the general requirements and procedures needed for you to get your company in Singapore up and running.
Regulation to Adhere to Before a Company Incorporation
ACRA Requirements Directors: A minimum of one resident director (a Singapore Citizen, a Singapore Permanent Resident, a person who has been issued an EntrePass, Employment Pass, or Dependent Pass) is mandatory. All directors must be at least 18 years of age.
Shareholders: The shareholder can be an individual or a corporate entity. 100% local or foreign shareholding is allowed. A director and shareholder can be the same or different person.
Paid-up Capital: Minimum paid-up capital for registration of a Singapore company is S$1.
Registered Address: The address must be a physical local address. The use of a PO Box is not allowed.
Company Secretary: The Companies Act requires one Company secretary who must be a resident of Singapore.
Audit Requirements:Unless exempted from audit requirements under the Companies Act, every company must appoint an auditor within three months after its incorporation. These annual filings are required by law. Only small exempt private companies and dormant companies are exempted from audit requirements.
A small exempt private company is one that meets the following conditions:
The turnover for the financial year is less than S$5million,
The company does not have more than 20 shareholders, and
The company does not have, directly or indirectly, a corporation as a beneficial shareholder.
The Documents That Need To Be Presented For An Incorporation
For each Singapore resident individual shareholder and director
Copy of Singapore IC; and or
Copy of passport if the individual is not a citizen of Singapore
For each non-resident individual shareholder and director:
Copy of passport; and
Copy of residential address proof such as a recent utility bill, residential phone bill, tax bill, or cable TV bill
For each corporate shareholder:
Copy of the Foreign Corporate Company Certificate and
Special Director(s) Resolution to resolve to become a newly incorporated company subsidiary shareholder
YOU DO NOT NEED TO BE IN SINGAPORE PHYSICALLY TO INCORPORATE YOUR COMPANY!!!
With our state-of-the-art facilities and pending patent ibizfile system:
You don't need to go out of your way to visit a lawyer, registrar of oath, official councillor, or any government official to certify true copies of your identity card or passport. Hence, physical presence is not required with our system
All directors and shareholder are now able to complete the signing of documents and all submission via our ibizfile system online
Collection and viewing of all the company incorporation documents can be done online. It's a trusted and secure system that has been tested for years.
However, if you are to open a branch or a representative office in Singapore, please provide us with the following:
Certified Certificate of Incorporation (please provide it with Notary Stamp & Date)
Memorandum and Articles in English
If the company name has changed since incorporation, please provide us a certified true copy of the certificate of name change or other evidence of name change and the certified translation (if any)
Latest Financial Statements of the foreign company
ALL THESE,
Must be in English or officially translated into English;
Must be certified true copies by a notary public or you must bring the originals to our office for sighting;
If you are overseas, you can email us the scanned copies of documents so we can proceed with preparing the necessary incorporation documents.
After engaging our service, we will perform the following to incorporate your company:
Name check and reservation
Preparation of memorandum & articles of the company and other incorporation documents
Preparation of registration forms
Professional & Filing Fees
E-Certificate of incorporation
Preparation of compliance corporate kit, including corporate seal, share certificates, register and minutes book
Minutes of first board meeting
Resolution to open a bank account
Requirements for Opening a Corporate Bank Account :
Completed Corporate Account Opening Forms
Board of Directors Resolution approving the opening of the account and the signatories to the account
Certified True Copy of Certificate of Incorporation (must be certified by the company secretary or one of the directors)
Certified True Copy of Company's Business Profile from Company Registrar
Certified True Copy of Company's Memorandum and Articles of Association (MAA)
Certified True Copies of Passport (or Singapore IC) and Residential Address Proof of Directors, Signatories, and Ultimate Beneficial Owners. If you are in Singapore, just bring the originals and the bank will make a copy.
Some Singapore banks may ask you to produce additional documents, but that is on case by case basis.  
Generally, most banks in Singapore require the account signatories and directors be physically present in Singapore for signatures at the time of opening the company bank account.  
However, some banks will accept the signing of documents at one of their overseas branches or in front of a Notary Public. 
Your Singapore company incorporation is relatively easy and simple. You just have to ensure that you have all the necessary documents. 
Depending on the nature of your business activities, you may be required to obtain certain business licenses.  
This is especially the case when foreign companies open up branch offices in the Republic.  
Singapore Incorporation Guide FAQs
If I am holding a valid EntrePass for the company that currently employs me but wish to leave the current post to start my own business venture, must I cancel my existing EP before applying for AIP EP?
Tiwi
2020-06-24T15:21:19+08:00
Yes, you will need to cancel your existing EntrePass before applying for AIP EP.