Singapore Tax Rates
A question that every country's tax system has to deal with is that of what tax rates to impose on individuals and companies. Each country must determine what is the optimal level of taxation to keep the government running smoothly while also not placing an excessive tax burden on people living there. The Singaporean government has done likewise, and the tax rates it has imposed have appeared to have had a positive effect on the country and its economy.
Singapore R

esident's 

Personal Income Tax
Chargeable Income
Income Tax Rate (%)
Gross Tax Payable ($)
First $20,000
Next $10,000
0
2
0
200
First $30,000
Next $10,000
–
3.50
200
350
First $40,000
Next $40,000
–
7
550
2,800
First $80,000
Next $40,000
–
11.5
3,350
4,600
First $120,000
Next $40,000
–
15
7,950
6,000
First $160,000
Next $40,000
–
18
13,950
7,200
First $200,000
Next $40,000
–
19
21,150
7,600
First $240,000
Next $40,000
–
19.5
28,750
7,800
First $280,000
Next $40,000
–
20
36,550
8,000
First $320,000
In excess of $320,000
–
22
44,550
(above table is from IRAS website 2017 table)
Personal income tax rates in Singapore are among the world's most affordable, as can be seen when comparing the figures just mentioned with those of Singapore's economic peers. According to the International Monetary Fund, the three countries which are closest to Singapore in terms of nominal GDP per capital are the United States, Denmark, and Australia. In the United States, personal income tax rates range from 10% to 37%; in Australia, 0% to 45%; and in Denmark, 36% to 52.02%. As these rates are far higher than those of Singapore, Singapore's attractive personal income tax rates may help bring in people from countries with similar average levels of personal income to live and work there.
In Singapore, income tax is payable on income earned in the previous year. Income tax rates imposed on individuals are dependent on the individual's tax residency status. An individual is treated as a tax resident for a year of assessment (YA) if the individual is either a Singapore citizen or a Singapore permanent resident who only takes temporary absences from the country. Foreigners who have stayed or worked in Singapore for 183 days or more in the previous YA are also considered to be Singapore tax residents. Resident individuals must pay tax on all their Singapore-sourced income as well as any foreign-sourced income remitted into Singapore. 
Singapore imposes progressive tax rates on its tax residents. A progressive resident tax rate means that the amount of income tax paid by each tax resident scales with how much income the resident earns. At the moment, the first S$20,000 of chargeable income earned by residents is not taxed, while the current highest personal income tax rate is 22%. This 22% tax rate is imposed on tax residents who earn at least S$320,000 of chargeable income. 
Starting from YA 2005, the income of a married couple is assessed separately under the person's own name. Section 51(1) of the Income Tax Act (to be referred to as the Act) states that a married woman's income will also be assessed separately under her own name. Where both husband and wife are eligible to claim the same tax reliefs under Section 39 of the Act, these reliefs will be apportioned between them on a basis deemed to be reasonable. These changes were made to address the increase in the number of working married women and reflect the corresponding rise in two-income families. 
Section 39 of the Act contains information about the various reliefs that a taxpayer who is a Singapore resident may claim. Among these reliefs are earned income relief, spouse relief, child relief, relief for dependent relatives, national serviceman relief, relief for employees' Central Provident Fund, and relief for foreign maid levy. Those who claim the reliefs for which they are eligible will enjoy significant reductions on their tax burden. For example, earned income relief may rise to S$6,000 if the individual is over the age of 60 and handicapped. Active national servicemen may claim relief of S$3,000, while parent and grandparent relief are S$4,500 and S$7,000 respectively. 
Singapore tax residents with children may also receive parenthood tax rebates. These rebates were introduced in YA 1988 to encourage couples to have more children. Starting from YA 2005, the tax rebates could be claimed for legally-adopted children, but only if they were second, third, or fourth children. According to Section 42A(11) of the Act, the rebates can only be given out if two conditions are met. The first is that the child must be a citizen of Singapore at the time of birth or adoption or within 12 months thereafter. The second condition is that the child's siblings must be members of the same household. The value of the parenthood tax rebate is S$5,000 for the first child, S$10,000 for the second, and S$20,000 for the third child and any subsequent children.
Singapore Non-resident's Personal Income Tax
Non-resident individuals are subject to tax on all income sourced from Singapore with the exception of tax-exempt income. Examples of such tax-exempt income include interest income in an approved bank located in Singapore, as well as foreign income received in Singapore by a non-resident individual. However, generally speaking, the tax consequences for resident and non-resident individuals alike are largely the same. 
Non-resident individuals are not subject to the same tax rates as residents are. Non-residents' employment income is either taxed at a 15% flat rate or the progressive resident rates. The higher tax amount of the two will be used. For YA 2017 and each year onwards, the maximum tax rate to be imposed on non-residents is 22%, up from the previous high of 20%. The move was made to maintain parity between the top marginal tax rate of resident individuals and the tax rates of non-individuals. However, if an individual is in Singapore on short-term employment for 60 days or less in a year, their employment income is tax-exempt. Furthermore, for those who have reduced final withholding tax rates, the highest possible tax rate remains at 20%. 
According to Section 39 of the Act, non-resident individuals are not allowed to claim personal reliefs. However, Section 40 of the Act states that non-resident individuals are nevertheless entitled to several other reliefs. These reliefs were put into place to ease non-resident individuals' tax burden. There are five such reliefs: a relief for non-resident Singapore citizens and others, a relief for non-resident public entertainers, a relief for non-resident employees, a relief for non-resident Supplementary Retirement Scheme members, and a relief for non-residents deriving income from activity as a professional in a position such as a consultant, trainer, or coach. The director of a company in Singapore is also eligible for director's remuneration. 
According to Section 45 of the Act, Singapore uses a withholding tax system to ensure and facilitate the collection of all tax payable from non-residents on their Singapore-sourced income. When a Singapore individual or company pays a non-resident for services performed in Singapore, a portion of the payment must be withheld and paid to the Inland Revenue Authority of Singapore (IRAS). Section 45 also sets out the general rules regarding withholding tax on interest and related payments. The provisions mentioned in this section are also applied to other income and payments due to the effects of the provisions of Sections 45A to 45G. 
Where a payer is liable to pay any of the specified income to another person whom the payer is unsure of the resident status of, the payer is obliged to withhold tax at the appropriate rate unless the recipient is a resident. After tax has been withheld from payments made to non-residents, the Comptroller of Income Tax is required to be notified via writing and the amount withheld must be paid to the Comptroller within the prescribed period. The tax withheld must be paid to IRAS by the 15th day of the month after the date that the payment is made to the non-resident. Should the payment be late, a 5% penalty will be imposed, and a further penalty of 1% will also be imposed for each completed month that the tax remains unpaid. The maximum total penalty is 15%. 
Withholding tax rates in Singapore may be 10%, 15%, or the prevailing corporate tax rate, which currently is 17%. The withholding tax rate of 10% applies to the following: royalty or other lump sum payments for the use of moveable properties; payment for the use of or the right to use scientific, technical, industrial, or commercial knowledge or information; and distribution of taxable income made by a real estate investment trust to a unitholder who is neither an individual nor a resident. The following are included among payments subject to a withholding tax rate of 15%: rent or other payments for the use of moveable properties; interest, commission, fees, or other payments in connection with any loan or indebtedness; and proceeds from sale of any real property by a non-resident property trader. The prevailing corporate tax rate applies to technical assistance and service fees, as well as management fees. Where tax has been withheld at the prevailing corporate rate, the withheld tax is not final. The non-resident recipient may file a tax return with the IRAS to claim deduction for expenses incurred in the production of the relevant income and a refund of the tax overpaid.
Singapore Corporate

 Income Tax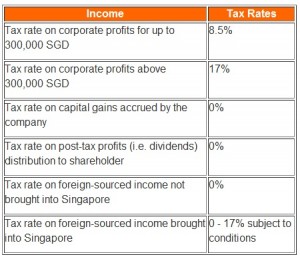 As has been mentioned, the current corporate tax rate in Singapore is 17%. All companies that conduct business operations in Singapore, regardless of resident status, are taxed at this corporate tax rate of 17% unless their profits are tax-exempt or specifically subject to lower tax rates. Once again, this figure is much lower than the corporate tax rates of Singapore's peers in terms of nominal GDP per capital. Denmark has a corporate tax rate of 22%, the United States 27%, and Australia 30%. This low rate serves Singapore well in attracting foreign companies to relocate to or conduct business operations in the country. 
Qualifying start-up companies are eligible for both a partial tax exemption and a three-year start-up tax exemption. The current partial tax exemption makes 75% of the company's first S$10,000 of chargeable income tax-exempt. From the company's next S$290,000 of chargeable income, 50% of that amount will also be tax-exempt. However, from YA 2020 onwards, the figures will change. Starting from YA 2020, 75% of the company's first S$10,000 of chargeable income will be tax-exempt, followed by 50% of the company's next S$190,000 of chargeable income. The start-up tax exemption makes all of an eligible company's first S$100,000 of chargeable income tax-exempt, as well as 50% of its next S$200,000 of chargeable income. However, as is the case with the partial tax exemption, the numbers will change starting from YA 2020. When the changes take effect, 75% of the company's first S$100,000 of chargeable income will be tax-exempt, followed by 50% of its next S$100,000 of chargeable income. This start-up exemption is not available to property development and investment holding companies. In addition, for YA 2018, there is a 40% corporate tax rebate which is capped at S$15,000. In YA 2019, there will also be a rebate of 20% of tax payable for the year of assessment. This rebate is capped at S$10,000. The exemptions and rebates mentioned have caused Singapore's effective corporate tax rate to therefore be far lower than its nominal rate.
Any dividends paid by a Singapore resident company are sourced in Singapore. This is because the location of the source of the dividend income is the location in which the company is considered to be a tax resident. According to Section 2 of the Act, a company is regarded as a tax resident of Singapore if the control and management of its business is exercised there. The place of control and management is usually considered to be the place where the company's board of directors holds its meetings. On the other hand, where non-resident companies conducting business in Singapore pay dividends, the source of the payments is not in Singapore. The non-resident company in question will also not be subject to the provisions of the Singapore Companies Act, as well as those of the Act. 
Singapore has been using a one-tier corporate tax system since 2003. This one-tier system replaced the full imputation system that had been used from 1948 to 2003. The one-tier system makes the income tax paid by companies the final tax; this tax will not be imputed back to the company's shareholders. This stands in contrast to the full imputation system, in which any corporate tax paid in relation to dividends is imputed to the shareholders. Shareholders will also avoid being taxed on the Singapore dividends received under the one-tier system. However, the one-tier system may also increase the tax burden on companies which depend on borrowings to fund equity investments in Singapore subsidiaries. This is because any interest costs attributable to Singapore dividends are not deductible, as the dividends are not taxable. Hence, these companies may be subject to higher overall tax costs. 
It is interesting to note that Singapore's personal and corporate tax rates have been trending in opposite directions. In 2016, the maximum personal tax rate in Singapore was raised to 22%, the highest maximum rate since 2004. Conversely, the current corporate tax rate of 17% is well below historic corporate tax rates; as recently as 2000, Singapore's corporate tax rate stood at 26%. 
Other Taxes in Singapore
Personal and corporate income taxes are not the only taxes required to be paid in Singapore. There are also the following: stamp duty, goods and services tax (GST), and property tax.
Stamp duty
Stamp duty is a tax imposed on any dutiable documents related to any immovable property, stock, or shares in Singapore. Dutiable documents include the following: lease or tenancy agreements for properties, transfer documents for properties, and mortgages for properties. Lease or tenancy agreements for properties are signed when a taxpayer rents a property. For these, stamp duty is based on either the actual rent or market rent. The higher figure is to be used. Transfer documents for properties are related to buyer's stamp duty (BSD), additional buyer's stamp duty (ABSD), and seller's stamp duty (SSD). BSD rates of up to 3% will be applied to any acquisition of non-residential properties. This figure rises to 4% when dealing with residential properties. Residential properties are those defined as a property or component of one whose permitted use is for residential or mixed purposes, one of which is residential, at the date of purchase or acquisition. Liable buyers are also required to pay ABSD in addition to BSD. ABSD rates were most recently updated on July 6, 2018. These rates depend on the following factors: whether the buyer is an individual or an entity, the residential status of the buyer, and the count of residential properties owned by the buyer. ABSD rates range from as low as 0%, imposed on Singapore citizens purchasing their first residential property, to 25% plus an additional 5%, to be imposed on housing developers buying any residential property. SSD is required to be paid on all residential properties and lands that have been bought on or after February 20, 2010 and sold within the holding period. The amount of SSD to be paid depends on the type of property disposed or sold, the date of purchase or acquisition, the date of sale or disposal, and applicable rates. SSD rates are calculated by applying the requisite SSD rate to either the selling price or market value of the property at the date of sale or disposal, whichever is higher. SSD can be as low as 0% or as high as 16%. There are also various stamp duty remissions and reliefs for property, including those related to aborted sale and purchase agreements, matrimonial proceedings, conveyance directions, and donations to an institution of a public character, among others.
Goods and services tax (GST)
GST is a consumption tax imposed on the import of goods from abroad, as well as the vast majority of goods and services in Singapore. GST is currently the Singaporean government's second-largest source of tax revenue, only trailing corporate tax. GST has been imposed at a 7% rate since 2007, though the government has made plans to increase this rate to 9% at some time in the future. Only the export of goods, services classified as international services, and sales in which goods are delivered from abroad to another foreign location are exempt from GST. Anything that is not exempt from GST is known as a taxable supply. A person or business is required to register for GST if the total value of the person's or business's taxable supplies or taxable turnover exceeds or is expected to exceed S$1 million. However, persons or businesses whose taxable supplies or taxable turnover does not or is not expected to surpass to S$1 million mark may also register for GST voluntarily. GST is divided into input and output tax. Input tax refers to GST incurred on one's business purchases and expenses. If a business owner satisfies the conditions for claiming input tax, the owner may claim the tax on any business purchases and expenses. Output tax is GST charged and collected by a business. Output tax is to be paid to the IRAS. GST-registered businesses must submit GST returns to the IRAS one month after the end of each prescribed accounting period and report both input and output tax in the GST return. The difference between output and input tax is the net amount of GST payable to the IRAS or refunded by the IRAS. On an individual level, tourists who buy goods from retailers who participate in the electronic Tourist Refund Scheme are allowed to claim a refund of GST paid on purchases made in Singapore, while travelers who bring goods into Singapore will receive GST relief on these items as long as they are intended for the traveler's personal use and will not be put on sale. However, consumers who import goods into Singapore via mail are required to pay GST. The amount payable is based on the cost, insurance, and freight (CIF) value of the goods plus all duties payable.
Property tax
Property tax is a wealth tax imposed under the Property Tax Act on immovable properties based in Singapore. Property tax is payable in advance in Singapore every year. Annual property tax is calculated by multiplying the property's annual value (AV) with the relevant property tax rates. A property's AV is tied to the estimated annual rent it would be able to fetch if the property were to be rented out. The IRAS takes factors such as the property's size, the property's condition, and rental costs of similar properties in the vicinity into consideration when determining a property's AV. Property tax rates on owner-occupied and non-owner occupied residential properties are applied on a progressive scale. Owner-occupied residential properties are any properties in which the owner lives. The highest possible owner-occupied property tax rate is 16%, which is imposed on any properties with a value in excess of S$130,000. Non-owner occupied residential properties abide by a different set of tax rates. For such properties, the highest tax rate is 20%, which is imposed on properties which have a value of over S$90,000. There is also an exclusion list, and properties on this list will always be taxed at 10%. Until January 1, 2014, there existed a property tax refund for vacant residential and non-residential properties, but it was removed. This was because the Singaporean government intended to align the property tax regime with its policy intent regarding property tax, which was to tax property wealth in such a way that it disregards the question of whether the property is occupied. This also ensured that all vacant properties were treated equally with regard to taxation.
Conclusion
Singapore's reasonable, business-friendly tax rates have played an important role in the development of the country's economy. Although Singapore's tax rates may be relatively low, they are still substantial enough to sustain government mechanisms which require tax money to function. At the same time, because the tax rates are low, taxpayers are not overwhelmed by large tax bills. The tax reliefs and rebates that accompany Singapore's personal and corporate income taxes have also done much to ease the tax burden of many. On the whole, Singapore's tax rates appear to be suitable for most of its taxpayers – a highly desirable development, given the country's status as a global corporate and financial hub.