The Singapore Tourism Board (STB) oversees all tourism, travel agencies, and business licenses related to travel agencies in Singapore. Singapore's travel agencies have helped to increase the country's tourism revenue.

What is a Travel Agency?
A Travel agency is an individual or business opportunities in Singapore that sells travel-related products and services. It arranges and organizes these products and services for customers who consist of ordinary tourists and sometimes, business travelers. A Travel Agent in Singapore is, specifically, an entity that provides both travel and tour packages which involve travel via three mediums: air, land and sea. Transport-only companies are not considered travel agents in Singapore.
What Do I Need to Start a Travel Agency Business in Singapore?
To conduct business as a travel agent in Singapore, you'll need a travel agency license.
Who Awards the Travel Agency License?
The Singapore Tourism Board (STB) is the government body that is responsible for the issuing of travel agency licenses.
But what exactly constitutes a Travel Agency?
The STB , under Section 4 of the Travel Agent's Act (Cap 334), defines a travel agent as an entity that provides the below services:
Selling tickets entitling an individual to travel, or otherwise arranges for a person a rite of passage on any conveyance. (A Travel Agency License is not required if the conveyance is owned by the company)
Selling to, or arranging or making available for a person the rights of passage to, and hotel or other accommodation at one or more places which are either within or outside Singapore, or a combination thereof. (A Travel Agency License is not required if the mode of transport and the place of accommodation is owned by the company; for example, a hotel ferrying its guests via limo)
Purchases for resale the right of passage on any conveyance.
Arranges or conducts tours within or outside Singapore.
Carries out any activity which may be prescribed by the Board.
Holds itself out as, or advertises that it is, willing to carry on any activity referred to in points (a) – (d) Here are some examples of businesses that qualify as travel agents/travel agencies:
Any business, or individual, that provides travel and tourist services, sightseeing tours or excursions
Any ticketing agents that work for airlines, cruise ships or tourist buses.


So, What Do I Need to Do or Know Before Applying for the Travel Agency License?
You'll need to proceed with a Singapore company registration. Please refer to the information below:
Company Registration and Related Requirements
The first step of getting your Travel Agency License is to set up a Singapore company Incorporation of whose main business will be that of a travel agent (see definitions above as to what constitutes a travel agency). For Travel Agents and Operators: You will need to register the company under the Standard Industrial Classification (SSIC) code of 78211.
For Ticketing Agencies:
You will register under SIC code 78212.
Paid Up Capital:
The minimum is SGD 100,000.
Key Executive:
A real person must be appointed to the position of Key Executive. They will be responsible for the daily running of the business – their appointment has to be approved by the STB. They also must have the proper qualifications and relevant work experience, enough to be able to manage and run the company. They also must be a Singaporean citizen, permanent resident, or employment pass holder. The Key Executive should be of good moral character as well, and this standard applies to all the executive and managerial appointments. The STB might require proof of character, which would include, but is not limited to: credit background check, letter of reference and good conduct from government agencies and a police clearance background check. These may or may not be required – it is up to the STB's discretion.
Office & Sign:
The company must also have a physical business office, which would be dedicated solely to the running and operations of the travel agency; the space cannot be used or shared for any other purpose or a different kind of business. A signboard, one that reflects the nature of the business (that it is indeed, a travel agency), must also be erected, and clearly visible.
Note:
An individual freelance travel agent who conducts their business from inside a flat or private housing has to obtain approval from the Housing Development Board or Urban Redevelopment Authority before the STB can grant.
Website & TRUST:
A website for business operations purposes is a must-have for the company. It should also observe TRUST, which is an acronym for "Terms and Conditions for the Use of the Travel Related Users' System (TRUST)". The TRUST website is a state-sanctioned website, providing relevant information, resources and advice in regards to Singapore's travel industry.
I've done all that, now what about the Travel Agency License Application?
You will have to file an online application, as the STB no longer accepts manual applications. When applying, you also have to declare any shareholdings you may hold in other travel agencies. The processing time for your application will be around 1 week. The normal procedure is as follows: the authorities respond by sending you an IPA – In-Principle Approval – letter, through postal mail. This may take a little longer if they decide that there is a need to perform background financial and criminal checks on selected company individuals. This IPA letter might contain certain conditions that you have to fulfill in order for your application to get approved. One common condition includes the submission of the lease or tenancy agreement for the premises where you intend to do business – the tenancy agreement in question should be a period of at least one year. If the premises belong to you, you will have to show proof of ownership. Upon receipt of your FINAL approval letter, you must collect your Singaporean travel agency license in person – you'll have to pay the licensing fee of $300.
But what if I get Rejected?
There should be no reasons for the authorities to reject your application if you have submitted all the necessary documents and accurate information, as well as passing any background checks. If you do get rejected, however, you may file an appeal, within one month of being rejected. Expect the review process to take up to two weeks.
Renewing your License
The validity of the Singaporean travel agency license is for a duration of 2 years, expiring on the 31st December of the following year, irrespective of the month in which you made the application (so applying in January will prove advantageous) It is a must to renew your travel agency license one month before the expiry date.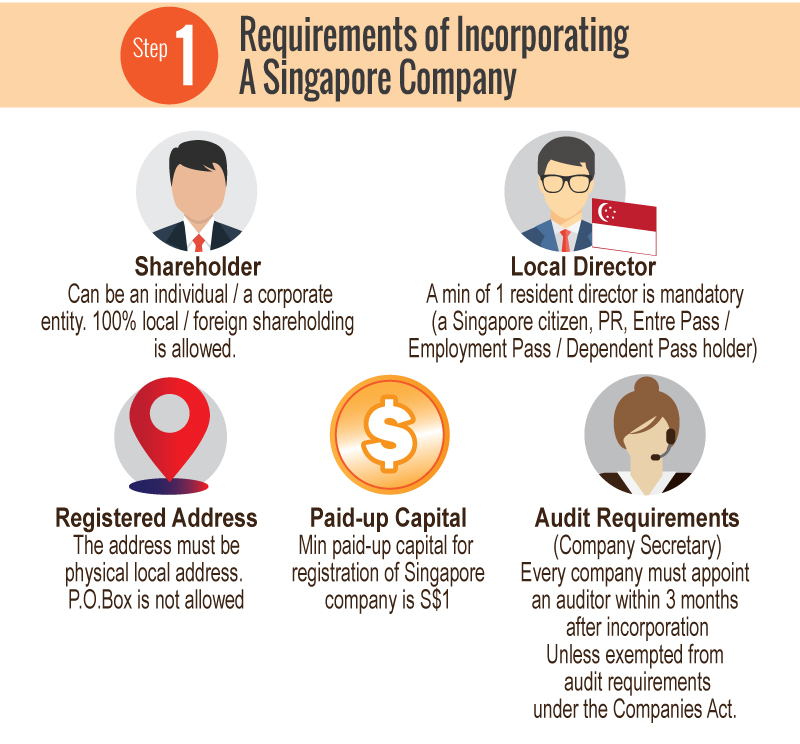 Start a Singapore Travel Agency FAQs
What are the company names that I am not allowed to use?
Tiwi
2020-06-29T17:37:50+08:00
As has been mentioned, any name which has been trademarked, contains foul language or obscenities, is the same as or very similar to the name of any existing company in Singapore, or has already been reserved may not be used to name a new Singapore company.
Can a S Pass holder Register a Business?
Tiwi
2020-06-29T17:37:30+08:00
The terms and conditions as stated on the S Pass will determine if the S Pass holder is allowed to register a business. Those who are unsure should consult the Ministry of Manpower (MOM).
What does a Foreigner have to do before Registering a Business in Singapore?
Tiwi
2020-06-29T17:37:07+08:00
A foreigner needs to apply for an Employment Pass (EP)\\to register a business and act as the local manager of the business. To do so, the foreigner must also have a Singapore residential address. Proper approval from ACRA is, of course, required.
Although it is possible for a foreigner to use other valid work passes before registering a business in Singapore, it is much simpler and more manageable for foreigners to do so if they use the EP for this purpose.