Many foreign investors are interested in the incorporation of a Singapore company. However, before they may incorporate a company in Singapore, they will require a local resident director, a number of shareholders between two and 50, and a corporate bank account.
Before we proceed, you must remind yourself that you are in the right place taking the right advise. A layman may advise you based on their experience – and we are not discrediting that. However, being an expert in the industry, we are obliged to give you only the RIGHT advise!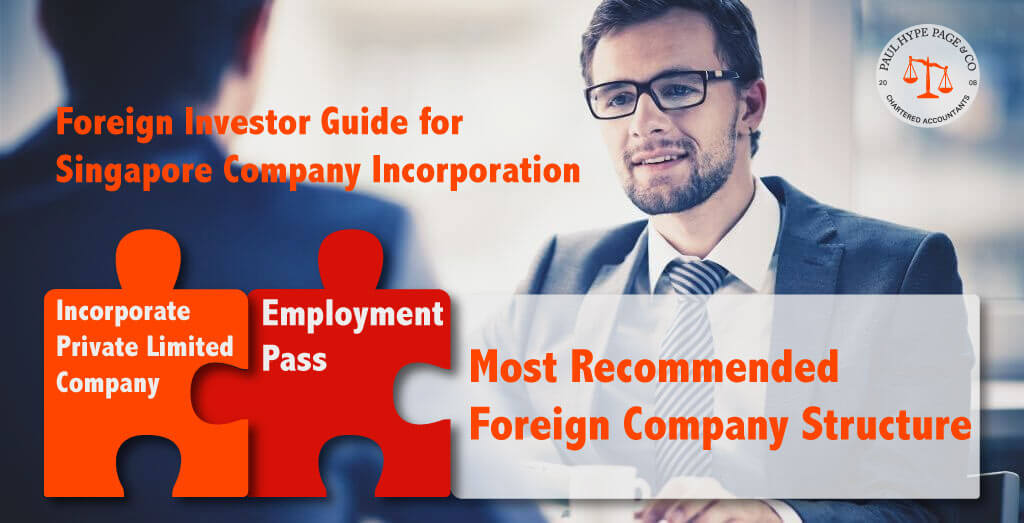 In Singapore, a foreigner or a foreign corporation MUST engage an ACRA corporate service provider, Paul Hype Page & Co to be exact, for a company incorporation.
A corporate service provider (CSP) is a term comprising a Filing Agent and, its Qualified Individual(s), who are required to be registered under the ACRA Act.
This is an entity which, during its business, carries out on behalf of any other person, any transaction with the Registrar using BizFile+, or via any other means allowed by the Registrar, if the electronic transaction system is unavailable.
An individual who performs these transactions, and may include advocates and solicitors, public accountants, chartered accountants, and corporate secretarial providers.
These individuals must be:
An advocate and solicitor under the Legal Profession Act; or
a public accountant registered under the Accountants Act; or
a member of the Institute of Singapore Chartered Accountants; or
a member of the Association of International Accountants (Singapore Branch); or
a member of the Institute of Company Accountants, Singapore; or
a member of the Chartered Secretaries Institute of Singapore; or
a company secretary agent.
Chartered accountants have the skills and knowledge that make them an asset to the success of a business. With the world economy being what it is of late, all business needs to rely on professional and accurate advice more than ever.
Also, while your business continues to grow, annual filings, tax requirements and procedures will change. To remain in compliance, a chartered accountant is capable to come up with a financial tax plan that can reduce the amount of corporate tax your company will have to pay.
Ultimately, while we do not discredit the role of the other professionals mentioned above, but we are proud to say that we are what every office need from the Singapore company registration to its dissolution.
Who else better at managing your financial needs, but a Chartered Accountant?
What distinguishes Paul Hype Page & Co to the other corporate service provider? We have:
A pending patent, user-friendly system for registration
A Less stringent procedure
A combined experience of over 50 years, giving you the best Corporate Specialist when it comes to visa applications
There are 2 options for foreign company structure that we will suggest,
Private Limited Company + Employment Pass
Private Limited Company + EntrePass
The private limited company structure offers flexibility and is a very commercially feasible option. However, incorporating a company and starting your own business in Singapore is not without any challenges.
Here we look at some of them that you might face.
Challenge #1: Visa Requirements
This is vital for every newbie before incorporating their company as the Singapore regulation requires every company director to obtain the necessary visa.
Also, as a foreign investor starting a business in Singapore, you would need to engage the services of the Accounting and Corporate Regulatory Authority (ACRA) licensed corporate services provider, as the application for incorporation is submitted via ACRA's electronic portal.
Why an ARCA licensed corporate services provider
As mention above, you need to submit your application via their website. Being a governmental body, every application requires a SingPass.
A SingPass is only given to Singapore citizens, Singapore Permanent Residents and those who have been issued a FIN number alongside with their Employment Pass.
As per Singapore regulations, you can't be a director of the company until you have the valid Visa. Till the visa gets approved, we will appoint a nominee director on your behalf, or you may also nominate any individual with a valid Singapore ID and SingPass.
Admittedly, this process may seem oddly reverse, whereby the company is incorporated in Singapore before the employment pass is applied for. Paul Hype Page & Co. understands how tedious and time consuming is that process.
So, as an ACRA licence corporate service provider, we will assist you with ease.
To incorporate a Singapore company, can apply for a Singapore Employment Pass (EP) work on the ground of:
An entrepreneur, or managing director of a Singapore company and wish to relocate to Singapore to manage the operations.


Challenge #2: The application of an EntrePass
Unlike an Employment Pass, the benchmark for an EntrePass application focuses on the business and its potential contributions to Singapore. To obtain an EntrePass, one needs extensive preparation.
Qualification criteria to obtain an EntrePass, the applicant must either:
Be funded by a recognized third-party venture capitalist, or
Hold a nationally-recognized proprietary or licensed Intellectual Property (IP), or
Have research collaboration with recognized research institutions, or
Be an incubatee at a government-approved incubator or accelerator, or
Hold significant business experience/network and promising entrepreneurial track record, or
Have exceptional technical/domain expertise in an area related to proposed business, or
Hold good track record of investing in businesses and want to grow new or existing businesses in Singapore, or
Applicant must meet one out of the seven qualifying criteria.
Apart from the mentioned 7 points above, the applicant must also produce a 10-page business plan to get an EntrePass.
Eventually, the main reason why many opt for Employment Pass over EntrePass is due to the difference in waiting time. While an Employment Pass can be obtained in approximately 1-15 days, an EntrePass takes a longer time to process.
Challenge #3: Rejected application
The reality is that not all Singapore company incorporation and EP applications are approved. MOM and ACRA evaluate each applicant based on the individual and company credentials.
With more cases of EP applications being rejected in Singapore, foreigners need professional help more than ever. This is an area of expertise for Paul Hype Page & Co. and we can help you put your best foot forward.
Factors that will lead to rejected applications
Failing the regulations Anti-Money Laundering and Countering the Financing of Terrorism Steering (AML/CFT) Committee
Failing the required Know Your Customer (KYC) process
However, if your rejection is not based on the 2 factors mentioned above, we will explore the rejection reasons with MOM and ACRA and file an appeal by addressing the issues raised. If the additional details submitted are satisfactory to MOM, your application will likely be approved.
P/S: MOM normally takes at least three weeks to process an appeal matter.
Where Paul Hype Page & Co. Will Assist You
We will submit all Employment Pass applications electronically to the Ministry of Manpower (MOM) so that you will learn about the outcome of your application faster. Upon approval, the MOM will issue an In-Principle Approval (IPA) letter via email. The IPA letter must be produced upon collection of the EP at the Work Pass Division at Ministry of Manpower. An IPA letter is valid for six months from the date of notification of approval.
To collect your EP, you will need to produce:
A copy of the IPA letter,
Passport size photo,
Original passport,
Medical report* (if the In-Principle Approval states that you require one), and,
Any other documents that are requested in the approval letter.
We will also assist you in submitting the paperwork for a Dependant Pass visa if it is required to.
Foreign individuals/ corporate entities in Singapore can incorporate a :
As mentioned above, the registration of all legal entities for foreigners in Singaapore, must be done by a corporate service provider in Singapore. In this case, you came to the right place. Being the No. 1 corporate service provider in Singapore, Paul Hype Page & Co will adhere to all administration and business needs in accordance with Singapore regulations and requirements.
Starting Up a Company in Singapore
Paul Hype Page & Co will advise you on your Singapore foreign company registration based on your business activity and what information is required for the application process, which includes:
Business Name
Proposed Principal Activities of the Business
Minimum paid-up capital of S$1.00*
Local registered office address
Name and relevant details of one shareholder
Name and relevant details of one resident director
** It is a statutory requirement that companies incorporated in Singapore have a local registered office address, as well as a local resident director.
If you are foreigner, please take note of the following :
Do not attempt to self-register your company. Foreigners are forbidden from self-registering their company in Singapore. Instead, allow us at Paul Hype Page & Co to guide you through the process.
Engaging a Resident Director
For foreign investors who wish to run their business from overseas without relocating, you must engage a local resident director.
A resident director should also fulfill the following requirements as stipulated under the Companies Act:
A natural person of sound mind over 18 years of age
Is not an undischarged bankrupt by a Singapore or foreign court
Is not an unfit director of an insolvent company
Is not a director of a company which was wound up on grounds of national security and/ or interest
Has not been convicted of an offense involving fraud or dishonesty
Has not been convicted in Singapore of any offense in connection with the formation or management of a corporation
Has not been adjudged guilty of three or more offenses within the last five years in relation to the requirements of the Companies Act
Is not subject to a disqualification order under section 34, 35, 36 of the Limited Liability Partnerships Act
Starting a business entity in Singapore is often brought up by foreign entrepreneurs who believe that they can live in the country comfortably. To succeed, it is fundamental for them to realize that there are cultural differences and boundaries that must be taken before setting up a company.
Likewise, it is extremely important to understand the positives and fall-backs of starting a business in Singapore. If entrepreneurs were to have partners, they must fully understand each other fiscally. If they know their business plan clearly, there is a high chance of success.
So why are you waiting. To set up a company in Singapore, be it a Private Limited company, or a partnership, contact us at Paul Hype Page & co to get the ball rolling.
Foreign Investor Guide for Singapore Company Incorporation FAQs
Can a Foreigner be appointed as the manager of the Company?
Tiwi
2020-06-24T12:47:06+08:00
Yes, as long as the foreigner has an Employment Pass or a Dependent Pass.
What is the Process to a Successful Incorporation?
Tiwi
2020-06-24T12:46:51+08:00
1. Propose and reserve your company name in Singapore. However, ACRA will reject a proposed company name if,
–  It is identical to another existing Company Name
–  It is undesirable
–  It is similar to an established name or trademark
2. Prepare your Singapore incorporation documents
3. Register your company with the Accounting & Corporate Regulatory Authority (ACRA)
4. Assist you with opening corporate bank accounts in Singapore
5. Submit an electronic Certificate of Incorporation
6. Obtain a company/branch office Business Profile extract from ACRA
7. Create minutes of the first board meeting
8. Create and keep in safe custody the company seal or company/branch office rubber stamp and pay the relevant government and professional fees.
How will you Fail your Company Incorporation?
Tiwi
2020-06-24T12:46:19+08:00
After the recent 1 Malaysia Development Berhad (1MDB) case that shook the world, Singapore has been more careful with our approach towards money coming in to the Republic. BSI Bank in Singapore was ordered to shut down after cases to them relating to 1MDB came to the surface. Ever since then, every financial institution, especially Paul Hype Page & Co, has take more precaution when it come to new Singapore company incorporation.