What Are The Guidelines For Foreigners to Start a Business in Singapore?
Singapore is highly urbanised. Widely known as the whole world's fourth leading financial centre, it's no surprise that even foreigners are also keen in starting a business in Singapore. In addition, it doesn't hurt that our country has the third highest per capital income in the world. What's more, the little red dot is considered fairly corruption-free as compared to other developed countries. Entrepreneurs want to be successful in their careers, then again who doesn't? And since our sunny island is currently ranked in the first place worldwide for the ease of doing business by the World Bank for 2012, consecutively for 7 years, Singapore is naturally one of the top choices.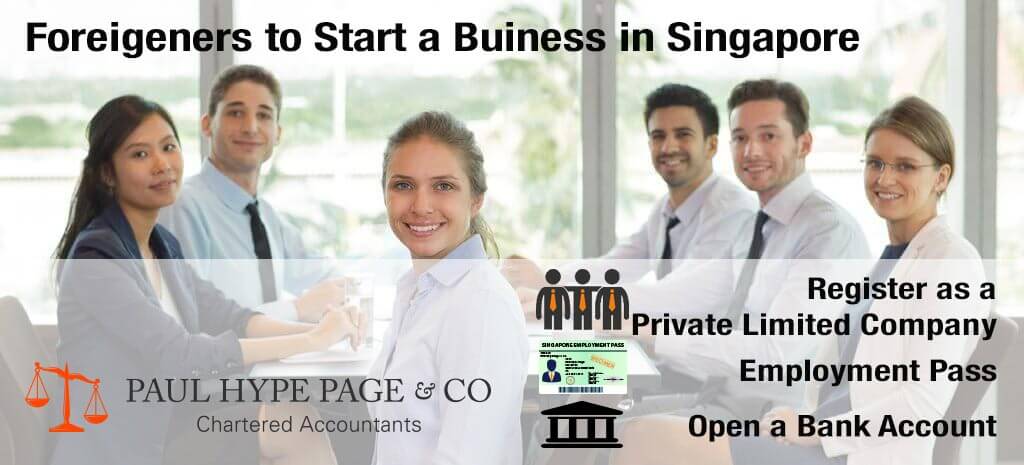 Here are the necessary steps for foreigners to take in starting a business in Singapore.
Incorporate a Singapore Company – Pte Ltd Company
In order for foreigners to apply for an EntrePass, there are various requirements to be met. Some basic requirements include: the business must not be illegal, the company must be registered as a Private Limited Company, and it must not be registered for more than six months at the point of application, foreigner applicants need to hold at least 30% of shares in the business and the company needs to have at least SGD$50,000 of paid-up capital. Setting up of businesses like food courts, massage parlours, employment agencies for instance will be rejected for the application of an EntrePass.
P/S: If you want to incorporate a company as a sole proprietor or partnership entity, you will not be eligible for this visa.
Singapore Work Pass – Employment Pass
Before anything else, if foreigners would like to be present in Singapore to administer his/her business operations, one is required to apply for an Employment Pass from the Ministry of Manpower, also known to everyone as MOM.  Singapore Employment Pass (EP) is a work visa which allows foreign professionals, managers, executives, specialists and professionals to live and work in Singapore.
Opening a corporate bank account in Singapore
Opening a corporate bank account in Singapore is a simple and quick procedure. The important thing is that you have to choose the bank which offers corporate accounts features which can fulfill the banking needs of your company.
Generally, the majority of the banks require that the account signatories and majority directors be physically present in Singapore for signatures at the time of opening the company bank account. However, some banks will accept the signing of documents at one of their overseas branches or in front of a Notary Public.
Additional notes on EntrePass and about being a Company Director / shareholder
Another noteworthy point is that any person at the age of 18 years old can be a director of a company. If you would like to merge a business, you will be required to appoint the services of a professional like a lawyer or an accountant to submit the application via online on your behalf. This system applies if the shareholders or company officers do not have a SingPass. If one does own a SingPass, he/she can continue to submit any online transactions or carry out the required endorsements via BizFile. BizFile is ACRA (Accounting and Corporate Regulatory Authority)'s online filing system. The applicant will then be required to log in to BizFile using their NRIC or FIN number and SingPass.
On a slightly different note, if a foreigner does not have the intention to stay in Singapore to manage his/her company's operations, then he/she need not apply for an EntrePass. Nevertheless, it is compulsory to have at least one locally resident director at the point of incorporation. To do this, one must again appoint the services of a professional to file the application online.
Once the application for an EntrePass has been approved, he/she may then continue to merge the company with ACRA. If a foreigner owns a company registered with ACRA for not more than six months at the point of his/her EntrePass application, he/she may apply for it. Do take note that the application for an EntrePass is subject to MOM's approval.
Learn more about the overview of Singapore work visas
Starting a business in Singapore is often brought up by foreign entrepreneurs who believe that they can live in the country comfortably. In order to succeed, it is fundamental for them to realise that there is a cultural difference and boundaries that have to be taken note of before setting up a company. Likewise, it is extremely important to understand the positives and fallbacks of starting a business in Singapore. If entrepreneurs were to have partners, they must fully understand each other fiscally. If they know their business plan clearly, there is a high chance of success.
Conclusion
In Paul Hype Page & Co, we will help you to,
Get timely updates on the status of your documents and proposed suggestions
Simple, virtual services that meet industry standards
Electronic accessibility through our website
Find the best prices, required licenses, check on common practice and report any advantages
Help you make structured decisions about your company
Help you benefit from our years of business activities and compliance experience