Company incorporation in Singapore and offshore company incorporation are just some of Paul Hype Page & Co's many areas of expertise. Unsure how to do an offshore company incorporation, contact us and we will guide you through the process.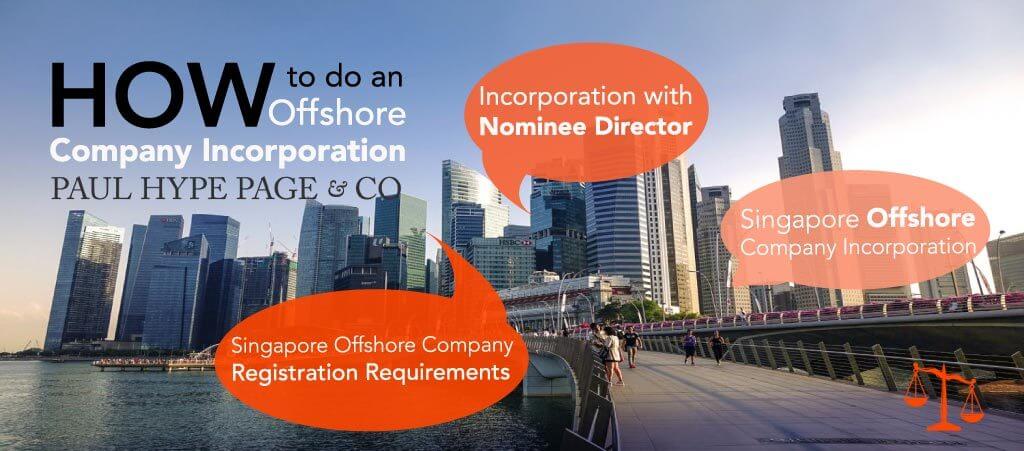 Undoubtedly, one of the most amazing countries in the world, Singapore has also managed to become one of the leading economies over the past decade.
Still, as you may already know, there is a reason for which Singapore is doing so well and that is related to the fact that the entire bureaucratic system and the laws are made in such a way as to make it extremely easy for entrepreneurs to invest in this country. Hence, a Singapore company incorporation is one of the most sought-after options in the world.
Incorporating a Singapore offshore company can also be one of the most beneficial things you could do and if you want to find out more about this, then this is the perfect guide for you.
What is an Offshore Company?
Offshore companies carry out the same types of business as a locally incorporated company and the liability of its shareholders is generally limited to the amount of capital they have invested into the company, and they both will essentially be a private limited company.
However, the difference that an offshore company identify themselves are with the company's incorporation by jurisdiction.
What we mean is, a locally incorporated company will go through the usual process of a Singapore company incorporation. Whilst an offshore business goes through the same process, the only different is the offshore company will be incorporated by a local nominee director.
For Foreign companies whom like to operate a Singapore Company, and do not wish to relocate personally to Singapore, will also opt for the offshore company incorporation option.
Basically, you can incorporate an offshore company in Singapore, case in which you will not need any work passes or work visa. However, you will not be able to live in Singapore for extended periods of time.e for your Spouse and Children Visa
Incorporation with Nominee Director
What is a nominee director? It is an individual who is appointed to represent the interests of another group or person or company.
As the name suggests, in this context, a nominee director helps foreign individual or investors for a Singapore Company Incorporation, and they function as the director of a company for meeting the legal requirement to own a local director. Due to the functions, a nominee director acts passively and lacks some power in the company.
Singapore Offshore Company Incorporation 
There are many reasons for which offshore companies' incorporation is something a lot of entrepreneurs are seeking for. 
One of the main reasons is related to the fact that it is profitable from the point of view of the taxes you would have to pay.
For starters, there are at least two circumstances when you can be completely exempt of Singaporean taxes: if the foreign-sourced income is remitted in Singapore and certain conditions are met and if the foreign-sourced income is remitted outside of Singapore.
Even if you do have to pay tax in Singapore, they could turn out to be quite low (as low as 8% in certain cases).
Furthermore, once the taxes have been paid at a corporate level, every single shareholder is entitled to his/her share of the profit tax-free. Furthermore, for the first three years of activity in Singapore the first S$100,000 will be completely tax free.
Other reasons for which Singapore is one of the best places on Earth to start an offshore company are related to the fact that the entire environment there is extremely business-friendly and stable (both from an economic point of view and from a political point of view).
Singapore 

Offshore 

Company Registration Requirement
If you do decide to incorporate an offshore company in Singapore, you should know certain things beforehand.
The first one is the fact that the name of your company registration will have to be approved by the Accounting and Corporate Regulatory Authority (ARCA) in Singapore.
You are then required to appoint at least one local director, one local shareholder and one local secretary. In this instance, Paul Hype Page & Co can assist you in that.
You will have to have a minimum paid-up capital of S$1.
You will need to have a registered address as part of the Singapore Company Registration. This can be a residential address or a commercial one. However, a PO Box is prohibited.
You will also be required to open a bank account in Singapore. However, according to the policy of the bank, this may mean that you must be there in person (as opposed to all the other steps that can be taken long-distance as well).
Documents Required for Offshore Incorporation
Passport copies of proposed shareholders and directors
Residential address proof of proposed shareholders and directors
Details of the parent company if the shareholder is a corporate entity
Why incorporate a Singapore offshore company?
Credible image in incorporating in Singapore
Liberal foreign ownership policy
Political stability
Great banking facilities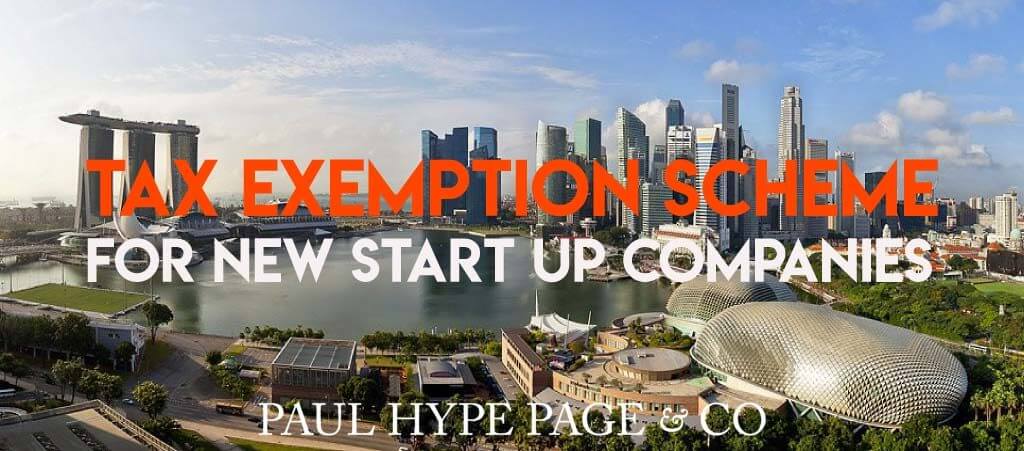 Tax Exemption New Singapore Business
The tax exemption scheme for new start-up companies was introduced in Year of Assessment (YA) 2005 to support entrepreneurship and help the local enterprises grow.
During the Singapore budget that was held in 2018, it was announced in Budget 2018 that the tax exemption under the scheme will be revised. The changes will take effect from YA 2020 for all qualifying companies that claim the tax exemption under the scheme.
YA 2020 onwards
75% exemption on the first $100,000 of normal chargeable income*; and
A further 50% exemption on the next $100,000 of normal chargeable income*.
YA 2019 and before
Full exemption on the first $100,000 of normal chargeable income*; and
A further 50% exemption on the next $200,000 of normal chargeable income*.
*Normal chargeable income refers to income to be taxed at the prevailing corporate tax rate.
Corporate secretaries would be in wholly responsible for the practice of ensuring that these conditions are met and as such, it is important to ensure that they are highly qualified and well versed in local regulations and corporate laws. They will also be responsible for upkeep of important company files, reports and records.
The tax exemption is open to all new companies except these two types of companies:
 A company whose principal activity is that of investment holding; and
A company which undertakes property development for sale, for investment, or for both investment and sale.
Do keep in mind the fact that although it is quite easy to obtain the permit to incorporate an offshore company in Singapore, and according to the Singapore Company Law, a foreigner is forbidded to do it without the assistance of a professional agency.
Make sure you work with the best – Paul Hype Page & Co – and that you deliver all the necessary documents for them to make this process fast and easy.