Update: Productivity and Innovation Credit (PIC) has been discontinued by IRAS. Businesses can no longer claim PIC benefits on qualifying expenditure after YA2018.
The Inland Revenue Authority of Singapore (IRAS) launched Productivity and Innovation Credit (PIC) in 2010. · Setting up a Singapore Company
Setting up a Singapore Company – $60,000 Cash Rebate for your investment
Productivity & Innovation Credit (PIC)
Singapore has been facing an urgency to push its efficiencies and productivity in a wide range of industries. As a result, several different government agencies in Singapore have been continually providing several grant schemes to aid SMEs to use technology and other resources to achieve that objective.
Overview of PIC
In the 2010 budget, Singapore government introduced Productivity and Innovation Credit Scheme (PIC) scheme that allows enterprises to enjoy up to 400% tax deduction or allowances or get 60% cash payouts when they invest in innovation, research and development, automation, and training.
Qualifying Activities
The tax benefits under PIC are available from Years of Assessment, or YAs, 2011 to 2015, when you invest in any of its 6 qualifying activities. These qualifying PIC activities include the training of employees; acquiring and leasing of IT and automation equipment; the acquiring and in-licensing of intellectual property rights; the registration of trademarks, designs, and patents; activities involving research and development; design projects that are approved by the Design Singapore Council. Among its 6 activities, one is 'Investments in Design.' The Investments in Design, or PIC for Design, encourages companies in Singapore to continuously strive to design innovative solutions. Currently, it is managed by the DesignSingapore Council.
PIC Bonus
All businesses also enjoy a PIC Bonus from YAs 2013 to 2015 – a dollar-for-dollar matching cash bonus offered in addition to the 400% tax benefits and 60% cash payout.
PIC for SMEs
All SMEs are eligible for the PIC grant, which is available for up to 5 years. However, all the qualifying expenditure must be incurred between the basis periods for Years of Assessment (YA) 2011 to 2015. The PIC Scheme also focuses on covering expenses incurred during external training as well as in-house training for all types of businesses, including SMEs.
To improve the accessibility of various government schemes to SMEs, SPRING is doing its best to set up more SME in the country and also help them read more SME clients. For external training, all business can claim the exemption for course fees/workshops with any external service providers, which includes enrollment and registration fees, tuition fees, examination fees and aptitude tests; meals and refreshments costs during the courses; rental of training premises; traveling, transport, and accommodation expenses incurred while attending the training.
Singapore Government Grant & Support for entrepreneurs
Likewise, the Singapore government has announced a wide range of measures to enhance financial support for all small and medium enterprises. The Inland Revenue Authority of Singapore, or IRAS, for example, had recently simplified the terms of the PIC Bonus, announced in the 2013 Budget, to make it easy at assisting companies to improve their innovation and productivity, particularly in a time of economic evolution.
Based on my experience with many overseas entrepreneurs, making the decision to come to Singapore, and setting up their business is an easy decision. This is due to the many favorable factors Singapore business environment possess such as lower corporate tax rates, excellent infrastructures, stable government and first class living environment, etc. Other  areas which should be of concern in order to benefit from PIC such as Incorporating a Singapore Company and the Singapore Tax system is relatively easy to comprehend.
Of course, all the above benefits come with a cost, Singapore been voted the ninth most expensive city according to latest Economist Intelligence Unit survey published in 2012.
However, entrepreneurs who are keen in setting up a business in Singapore need not worry as Singapore pro business tax incentives would help you cushion the initial setting up cost. Singapore Tax incentives such as SME Cash Grant where IRAS will rebate 5% of your company's revenue or Productivity Credit scheme where IRAS will rebate you 60% of your company's automated fixed assets such as computers, machinery and etc.
Let me showcase an example on how the tax incentive helps overseas entrepreneurs to set up a Singapore company.
Productivity Credit Scheme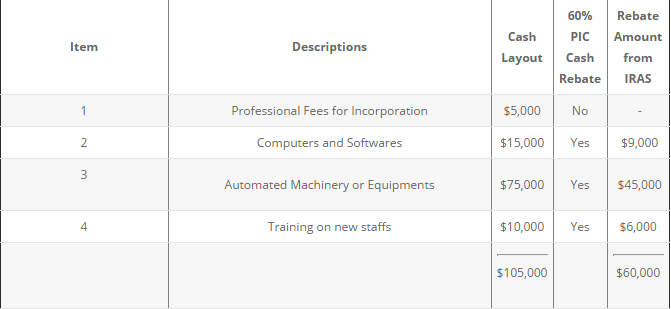 From the illustrated example above, our favorable tax incentive will rebate 60% of the investment cost for setting up a Singapore business. In effective, you will be rebated up to $60,000 for the first $100,000 invested in your Singapore Company. Further, the incorporation fees can be treated as pre-commencement expenses and be allowed for tax deductions.
Singapore Government PIC Grant FAQs
My company is a branch, is it eligible for Productivity and Innovation Credit (PIC)?
Tiwi
2021-02-16T16:51:07+08:00
Yes, all businesses (regardless of a branch, a subsidiary, sole proprietorships, or partnerships) are eligible for PIC.