Singapore is home to people of many different cultures and religions. Therefore, the public holidays in the country accommodate and reflect this diversity. People all over the country eagerly anticipate any public holiday. In any country, everyone looks forward to the opportunity to enjoy an additional break; it is no different with the people of Singapore.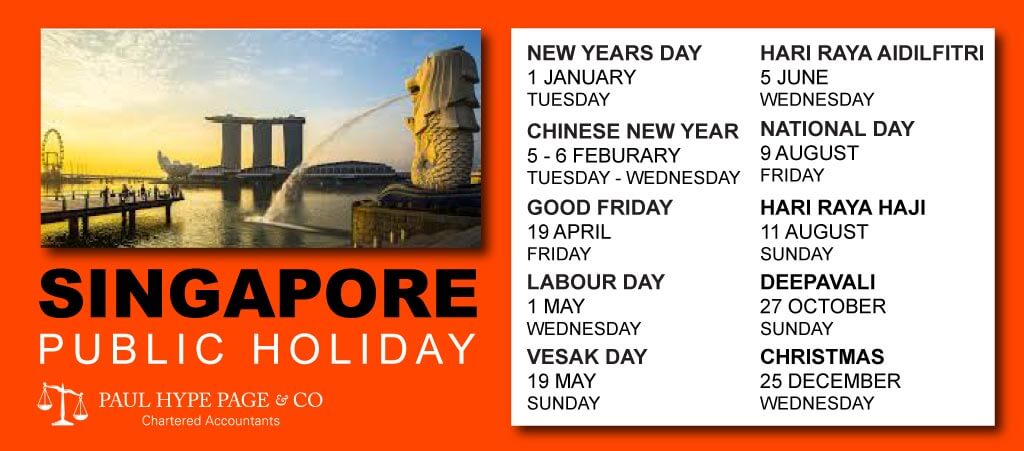 Information on Singapore public holidays in 2019
According to the dates of the Singapore public holidays scheduled for 2019, this year will see two holidays on a Friday and three on a Sunday. Despite that, the year will only see four long weekends, as National Day and Hari Raya Haji fall on the same weekend. This figure matches those of 2013, 2014, and 2018.
In the following paragraphs, there will be a brief description about what companies need to know about employees' rights on a public holiday. All employers in Singapore should keep tabs on the dates of the public holidays because it would make it much easier to manage staffing and business expectations. With the necessary preparations made ahead of time, workflow experiences minimal disruption and staff shortage is not a problem.
Of course, these are not the only issues which employers in Singapore might face. Employers ought to make sure that all their queries about owning a business in Singapore are resolved. Fortunately, we at Paul Hype Page & Co can be of assistance in this regard. We help our clients with such issues as Singapore company incorporation and the receiving of Singapore's Employment Pass.
New employers in Singapore ought to know that employees are entitled to the gross rate of pay during a public holiday. This comes into effect if:
they were not absent on the working day immediately before or after a holiday without consent or a reasonable excuse;
they were on authorized leave on the day immediately before or after a holiday.
Any holiday which falls on a Sunday will cause the Monday directly after it to act as one. However, if a company observes the holiday according to the parent company and employees are required to work on a public holiday, they are entitled to an extra day's salary at the basic rate of pay.
Some employees who are entitled to work on a public holiday may mutually agree to substitute a public holiday for another working day. Such a move is completely legal; however, such an agreement must be properly communicated, whether via email or verbally.
If an employee is in a managerial or executive position, the employer may grant time off in lieu of the employee's working on a public holiday. The time off should consist of a mutually agreed number of hours.
All employers in Singapore are required to abide by the preceding guidelines in accordance with Singapore's Employment Act. All labor issues in Singapore, including those related to public holidays, are overseen by the Ministry of Manpower (MOM).
Calendar of 2019 Singapore public holidays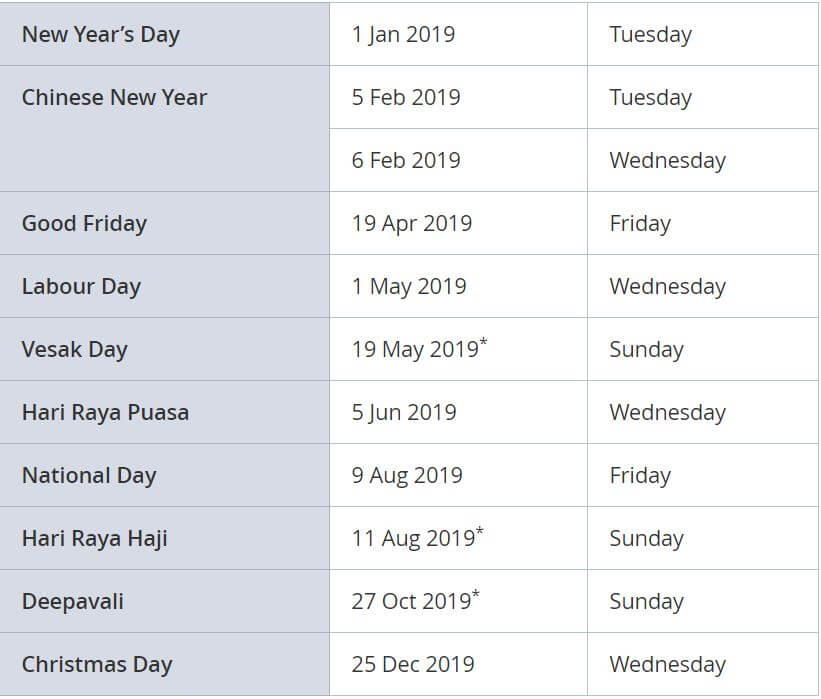 Singapore Public Holidays for 2019
Public holidays in Singapore are highly-anticipated and widely-celebrated events and festivals.
Every year, tourists from all over the world flock to the country to experience the rich culture Singapore has to offer. This cultural depth includes public holidays. Tourist experiences and participation make the festivals even more extravagant and add a splash of color to the holidays.
The following are several of the notable public holidays in Singapore, with their 2019 dates listed.
January 1 – New Year's Day
In Singapore, the first day of the year is both a public rest day and a day of celebration. The countdown celebrations interest many locals and tourists, and many gather at some of Singapore's iconic locations to witness the vibrant fireworks displays.
February 5-6 – Chinese New Year
This is one of the most highly-anticipated festivals celebrated by the Chinese population of Singapore. The ubiquity of the auspicious red symbolizes that Chinese New Year, also known as the Lunar New Year, is around the corner. During this time, Chinese New Year decorations can be seen all along the streets and many other locations in Singapore.
April 19 – Good Friday
Good Friday is celebrated by Singapore's Christian community. This holiday commemorates the crucifixion of Jesus Christ. On this day, church services are held across the country. Although Good Friday is a solemn day, it is indeed a good Friday for employees, as it is a day of rest.
May 19 – Vesak Day
This holiday is celebrated by the Buddhist community of Singapore. It honors the birth, enlightenment, and death of Buddha. Somewhat surprisingly, despite its ancient roots, Vesak Day was only officially established in 1950 and became a public holiday in Singapore in 1955.
June 5 – Hari Raya Puasa
Also known as Hari Raya Aidilfitri or Eid al-Fitr, this holiday is celebrated by Muslims. It signifies the end of the fasting month of Ramadan. The Muslim community in Singapore usually celebrates this festival with their family members. They often visit extended family members, hold open houses featuring an array of local delicacies, and wear their colorful traditional attire.
October 27 – Deepavali
Celebrated by Hindus, Deepavali is also known as the "Festival of Lights". It signifies the triumph of light (good) over darkness (evil). Those who choose to take a trip to Singapore's world-famous Little India at this time will be impressed with the striking and bright festive colors lighting up the area.
December 25 – Christmas
One of the most awaited and enchanting festivals in the country, both Christians, who celebrate it, and others look forward to this day. Those who visit Singapore's Orchard Road will be amazed by the stunning decorations and lights. Since Christmas is all about indulging in the spirit of giving, Christmas shopping is a must for many who go there.
Singapore Public Holidays and Long Weekends
Public holidays are always more eagerly-anticipated when they create a long weekend. This occurs when the holiday falls on a Friday, Sunday, or Monday. In 2019, there will be four long weekends in Singapore. Three of these long weekends are created by Good Friday (April 19), Vesak Day (May 19), and Deepavali (October 27) respectively. There will also be a four-day long weekend in August. This will occur because National Day will be on August 9, while Hari Raya Haji will be on August 11.
This year's total of four long weekends matches those of 2013, 2014, and 2018. In 2021, there will also be four long weekends. However, people all over Singapore should look forward to the year 2020. This is because in that year, there will be a remarkable seven long weekends. In 2020, long weekends will be on the following dates: January 25-27, April 10-12, May 1-3, May 23-25, July 31-August 2, August 8-10, and December 25-27.
How to Plan Vacations by Taking Public Holidays into Account
It should go without saying that those who want to maximize their holiday plans ought to check the calendar to plan their time off accordingly.
Although Singapore is certainly a country with a high living standard and many attractions to keep people there, it is, however, a very small country. Therefore, many people living in Singapore use their time off from work, including public holidays, to travel and see more of the world.
Traveling from Singapore is not difficult. Changi Airport Singapore is ranked as the world's best airport. From there, one can board flights to almost every major city in the world. For those planning to travel to Malaysia, road and rail are also options. Singapore has two large bridges and a train service connecting it to its northern neighbor.
One of the easiest ways to decide on the best time to travel is by taking public holidays into account. Those who plan to take shorter trips are advised to prioritize long weekends for this purpose. This is because, if the vacation does not span more than three days, no annual leave has to be taken. In 2019, the long weekends created by Singapore public holidays are from April 19-21, May 17-19, August 9-12, and October 26-28.
Those who plan their travel around public holidays should also keep in mind which public holidays are celebrated by them or their family. This is because, during these times, they will often have extended family members to visit, preparations to make, and guests to entertain. Therefore, they will have little to no time to travel during these festive seasons.
For those intending to take longer trips, the duration of such vacations does not usually span more than one public holiday. Therefore, these people will have to apply for significant amounts of annual leave before traveling. However, by including a public holiday as one of the travel dates, those who travel will be able to reduce the amount of leave to be taken by one day (or sometimes two days).
Traveling to Singapore to Celebrate Public Holidays
This next section is targeted at foreigners who would like to experience celebrating a public holiday in Singapore.
Just like in every country of the world, Singapore uses its public holidays to showcase part of the country's heritage and culture. For foreigners who plan to travel to Singapore, going there during a public holiday is one of the best ways to experience some of Singapore's cultural depth and unique ways of celebrating these holidays.
Certain locations in Singapore are also associated with certain public holidays. Tourists who would like to maximize their festive experience in Singapore should head to these spots during the related holiday seasons to get the most out of their trip. As all of Singapore's public holidays except National Day are celebrated worldwide, tourists can also compare how these holidays are celebrated in Singapore with how they are in their home country.
Here is a list of some of Singapore's public holidays, the Singapore location which is the best place to experience them, and why.
New Year's Day: Marina Bay. During the most recent New Year's Day, this upscale area hosted a spectacular fireworks display, a lively carnival, and several live performances. Although the next New Year's Day event will be different, it will not be any less impressive.
Chinese New Year: Chinatown. Chinese New Year is the most important public holiday in Singapore. This is evidenced by the fact that it is the only two-day public holiday in the country. Every Chinese New Year, Chinatown is decked out in festive colors and striking decorations. It also holds a great many events related to the festival.
Vesak Day: Kong Meng San Phor Kark See Monastery. Every Vesak Day, this monastery holds a candlelight procession. This procession is held in honor of Buddha and his life. Participants in this procession also undergo a ritual in which they say a prayer after taking a few steps.
Hari Raya Puasa: Geylang Serai. Technically, this is not entirely accurate because the events that take place here precede Hari Raya Puasa. However, it is included because they are held during Ramadan in anticipation of Hari Raya Puasa. The bazaars in Geylang Serai attract visitors from both Singapore and abroad. They sell products that cannot be obtained at any other time of the year.
National Day: Padang. In 2019, Singapore's National Day parade will be held at Padang. There, the citizens' patriotic fervor will be displayed in full force. It is important to note that the location for the parade changes every year. Therefore, tourists should check the location of the parade before going to watch it.
Deepavali: Little India. Every year during Deepavali, Little India transforms into a mass of color and light. There are also many bazaars and stalls set up which sell goods related to the festivities. In addition, the many decorations in the area are truly a sight to behold.
Christmas: Orchard Road. The Christmas lights and decorations hung up along Orchard Road are world-famous. They attract visitors in droves from Singapore and all other parts of the world alike. Aside from this, Orchard Road is also home to many large malls. Therefore, there is no need to abandon the area to buy Christmas gifts.