Why Is Your Singapore Employment Pass Rejected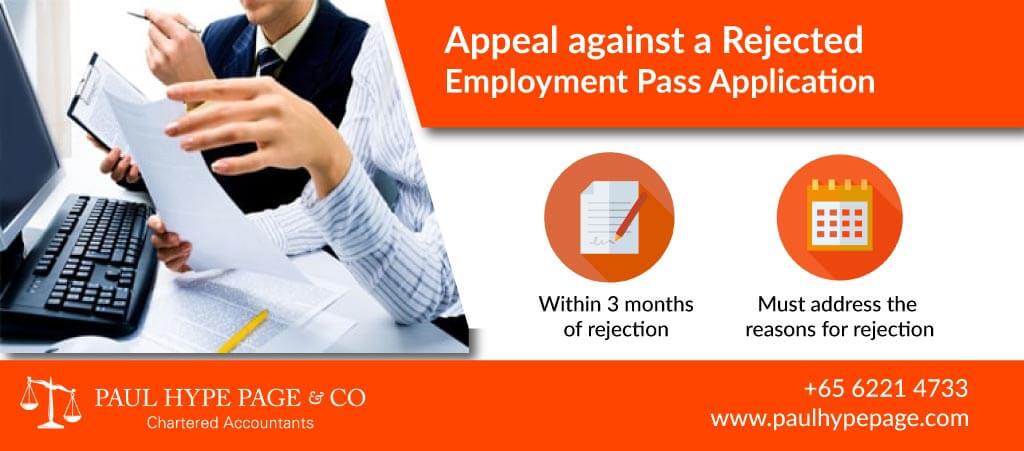 In previous years, Employment Passes (EP) are permitted based on applicant's qualifications, salary, and work experiences. However, there has been a major shift since then. Today, a more stringent rules are implemented in granting each pass. Every application will go through a thorough scrutiny by the authority who is responsible in the approval of work passes which is the Singapore's Ministry of Manpower (MOM).
Employment Pass holders are allowed to legally live and work in Singapore under few criteria and as MOM recently refined the application process, the stricter rules has made the process a rather daunting task. In order to ensure your application gets a nod from the authority, it is not only obligatory to fulfil the requirements, but also to understand the reasons behind an employment pass application rejection. 
As a professional service provider, at Paul Hype Page, we deal with Employment Pass application on a daily basis and we always attempt to stay afloat with the current needs of MOM. In this article, we will shed some light on why an Employment Pass application might get rejected. 
If you cannot find a job or a company to sponsor for your Employment pass application , you can always do it on your own – Incorporation with Employment Pass
Below you dive into the rejection reasons, you may want to see the relevant topics
Rejection Reasons
The Ministry has been progressively securing the criteria for work visa application over the years and also as a constructive step to control the inflow of foreigners in Singapore. 
In most cases, MOM does not reveal the real reasons behind an application rejection. Hence, it is imperative that you understand the clear requirements and below we will hand down some of the possible reasons on why your application might get rejected based on our close study. 
Your Job Scope is Totally Different from Your Qualification.
To get your Employment Pass, it has several key indicators such as educational background, working experience, salary and jobs skill demand in the market. So, if you have been offered a job and upon reviewing your application, if your education and experience do not align with your job requirements, most likely your application will be rejected. MOM prefer those who possess competency skills corresponding to the job they will be doing. Even though you carry years of experience, but your degrees are not directly related to the type of job, chances are MOM may reject your pass application. For instance, if the applicant is offered job as technician, but do not hold a technical degree, this is an instant shutdown. The authority rather prefers candidates who are specialized and hold experiences in the same field of work. 
Your Employer did not Fulfil the Criteria of having a Balanced Ratio of Locals to Foreign Employees.
It is mandatory for all companies or employers to hire the locals before looking out to employ foreign talents. This move is mandated to protect the Singaporeans in the workforce by the government hence there should be a rational to why the employer is seeking to hire foreign employees. With more stringent rules being implemented, MOM wants a proper justification from the employer on why they hired a foreigner, and to substantiate, they usually ask for proof that the locals are indeed considered and interviewed, and why their skills did not match the job profile. Let say MOM is not convinced on this, without proper justification, they may reject your application. 
The close scrutiny of this recruitment practice is aligned with the principles of the Fair Consideration Framework (FCF), a guideline introduced by MOM which requires all companies to fairly consider Singaporeans in their hiring process. New rule mandates that employers are obliged to advertise a vacant role for at least 14 days on the national jobs bank before the position can be filled. MOM will closely track if employers did review and considered all the applications that were submitted in response to the job advertisement. This effort came into picture when there was a rising concern on high number of foreign populations in the region. Nevertheless, the need of advertising a vacant position gives them access to a bigger pool of local candidates. 
Additionally, MOM is against companies with unfair hiring practices as they only consider those with balanced foreign to local employee ratio in the review of Employment Pass application. Companies with disproportionate number of foreign employees and not showing any commitment to hire and promote local labour force may find it harder to obtain the Employment Pass. 
A closer look on this, employers will need to provide the following recruitment related information in the application submission: 
If the job was advertised in the Jobs Bank for at least 14 days. 

 

If other job channels or recruitment portals (other than Jobs Bank) were utilized in the hiring process. 

 

Number of candidates applied for the jobs, which includes Singapore citizens, permanent residents and foreign nationals and the stages reached in the recruitment cycle. 

 

Justification on why foreign nationals are hired for the position instead of locals. 

 
The objective of this is also to make sure the company or employer is competent enough and if they do not put in any effort to nurture Singaporeans, they are considered not a good contribution to the republic and have weak economic linkage and social impact. 
Your Position can be Easily Replaced by a Singaporean.
One major reason why the government encourages foreign talents is to create positive impact on Singapore's economic growth. This means that they are only looking for outstanding skills that may contribute to the labour workforce in the long run, and if there are already enough locals who can do the same job, their search will only be resorted within the vicinity. 
Employer will need to strongly convince MOM that they need you and no locals were able to do what was in your job description. So, you will definitely need to acquire a rare skill or ability that is not available locally and make sure that the specific skill is crucial to the business entity.  
You Simply did not Fulfil the Eligibility Criteria.
 This is one of the most common reason of rejection, where an application gets rejected outright simply because the basic requirements were not fulfilled. As a potential applicant, you will need to make sure that you are eligible especially when it comes to salary and academic qualifications. Since April 2016, MOM has introduced a more stringent rules and the minimum monthly salary requirement is $3600. But do note that although your salary fits the job profile, other aspects will also be considered alongside.   
Your Duration of Previous Jobs.
Consistency in your work records is of crucial significance as MOM do not prefer job-hoppers or spotty work records. To illustrate, you stayed in your previous job less than two years without giving good reasons for the change. 
This is one element that is often overlooked and frowned on by MOM under the current tightening up of vetting. What better way to convince the authority other than having a spotless employment record? 
There are Discrepancies in Your Personal Information.
One of the important indicators to secure your pass is to provide enough information on your personal details, academic qualification, work experiences, awards or achievement. What if you do not provide enough information or in some cases, the correct information and documents? Your application will be outright rejected. So, if by any chance you do not furnish a legitimate certification to substantiate your credentials or if you provide conflicting details, you will be rejected due to 'questionable qualification'. As Singapore is highly sophisticated and one of the best regulated country, the authority surely does not tolerate dodgy applications. In certain cases, even if you prepare all the needed information to validate your application, it will still go through a vetting process. Consequently, this new criterion may cause your application to be bounced as a thorough vetting is carried out to pick out only the most eligible applicants. 
Your Resume does not Portray an Increasing level of Responsibilities and Salary.
When your resume or CV does not exhibit an increasing level of responsibilities and increasing salary cumulatively, it means that you are not progressing, and this is seen as a lack of value-added benefit to contribute. You should manifest your application in a way where you are growing up the ladder, and not just settling in your comfort zone. 
Next Step
As time goes by, the ability to check things in greater details will improve and MOM will go over every application with a finer tooth comb. Even a minor flaw in the application can lead to rejection, so your best bet here is to tackle the additional classified and discretionary criteria. 
Singapore's main concern here is to fulfil the national and economic development policies, so MOM only approves Employment Pass applications based on the current skill needs of companies and the country overall. 
One way to ensure that your application do not get rejected is to seek for professional help. 
In Paul Hype Page, we are known as a professional service provider and keep ourselves abreast with the current issues of immigration policies. By engaging with us, we will make certain that the process is less stressful and at the same time preventing you from making common Employment Pass mistakes that will lead to rejection.