Stay compliant after your company incorporation when you choose our company secretary services in Singapore. Put the worries of breaking the laws or missing important deadlines to one side and let us be your compliance guide aligned to ACRA regulations.
A reliable and efficient corporate secretary is crucial for the smooth operation and compliance of any business in Singapore. At Paul Hype Page, we understand the importance of this role and offer top-notch corporate secretary services tailored to meet your specific needs. Our team of experienced professionals is dedicated to providing comprehensive support and ensuring your company's compliance with all regulatory requirements.
What You Need to Know About Singapore Company Secretary
Did you know that it is mandatory for every Singapore company to appoint a company secretary within 6 months from the date of incorporation according to the Companies Act?
A company secretary is a legal requirement for businesses in Singapore, responsible for ensuring compliance with corporate laws and regulations. They maintain statutory registers, file annual returns, and organize board and shareholders' meetings. Company secretaries possess extensive knowledge of Singapore's corporate landscape and provide advisory support on governance best practices. They handle confidential information with professionalism and uphold the highest standards of integrity. Choosing a reputable corporate services provider ensures your company secretary possesses the expertise to fulfil these responsibilities and support your business needs.
Your options are to hire and train an in-house secretary or get company secretary services from outsourcing companies. The latter is more convenient if you have no prior experience with secretarial work and will find it difficult to train an in-house secretary.
Here are some important notes for you regarding corporate secretarial in Singapore.
Roles and Responsibilities of a Singapore Company Secretary
The company secretary is an officer of the company, an advisor to the board, the main liaison between the shareholders and directors, and the main compliance officer.
Check Your AGM & Annual Filing Due Date
Enter your company name to generate the dates for your AGM and annual filing.
Duties of a Company Secretary in Singapore
Run your business seamlessly with our dedicated company secretary assigned to your business. Our Singapore company secretary service empowers you to keep your mind focus on growing your business. Our Singapore company secretary services include:
Annual General Meetings (AGM)
General Meetings
General Compliance
Statutory Returns
Report & Accounts
Share Registration
Shareholder Communication
Shareholder Monitoring
Share & Capital Issues, Transfers & Restructuring
Company Seal
ACRA Compliance Alerts & Reminders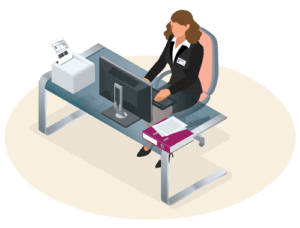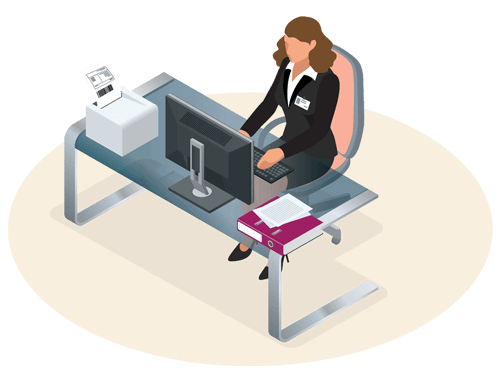 Here are other duties of a company secretary in Singapore:
Powers of a Company Secretary in Singapore
The powers of the company secretary lie in their signature as certification of documents. Since the company secretary is recognised as the key person who maintains the records of the company, certification of company documents by the company secretary is generally accepted.
The powers are limited in a way that the company secretary's signature can be replaced by other lawyers, accountants, or the company director. Otherwise, the certification procedure would require joint signatures of both director and company secretary.
Situations where a company secretary's signature is required:
How Company Secretary Services Can Help You
Company secretary services are outsource support services offered by experienced firms. This means that the secretary they will deploy to your office is already well-rounded on secretarial duties and can assist you or your team on the admin tasks and other areas where his or her service is needed.
One of the key advantages of hiring company secretary services is the tax incentives. Since outsourced secretaries are not considered part of your company, you will not have to shoulder the tax that comes from having them onboard.
Most companies offering company secretary services offer stability when it comes to filling in the role. Unlike hiring an inhouse secretary that may, at some point, file leave for a longer period, outsourcing your secretary will mean that the post will not be vacant. If the deployed secretary will not be able to work for a couple of days, the firm will likely send a substitute.
Procedure to Appoint and Remove a Company Secretary
When you dedicate to engage company secretary services, the procedure to officially appoint the new corporate secretary and remove the existing one is as follows:
– Procedure to Appoint a Company Secretary –
– Procedure to Appoint a New Company Secretary –
Singapore Company Secretary & Legal Articles
Equip yourself with business knowledge to ensure that you engage the right company secretary for your business and how you can stay compliant with Singapore Companies Act
Why Appoint Us as Your Singapore Company Secretary?
At Paul Hype Page, we recognize that every business is unique, and we tailor our corporate secretary services to fit your specific requirements. Whether you're a small start-up or a multinational corporation, our dedicated team will work closely with you to provide the highest level of service, ensuring your company's compliance and peace of mind.