Singapore GST is critical to Singapore economy. This guide provides an overview of Singapore's Goods & Services Tax, definition of GST, registration requirements, advantages and disadvantages of GST registration, filing GST returns, and schemes to help the business grow.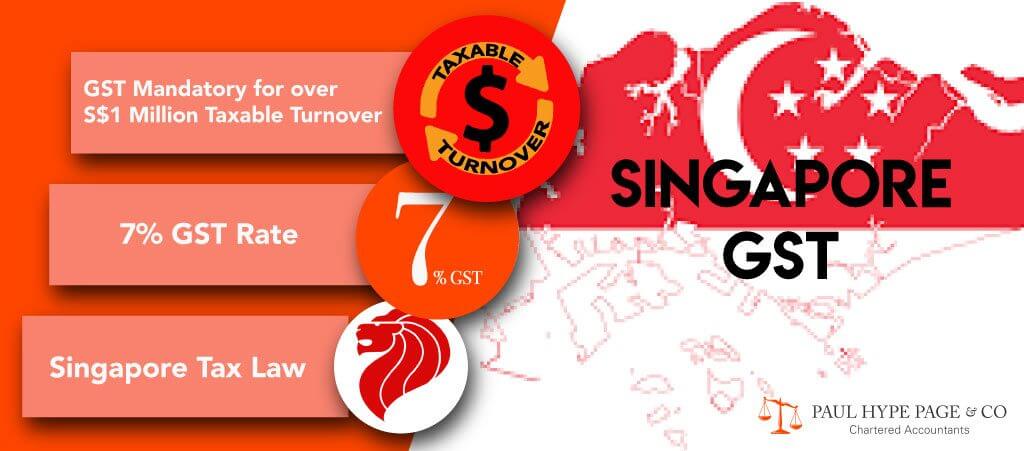 Many countries around the world have a goods and services tax (GST). GST is a multi-stage tax on domestic consumption for which the final consumer receives the tax burden. A GST-registered person must charge GST for goods sold or services provided and pay GST for anything used in the person's business. The former is known as the "output tax"; the latter, "input tax". GST is also imposed on the import of goods. Some countries refer to GST as value-added tax (VAT). One of the countries that has put GST into practice is Singapore.
Overview
In Singapore, GST was first implemented on April 1, 1994, under the Goods and Services Tax Act (GST Act). Unless stated, all references to Singapore tax law in the following paragraphs refer to the GST Act. This act was based on two similar pieces of legislation from other countries: the United Kingdom's VAT legislation and New Zealand's GST legislation. Singapore's current GST rate is 7%, up from 3% at the time of its introduction. The Singaporean government also announced in Budget 2018 that at some point between 2021 and 2025, Singapore's GST rate will be raised to 9%.  Do you want to know more of Singapore Rates? GST is the Singaporean government's second-largest source of tax revenue. In Singapore, GST is administered, assessed, and collected by the Inland Revenue Authority of Singapore (IRAS). The IRAS also enforces payment of GST. Anyone whose output tax exceeds their input tax for a certain accounting period must pay this difference to the IRAS. Conversely, anyone whose input tax exceeds their output tax may claim this difference from the IRAS. The Comptroller of Goods and Services Tax is responsible for the collection of GST in Singapore and the carrying out of the provisions of the GST Act. The Comptroller is appointed by the Minister of Finance.
Singapore GST and Supplies
With regard to GST, all supplies in Singapore are divided into four categories. The first category is standard-rated supplies. These supplies are taxed at the usual 7% GST rate. Standard-rated supplies include most local sales of goods and provisions of services. The next category is zero-rated supplies. Zero-rated supplies are not subject to any additional GST costs and include the export of goods, as well as services which are deemed to be international services. Exempt supplies also do not have GST applied to their costs. Examples of exempt supplies are sales and leases of unfurnished residential properties, financial services, and the importation and local supply of precious metals for investment purposes. There is one difference between zero-rated and exempt supplies. This difference is the fact that one who only makes exempt supplies is not allowed to claim input GST. The final category is that of out-of-scope supplies. These supplies are transactions considered to be outside the scope of GST, hence their name. There are various supplies which are counted as being out of the scope of Singapore GST. These include the following, among others: sales in which goods are delivered from a location abroad to another location abroad; private transactions; brokerage charges on foreign fares; and supplies made before April 1, 1994. Out-of-scope supplies are also not subject to GST.
Where a taxable person publicly displays or advertises the price of any supply of goods or services made or intended to be made, the price shown must include GST, as per the GST Regulations. Any taxable person who intends to display GST-exclusive prices is required to seek the approval by the IRAS to do so. Retailers are required to state GST-inclusive prices on their receipts and simplified tax invoices printed with the words "amount payable includes GST". However, they are not required to show the amount of GST payable separately. Ultimately, the supplier of goods and services ends up passing the burden of the output tax to the recipient of the goods and services, in accordance with the statutory scheme of the GST Act.
GST is chargeable on any supply of goods or services made in Singapore if it is a taxable supply made by a taxable person, also known as a GST-registered person, as part of a business transaction. The GST Act defines a taxable supply as a supply of goods or services made in Singapore other than an exempt supply. Although the GST Act does not provide an outright definition of "supply", it also states that the term refers to "all forms of supply, but not anything done otherwise than for a consideration". Therefore, anything which is not a supply of goods but is done for a consideration is regarded as a supply. The Second Schedule to the GST Act gives further clarification regarding supplies considered to be goods and supplies considered to be services. Whether GST is to be charged on a particular supply depends on where the place of supply is. There are different conditions for determining the place of supply of goods and that of services. If the supply of any goods does not involve their relocation into or away from Singapore, the goods are deemed to have been supplied in Singapore if they are in Singapore and supplied outside Singapore if they are not. Goods exported out of Singapore are treated as having been supplied in Singapore and zero-rated, while goods imported into Singapore are treated as having been supplied outside Singapore and subject to GST unless they qualify for import reliefs or are part of certain GST exemption schemes. Supplies of services are regarded as having been made in Singapore if the supplier belongs in Singapore. Likewise, supplies of services are regarded as having been made abroad if the supplier belongs in a country other than Singapore.  If you like to know more about our Singapore Company Tax?


Singapore GST and Importation of Goods
According to the GST Act, the importation of goods into Singapore is subject to GST. GST is imposed and charged in the same way that customs duty is. Singapore Customs is responsible for the collection of GST on imported goods. Where a person who belongs outside Singapore supplies a service not specified in the Fourth Schedule to a recipient who belongs in Singapore for business reasons, the recipient is regarded as having supplied the service in Singapore and must therefore account for GST, as per Section 14 of the GST Act. Section 14 functions in such a way so as to prevent exempt or partially-exempt businesses from avoiding GST on inputs by obtaining services from a foreign supplier instead of a domestic one. GST will also be imposed on imported services starting from January 1, 2020. This new GST charge will be taxed in two ways: reverse charge, which will be imposed on business-to-business imported services, and an overseas vendor registration regime, which taxes business-to-consumer digital services.
Singapore GST Registration
Certain persons in Singapore are required to register to become taxable persons, or GST-registered persons. Registration for GST is mandatory for those with over S$1 million in taxable turnover at the end of the calendar quarter prior to January 1, 2019 and the past three quarters, as well as those with over S$1 million in taxable turnover at the end of any calendar year on or after January 1, 2019. Persons who are not required to register for GST include those whose taxable turnover mostly or completely comes from zero-rated supply and may thus apply for exemption from registration. Persons who are liable for GST registration under the retrospective view but not the prospective view also do not have to register if they meet the following conditions: taxable turnover for the next 12 months is not expected to exceed S$1 million, taxable turnover is projected to decline due to specific circumstances, and the person has supporting documentation to back up the projection. However, this person must also monitor taxable turnover at the end of the next calendar year. On the other hand, those who are not liable for GST registration may nevertheless opt to do so. Before registration, the following factors must be taken into consideration: the responsibilities of a GST-registered business, suppliers' profile, customers' profile, type of sales to be made, and pricing decisions to be made after GST registration.
Paul Hype Page & Co's team of consultants is well-versed in all aspects of Singapore GST. We would be pleased to help make your GST registration, be it voluntary or compulsory, a smooth, simple process.
The GST registration process includes four steps (or five if it is voluntary registration). The first step is to determine the type of GST registration. If it is voluntary registration, the next step is to complete two e-learning courses titled "Registering for GST" and "Overview of GST", then pass a quiz. Next, the applicant must submit an application for GST registration online via myTax Portal. Following this, the IRAS will process the application. The IRAS usually takes around 10 working days to process each application and may request for additional information and supporting documents through either email or letter. Upon approval, the applicant will receive a letter of notification of GST registration. This letter provides details on the applicant's GST registration number and the applicant's effective date of GST registration.
Those who must register for GST are required to do so within 30 days of the date they became liable to register. Persons who are liable to register for GST under the retrospective view are to be registered following the third month of the calendar year, while those liable to register for GST under the prospective view are to be registered on the 31st day from the date of forecast. Anyone who registers late will be punished with the following: their date of registration will be backdated to the date that they were liable to be registered they will have to account for and pay GST on their past sales starting from the effective date of registration even if they did not collect any GST from their customers, and they may be fined up to S$10,000 and a penalty equal to 10% of the GST due. However, the IRAS is willing to make exceptions to the above in certain situations. Applicants who voluntarily disclose that their registration is late will generally have their late notification fine and penalties waived. The IRAS also allows those who are unable to pay the GST due on the backdated period to do so in instalments.
Sometimes, GST de-registration may be necessary. This usually occurs when a GST-registered person ceases to make taxable supplies. This person is then required to notify the Comptroller in writing within 30 days from the date of cessation. The Comptroller will then terminate the person's registration if it is determined that the GST-registered person is no longer liable to be registered. However, if the Comptroller is not satisfied that the person no longer makes taxable supplies or thinks it is necessary to protect revenue, the Comptroller may refuse to cancel a voluntary registration.
Claiming and Charging of Singapore GST
When a consumer purchases anything from GST-registered suppliers or imports goods into Singapore, the consumer may incur input tax. The consumer may claim input tax incurred if all the conditions for making such a claim have been satisfied. However, the consumer is required to make the claim during the accounting period that matches the date shown in the tax invoice or accounting permit. There are seven conditions to be fulfilled in order for the consumer to claim input tax. These are as follows: the consumer is GST-registered; the goods or services must have been supplied to the consumer or the goods must have been imported by the consumer; the goods and services are used or will be used for the consumer's business purposes; local purchases must be supported by valid tax invoices addressed to the consumer or simplified tax invoices at the time of claiming the input tax; imports must be accompanied by import permits proving the consumer to be the importer of the goods; the input tax is directly attributable to standard-rated or zero-rated supplies, or out-of-scope supplies which would either be standard-rated or zero-rated if made in Singapore; and the input tax claims are not prohibited under Regulations 26 and 27 of the GST (General) Regulations.
Either a valid tax invoice (for purchases of less than S$1,000) or a simplified tax invoice (for purchases of more than S$1,000) containing all required details is necessary for one to claim input tax on any purchases or expenses. If the tax invoice submitted to the IRAS is found to be invalid, the tax claims will be disallowed and penalties may be imposed. There are two common examples of factors that invalidate a tax invoice. One example occurs when the invoice has missing details. There are four ways this could be the case: if the supplier's name, address, and GST registration number are not shown; if the purchase is worth more than S$1,000 and any of the words "tax invoice", the customer's name, or the GST amount are not shown; if the purchase is worth less than S$1,000 and either the GST amount or a statement similar to "price payable includes GST" is not shown; or if the purchase was made in foreign currency and the equivalent amount in Singapore dollars is not shown. Another example of an invalid tax invoice occurs when the supplier is not GST-registered. This is evidenced when the supplier does not have a GST registration number or has an expired or invalid GST number.
Paul Hype Page & Co is able to assist you with your tax invoices, as well as any other tax-related issues you may have. We will ensure that you and your business comply with existing tax regulations while also helping you receive the most benefits possible.
Tourists may also claim a refund of GST paid on purchases made in Singapore if certain criteria are fulfilled. To qualify as a tourist, a person must not be a Singapore citizen or permanent resident; have spent 365 days or less in Singapore over the two-year period before the date of purchase; have not been employed in Singapore over the six-month period before the date of purchase; must not be a member of the crew of the aircraft on which the person is departing Singapore; must be at least 16 years old at the time of purchase; and if the person is a student pass holder, must have purchased the goods within the four-month period before the expiry of the student pass. If the person qualifies as a tourist, the following criteria must be fulfilled to receive the tourist refund: the goods must be purchased and an electronic Tourist Refund Scheme (eTRS) ticket is received from the retailer; at least S$100 including GST must be spent; the GST refund must be applied for by using the Token or eTRS Tickets at an eTRS self-help kiosk; the tourist must depart with the goods within two months from the date of purchase; the tourist must depart with the goods within 12 hours after obtaining approval of the GST refund; and the tourist must claim the refund from the approved central refund counter operator within two months from the date of approval of the application. If the tourist holds a student pass, the tourist must also have purchased the goods within the four-month period before the expiry of the student pass and intend to depart with the goods and remain outside Singapore for a minimum period of 12 months.
Only GST-registered businesses are allowed to charge and claim GST from their effective date of GST registration. Businesses that are not GST-registered are prohibited from charging GST. If a business has wrongfully charged or collected GST from its customers, it must remit the GST collected to the IRAS. The exceptions to this rule are non-GST registered third-party businesses that sell or rent out GST-registered businesses' assets in satisfaction of debt owed such as auctioneers, financiers, and mortgagees. Similarly, only GST-registered businesses may claim GST. However, non-GST registered businesses in specific industries have been granted concessions, subject to conditions, to claim any GST incurred. Qualifying funds that are managed by a prescribed fund manager in Singapore are allowed to claim any GST incurred on prescribed expenses at an annual fixed recovery rate via remission. Real Estate Investment Trusts (S-REITs) and qualifying Registered Business Trusts (S-RBTs) are allowed to claim GST on any expenses they incur for their business and Special Purpose Vehicles (SPVs). In order to claim the GST incurred, qualifying funds, S-REITs, and S-RBTs must submit a quarterly Statement of Claims to the IRAS. Each Statement of Claims is due one month after the end of the quarter it corresponds to. However, funds and trusts may submit their Statements of Claims every six months or every year as long as the claims are made within five years from the end of each respective quarter.
GST Voucher Scheme
In Budget 2012, the Singaporean government introduced a permanent GST voucher scheme to assist lower-income Singaporeans. This scheme gives out GST vouchers which are divided into three components: Cash, Medisave, and U-Save. The Cash component helps offset some immediate cash outlays and is given to eligible Singaporeans who live in HDB flats or lower-income private homes. The maximum payout for this component is S$300 per year. The Medisave component reduces elderly Singaporeans' expenditure on medical goods and services. Eligible Singaporeans who live in HDB flats may receive up to S$450 a year, while those who live in lower-income private homes may receive a maximum of S$350 annually. The U-Save component is a rebate that cuts a household's expenses on utilities. Only HDB households are eligible for this component; its value may range from S$240 to S$400, depending on the number of rooms in the flat.
Assessment and Refunding of GST
The Comptroller is entitled to assess GST due if a taxable person has not furnished a GST return or keep the necessary documents for verification of returns. The Comptroller may also assess GST in situations where GST returns appear to either be incorrect or incomplete, or where a certain amount of GST has been refunded or repaid to a taxable person when it should not have been.
When a person furnishes a GST return, the person is required to pay the Comptroller the GST due for the accounting period to which the return relates. According to the GST Regulations, this payment must be made on or before the last day on which the person is required to forward the GST return to the Comptroller. Should the input tax exceed the output tax, the Comptroller must refund the difference to the taxable person within one, three, or six months equivalent to the person's prescribed accounting period.
GST truly permeates every aspect of daily life in Singapore. Although GST may seem simple on the surface, it is full of details and complexities that help it work the way it does. By adhering to GST laws, businesses and consumers play their part in helping Singapore's GST system run smoothly, and thus provide a boost to Singapore's economy.