Singapore's Employment Pass (EP) is a work visa which lets foreign professionals, managers, executives, and specialists live and work in Singapore. Acquiring an EP involves a careful approach with regard to the strict EP requirements and the Ministry of Manpower's latest regulations.
The Singapore Employment Pass (EP) is a work visa which allows foreign professionals, managers, executives, specialists, and professionals to live and work in Singapore.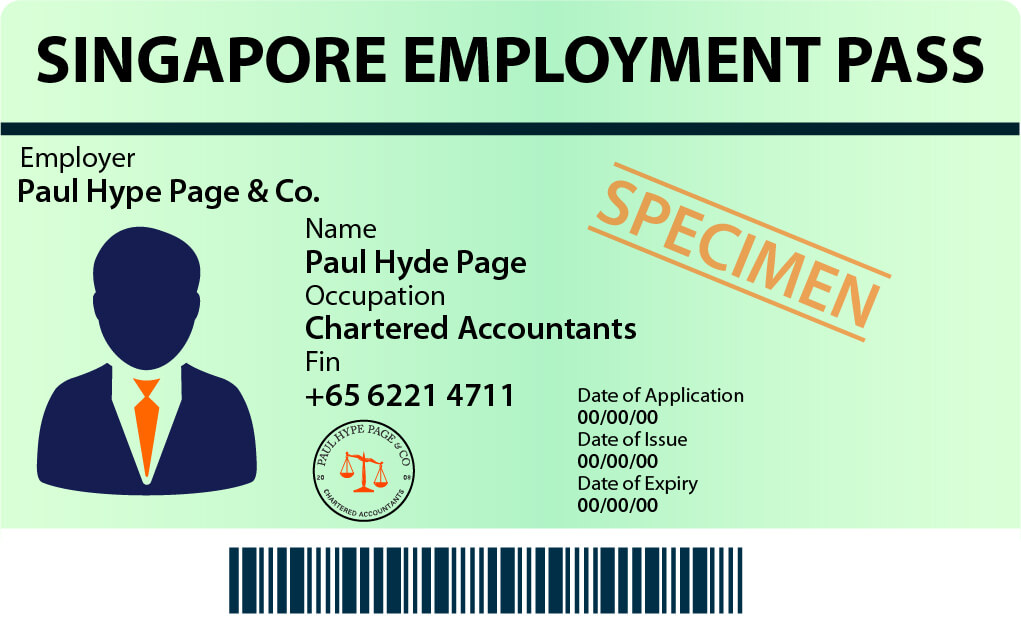 As per the Singapore Companies Act, if a foreigner is to be a director of a Singapore company, the foreigner must be a valid pass holder. The most commonly selected pass for such purposes is the EP.
The EP is normally issued for one to two years at a time and is renewable thereafter. An EP visa enables one to work and live in Singapore and travel in and out of the country freely without having to apply for Singapore entry visas. This increases the ease of conducting business activities. Possession of an Employment Pass also makes it easier to apply for Permanent Resident (PR) status in Singapore.
Basic Employment Pass Information
 
Employment Pass applicants must earn at least S$4,500 a month and have requisite qualifications. Older applicants must generally command a higher salary that is commensurate with the work experience and quality they are expected to bring.
Employers or employment agents (recommended for higher approval rates) should apply for the pass before an applicant comes to Singapore.
It takes Singapore's Ministry of Manpower (MOM) around three weeks or longer to process an EP application. Upon receiving the In-principle Approval (IPA) notification, we at Paul Hype Page & Co will make arrangements for the collection of your EP if you have applied for one.
Foreign entrepreneurs ought to note that the Employment Pass application can only be made after their company has been incorporated. It is not necessary to be physically present in Singapore while the application is being processed.
Employment Pass Procedures and Timeline
All EP applications can be submitted electronically to the Ministry of Manpower.
If you choose to work with us at Paul Hype Page & Co, the entire process will consist of the following steps:
Update the Ministry of Manpower regarding the newly incorporated company. (2 days)
Fill up EP form (to be done by client)
Check and submit Employment Pass (to be done by authorized Paul Hype Page & Co Employment Pass agent) (2 days)
Approval application (within 7 days) – In-Principle Approval (IPA) / Medical check-up (if required)
Card issuance (at Paul Hype Page & Co office)
Card registration at the Ministry of Manpower's office (for new EP applicants)
Card collection (at Paul Hype Page & Co office)
The total duration of the application procedure may vary; the Ministry of Manpower might require additional documents or verification of documents.
Once the EP has been approved, the MOM will issue an In-Principle Approval (IPA) letter. An IPA letter is valid for six months from the date of notification of approval.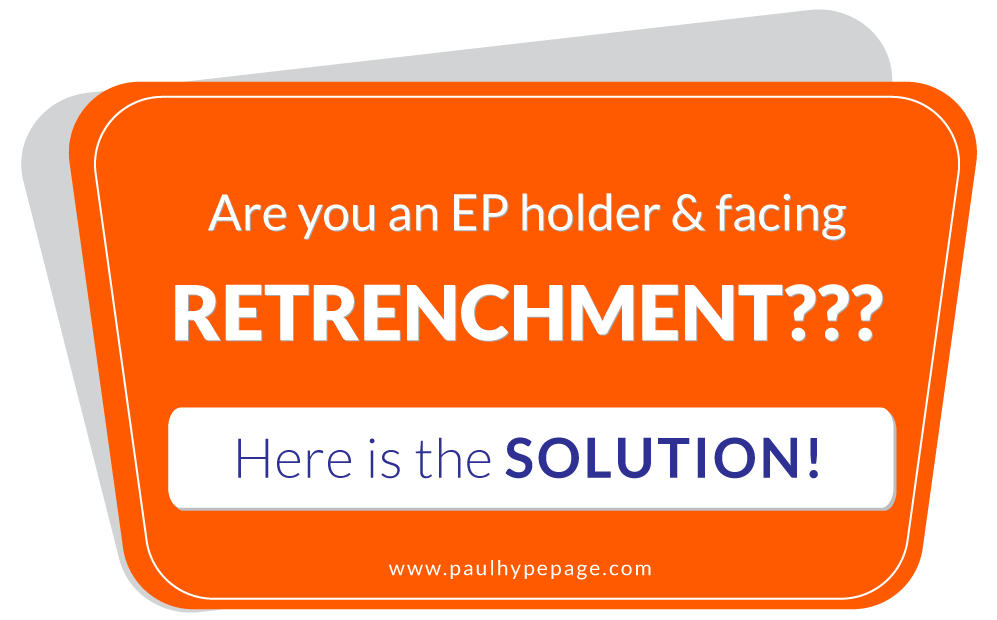 After receiving the IPA letter, we will make arrangements for your EP card issuance.
You will be required to present:
A copy of the IPA letter
Recently-taken passport-sized photograph
Original passport with the entry embarkation cards
Medical exam report (if the IPA letter states that one is required)
Any other documents requested in the approval letter
The medical examination can be conducted in the applicant's home country through an established clinic or hospital or in Singapore. Most clinics in Singapore can provide a medical examination and report within one or two working days.
Should you need to proceed to the MOM for card registration (for thumbprint and photography), we will help you book an appointment with the MOM.
The EP will be ready to be collected at our office after four working days.
Documents Required for Submission of an Employment Pass Application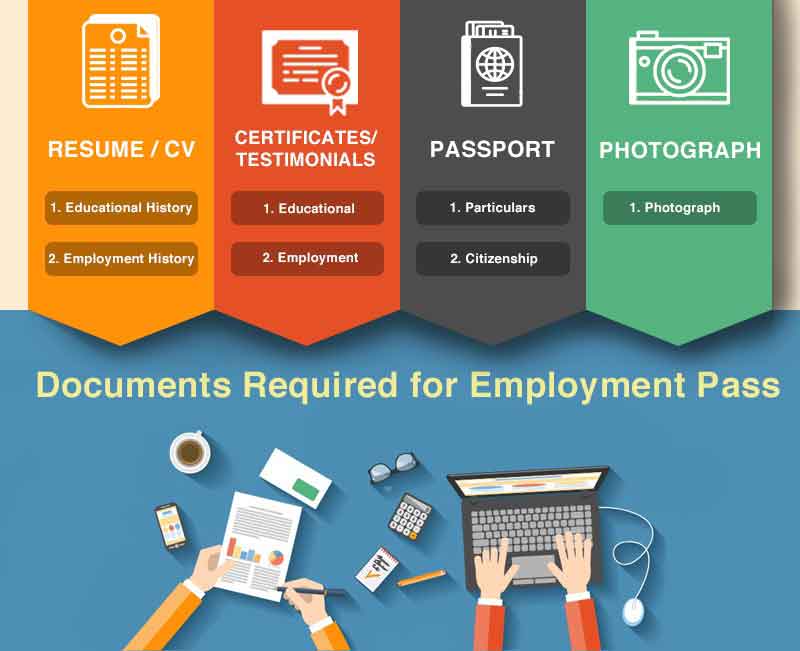 The following documents are required to submit an Employment Pass visa application in Singapore:
EP application form which is to be endorsed by the Singapore-based company which is hiring or will hire the applicant
Resume or CV stating educational and employment history
Copies of educational certificates and past employment testimonials
A copy of the personal details page on the applicant's passport
Photograph of the applicant
A copy of the business profile of the company hiring the applicant
Detailed description of the applicant's job duties
Detailed description of the products, services, and/or business activities of the company hiring the applicant
Tenancy agreement of the place of business operations in Singapore
Any documents in a language other than English must be translated into English by an official translation service.
Employment Pass Eligibility Criteria
The foreign professional must have a fixed monthly salary of at least S$4,500.
A monthly income of S$6,000 or more is required so that a Dependant's Pass application can be approved.
Parents of EP holders can also apply for the Long Term Visit Pass, but the EP holder must draw a minimum salary of S$12,000 (from January 1, 2018, onwards) before the parents are eligible.
Generally, a recognized diploma or degree from a reputed university is expected.
Professional qualifications, specialist skills, and work-related experience are also taken into account.
The Ministry of Manpower evaluates each applicant on the basis of individual merit. Other factors which also play a very important role are:
Salary of the applicant
Age of the applicant
Roles and responsibilities
Applicant's current citizenship
Any past EP application rejections
Even if the applicant has a recognized educational qualification, this does not guarantee a successful application as the applicant is also required to satisfy other criteria such as relevant work experience and or professional skills. Similarly, an applicant who does not possess a recognized educational qualification may not necessarily be rejected for the Employment Pass if the applicant possesses other compensating factors.
The eligibility criteria for the Employment Pass as imposed by the Ministry of Manpower are intended to ensure that EP holders' salaries are similar to those of their local counterparts, raise the standards of Singapore's foreign workforce, and discourage employers from hiring foreigners instead of locals due to a lower cost involved. Furthermore, there are possibilities that some foreigners could have plans to enter Singapore for the purposes of money laundering or any other illicit activities. Therefore, it is extremely important that the Ministry enforces these criteria as strictly and authoritatively as possible in order for Singapore and its economy to benefit through the contributions of local workers and eligible, legitimate foreign workers alike.
Understanding the strict eligibility criteria can be a daunting task as the Ministry of Manpower's reasoning can be difficult to understand. Thus, we have prepared a detailed guide on the Employment Pass Requirements in Singapore.
How the Employment Pass is related to the Long Term Visit Pass and Dependant's Pass
The EP is one of four Singapore work passes which has close ties to the Long Term Visit Pass (LTVP) and Dependant's Pass (DP). EP holders who fulfill certain criteria can apply for either of these passes. By doing so, they can make it easier for members of their family to come to Singapore.
To apply for an LTVP, the applicant must be a holder of either the EP or S Pass. The applicant must also earn a fixed monthly salary of at least S$6,000 and be sponsored by a company which has been registered in Singapore. Applicants may obtain an LTVP for any of the following family members: common-law spouses, unmarried handicapped children who are aged 21 or older, and unmarried stepchildren who are below 21 years old. Successful LTVP applicants who earn a fixed monthly salary of at least S$12,000 may also opt to use the pass on one or both of their parents.
Those who apply for a DP must already hold one of the following: an EP, an S Pass, a Personalised Employment Pass (PEP), or an EntrePass. The applicant must also earn a minimum of S$6,000 per month. The DP can be obtained for the applicant's spouse or unmarried children, whether biological or otherwise, who are below 21 years old. Applicants may apply for the DP at the same time as or at any time after applying for their work pass. DPs are linked to work passes; they expire at the same time that their corresponding work pass does.
Employment Pass Advantages Which Do Not Apply to Other Work Visas
There are several advantages which are provided to applicants for as well as holders of an Employment Pass which do not exist for those of other Singapore work visas. S Pass holders are not permitted to either own or be the director of a company. They are also barred from entering certain lines of work. Personalized Employment Pass holders have a much higher salary requirement than do Employment Pass holders. They too are not permitted to enter specific lines of work. EntrePass holders are required to fulfil specific criteria related to their status as an entrepreneur, innovator, or investor. None of these additional requirements are applicable with regard to the EP. Thus, it is only to be expected that the EP is the Singapore work visa most commonly selected by foreigners.
The Self-Assessment Tool (SAT)
According to our Singapore Employment Pass Guide, it is wise to make use of the Self-Assessment Tool (SAT), an online tool offered by Singapore's Ministry of Manpower (MOM). In the guide, we have listed important factors to consider when applying for a Singapore Employment Pass. 
The SAT serves as a gauge of one's chances of receiving an Employment Pass; it is not an exact means of determining either approval or rejection of such an application.. Applicants and employers can check whether they meet the specific requirements to obtain the proper work passes. The SAT is reliable and has as a high level of accuracy. The SAT will aid in checking one's eligibility based on nationality, education profile, working background or experience, and salary profile.
Should the SAT results indicate that an applicant is not eligible, the applicant is advised to abandon the application because the application may be outright rejected. However, the SAT is merely a reference and does not depict actual results; the application will nevertheless be thoroughly reviewed by the Ministry of Manpower (MOM) authorities.
The Self-Assessment Tool exists on the MOM's website.
How to Check Employment Pass Application Status
After applying for an EP online, the following image can be seen: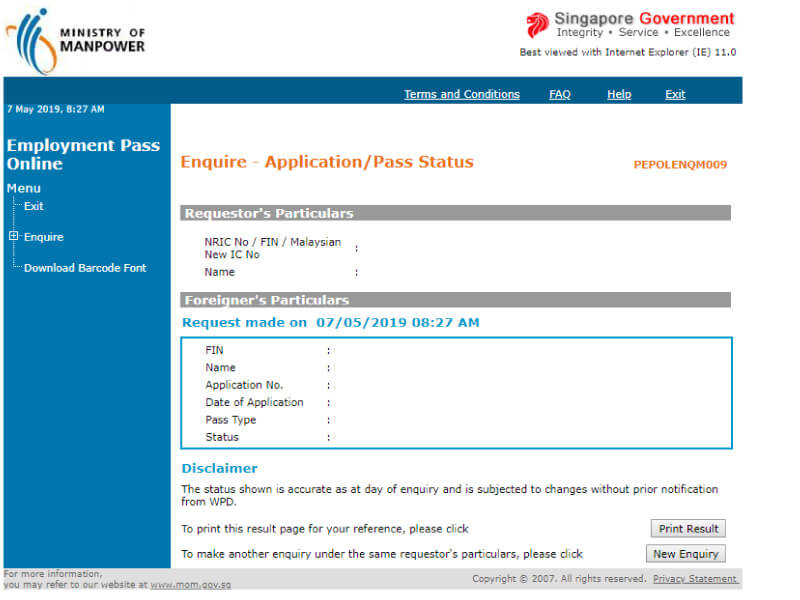 According to this image, the details that will be shown on-screen are the applicant's Foreign Identification Number (FIN), name, application number, pass type, and status. It is this last detail, the applicant's status, which will be discussed in further detail.
Applicants' EP status can be divided into three categories. An applicant's EP application status can be pending, rejected, or approved.
If the applicant's EP status is "pending", it means that the Ministry of Manpower (MOM) is either currently assessing the application or requires more documents before making a decision about approval. Among the documents sometimes required by the MOM are details of the business activities of the applicant's employer, details and pictures of the tenancy of the applicant's company's place of business operations, or a letter justifying why a certain company requires the services and contributions of the applicant. The MOM may also require proof of the ongoing business operations of the applicant's employer. Such proof may include sales invoices issued to major clients, local corporate bank statements, and major client contracts which have been secured.
If the applicant's EP status is "rejected", the applicant has three months from the MOM's formal rejection to submit an appeal. To appeal an EP rejection, an applicant needs the following: a bank statement proving that the applicant's company's balance can cover at least 12 months' salary and business expenses if the applicant owns a company, major contracts secured by the applicant, and any relevant sales invoices.
If the applicant's EP status is "approved", the MOM has already approved the application. The applicant may now proceed to make an appointment with the MOM to receive the EP and activate it.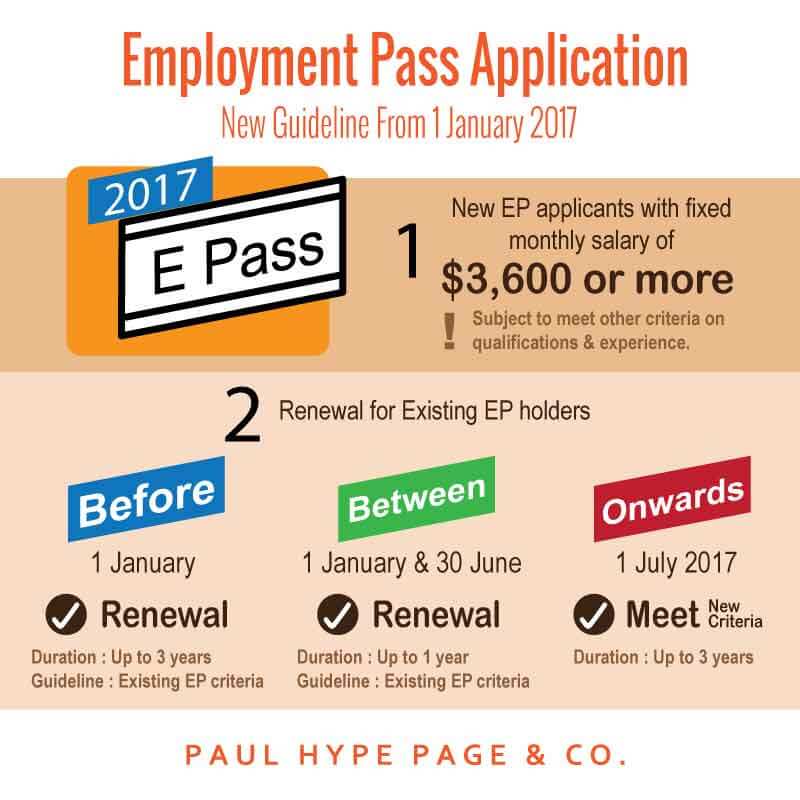 Entry Visa into Singapore (Using IPA Letter)
If you are abroad and require an entry visa to Singapore, your IPA letter will include a single journey entry visa. Upon your arrival in Singapore, we will make an appointment with the Ministry of Manpower on your behalf for fingerprinting. Once the procedures have been completed, your pass will be ready within four working days.
Other Important Facts Regarding EP Applications
The only people who are to apply for a person's Employment Pass are those who are employers based in Singapore and who have hired or will hire the person in question. Upon the applicant's acceptance of the job offer, the employer is to submit the offer letter including job and salary details. The employer is also to pay all fees for application including those to be paid to any agent if necessary.
Once this Employment Pass application has been submitted, the Ministry of Manpower will conduct a check in order to ensure that the applicant neither has any other work visa applications which have not yet been approved nor has submitted an incomplete application. Any such EP application will be rejected.
Upon approval of this application, the applicant will be assigned a Foreign Identification Number (FIN). Each FIN is specific to an individual and is to be used for every job application made by the applicant. However, it must also be mentioned that the assigning of a FIN does not necessarily imply approval of the relevant Employment Pass application.
In the Event of an Employment Pass Application Rejection
Sometimes, an Employment Pass application is rejected by the authorities. If such has happened to you, we will investigate why the outcome was so. We will consider the Ministry of Manpower's reasons, establish a firm appeal in your defence, address the issues raised, and provide any needed documents on request.
Appeals take at least three weeks to be completed, though this duration may sometimes be longer.
Any appeal must be submitted within three months of the official rejection. After this time period, a new application must be submitted.
Reasons for Rejection of an EP Application
Job scope and qualifications do not match. Educational profile and experience should be aligned with the job requirements.
The applicant's previous employer did not hire locals or had an imbalanced ratio of locals to foreign employees in the company. This shows a lack of contribution to Singapore and a lack of trust in the local economy. It also casts a poor light on the company with regard to its global standing.
A local can easily take the job which the applicant is pursuing. In such a case, there is no need for a foreign talent as there are enough locals that can already do the same job.
Criteria such as academic and salary qualifications are not fulfilled to an appropriate level.
The duration of the applicant's previous job is less than two years and the applicant changed job without any acceptable reason. The Ministry of Manpower takes a dim view of job-hoppers and applicants with questionable work records.
The applicant has discrepancies in the information provided such as personal information or credentials.
The applicant gave inadequate information to substantiate the application.
The applicant's resume does not exhibit an increasing level of prestige or salary. This gives the impression of a lack of personal improvement and contributions
A careful approach and much attention to detail is required when dealing with an application rejection. We have provided a guide titled   "Why Is Your Singapore Employment Pass Rejected" which includes further information on this matter.
Jobs Bank Requirements of Companies Applying for an Employment Pass
Since August 2014, the Ministry of Manpower has required companies that intend to hire EP holders to first advertise the relevant position in the Singapore Workforce Development Agency's Jobs Bank. However, certain exceptions apply.
The following positions are exempted:
Jobs in firms with fewer than 25 employees
Jobs that pay more than S$12,000 per month
Intra-corporate transferees (i.e. candidates holding senior positions / professionals with advanced levels of expertise)
Short-term positions (less than one month)
Factors that Make an Employment Pass Application Successful
The MOM's strict yet subjective criteria focus on many factors, particularly those regarding the quality of the EP applicant and the applicant's background. There are some key factors that often determine the outcome of an application.
One of the main factors considered by the MOM is whether the applicant will be able to contribute to the Singaporean economy. Generally, Singapore demands skilled talent from abroad when no suitable job applicant can be found among locals. In such situations, foreign talent is needed.
An Employment Pass application is likely to be accepted if the applicant is from a company operating in a sector which is significant to the growth of Singaporean economy. Such sectors are known as priority sectors.
The Singaporean government recently introduced a programme known as the Tech@SG Programme. It aims to make it easier for foreign skilled talent to come to Singapore and work in Singapore's technological sector. One of the ways in which the government plans to expedite this process is by easing the requirements for Employment Pass application.
This programme could have a significant impact on Employment Pass laws as a whole. Should the Tech@SG Programme turn out to be successful, there is a reasonable chance that the new, more lenient Employment Pass regulations will be extended to foreigners entering any business in any industry in Singapore.
The MOM requires the salary of applicants to be commensurate with the applicant's skill level and be competitive enough to meet the manpower needs of the country's economy. An applicant's salary should be at least S$4,500. Of course, those who have extensive experience in their field will demand a higher salary amount.
Note that if there are many other applicants who meet other criteria on qualifications and experience, applicants with higher salaries are more likely to be approved. This is because the MOM does not want the applicant's salary to match or compete with local talent.
Qualifications and experience 
An applicant's skills should portray appropriate relevance to the job scope of the job which the applicant is pursuing.
Apart from the resume, the Ministry of Manpower will also closely scrutinize the applicant's job description to assess the applicant's understanding of the responsibilities of the role and how the applicant will create financial advantages. If the position requires special or rare skills instead of commonly available skills, the application will be prioritized as such skills are scarce among locals.
Applicants who provide any testimonials from previous employers are more likely to have their applications accepted. This is because the MOM will believe that in such situations, the applicant's skills are outstanding and unique.
The Singaporean government is required to prioritize locals during the hiring process. As such, employers must advertise the job in the Jobs Bank for at least two weeks. Only when there are no locals applying for the job can employers consider hiring foreign employees.
This requirement was put in place to aid the government scheme known as the Fair Consideration Framework (FCF). This scheme is intended to make companies consider Singaporeans before hiring foreigners. By doing so, companies uphold Singapore's fair recruitment practices.
If the applicant's company is still new and in the early stages of its growth, a viable business model is required to build the profile of the company. It is best to demonstrate a three-year financial projection and include details of proposed business activities in Singapore. Applicants who also emphasize future hiring plans for Singaporeans are likely to win favour with the authorities.
This business plan will give information on the applicant's plans and intentions to positively contribute to the republic. Most business plans usually consist of three to four pages of text, with effective visual aids serving as supporting information.
EP applicants who own a company need to provide evidence that their company has a sufficient amount of paid-up capital. This would inform the MOM that the applicant's company has the financial viability to pay out salaries consistently.
The MOM has been clamping down on companies which are not financially viable enough to support the payments of employees' salaries as well as other business expenses. Therefore, EP applicants who own companies with low amounts of paid-up capital are unlikely to have their EP applications accepted. In most cases, the more the amount of paid-up capital, the higher the EP applicant's chances of approval. However, a large amount of paid-up capital does not necessitate the approval of the EP application; some with companies with large amounts of paid-up capital could be rejected as well.
Company Incorporation as an Employment Pass Holder
It is possible for one who is an Employment Pass holder to incorporate a company in Singapore. After having applied for and received an EP, the EP holder must then fulfill the standard incorporation criteria which apply to all who incorporate a company in Singapore. These include directors among whom at least one is a local resident director, shareholders who may either be individual or corporate and either local or foreign, at least S$1 of paid-up capital, a non-post office box registered address located in Singapore, a company secretary who is a Singapore resident, and an auditor unless the company is an exempt private company.
It is possible for the EP holder to be one of the directors or one of the shareholders of the company. A corporate bank account for the company will have to be opened after incorporation. It is not necessary for a foreigner to be in Singapore for the opening of the corporate bank account. One may use either a Certificate of Incumbency or any other valid official document in front of a notary public, the foreign branch staff members of the Singapore bank with which the account is being opened, or the Singapore Ambassador or High Commissioner to the country in question.
Employment Pass Application Form
If you are ready to start your Employment Pass application, click here to fill up the Employment Pass Questionnaire.  Our in-house agent will help you with this process.
You may also use the Self Assessment Tool (SAT) to check the Employment Pass or S Pass eligibility of your candidacy before you apply or appeal.
Employment Pass in Singapore FAQs
What is the purpose of the Jobs Bank?
Tiwi
2020-06-22T14:36:15+08:00
The Jobs Bank was created to help Singaporeans who are seeking a job with their search for employment. It allows for greater connection between Singapore's employers and jobseekers. It is also linked to MySkillsFuture and the Fair Consideration Framework (FCF).
Must all EP holders eventually become Permanent Residents?
Tiwi
2020-06-22T14:35:57+08:00
Those who are interested in obtaining PR status in Singapore ought to know that receiving an EP will make it much easier for them to do so. Therefore, foreigners who are interested in becoming a Singapore PR ought to apply for an EP. However, those who already own an EP but have no desire to become a Singapore PR are not obliged to do so.
Can anyone from any country receive an Employment Pass?
Tiwi
2020-06-22T14:35:16+08:00
The current regulations regarding the Employment Pass do not bar anyone from receiving one on the basis of nationality. Anyone who meets all of the relevant criteria may receive it. Therefore, any eligible person from any country may receive an Employment Pass.