Work pass holders (especially Employment Pass and S Pass) have the privilege to bring in certain family members under the Dependant Pass. There are certain requirements the Employment Pass or S Pass holder has to meet before applying for Dependant Passes..
Once the main pass – Employment Pass or S Pass is approved, the Dependant Pass application will be smooth from thereon.
What are the requirements to obtain Dependant Pass?
Employment Pass or S Pass holder

Earn a minimum of SGD$ 6,000 monthly

Are sponsored by an established, Singapore-registered Company (your employing Company)
If you're an EntrePass holder, there's a different requirement that needs to be met as follow:
To bring your
Your total annual business spending must be at least
You must employ at least
Spouse (common-law or legally married)

Children

$100,000
3 LQS
(full-time employees, formerly known as FTE)OR1 local PME (professional, manager or executive)
Parents
$200,000
6 LQS

OR

2 local PMEs
Those who meet the criteria are eligible to bring in certain family members:
Dependent Pass
Legally married spouse (Marriage certificate is needed to apply)

Unmarried children under 21 years old, including those legally adopted
Long Term Visit Pass – Issued by MOM
Common-law spouse

Unmarried handicapped children above 21 years old

Unmarried stepchildren under 21 years old

Parents of EP holder
As a Company Shareholder can I Apply for Employment Pass?
Jeremy
2020-06-22T14:49:13+08:00
Can, if you are already a company shareholder.
Can Dependent Pass Holder Start A Business In Singapore
Jeremy
2020-06-22T14:48:45+08:00
As a DP holder, you can own a Private Limited Company (Pte Ltd) in Singapore. There are several advantages choosing to incorporate a Private Limited Company. A Pte Ltd enjoys more favorable tax rates, legal protection and easier access to capital. The downside of a Private Limited Company is they come with high compliance and operation costs.
What is a Dependant Pass?
Jeremy
2020-06-22T14:47:11+08:00
Dependant Pass (DP) is a permit that allows spouses and kids of individuals who possess an Employment Pass or SPass to join them in Singapore. Legally married partners and children who are under the age of 21 are allowed to apply for this permit. However, holders of the employment pass must be earning a minimum of S$6,000 per month (as of 1 January 2018) for them to bring their dependents into this country.
NOTE: If a member of your immediate family (spouse and children) is a holder of the Singapore S Pass, he or she will not qualify for a Dependant Permit (DP).
An individual with a DP is eligible for employment in any organization or industry in Singapore. The marriage partner of an individual with employment pass (EP) can get a Letter of Consent to work in Singapore.
Before you can be issued with a Dependant Pass, you must meet certain criteria: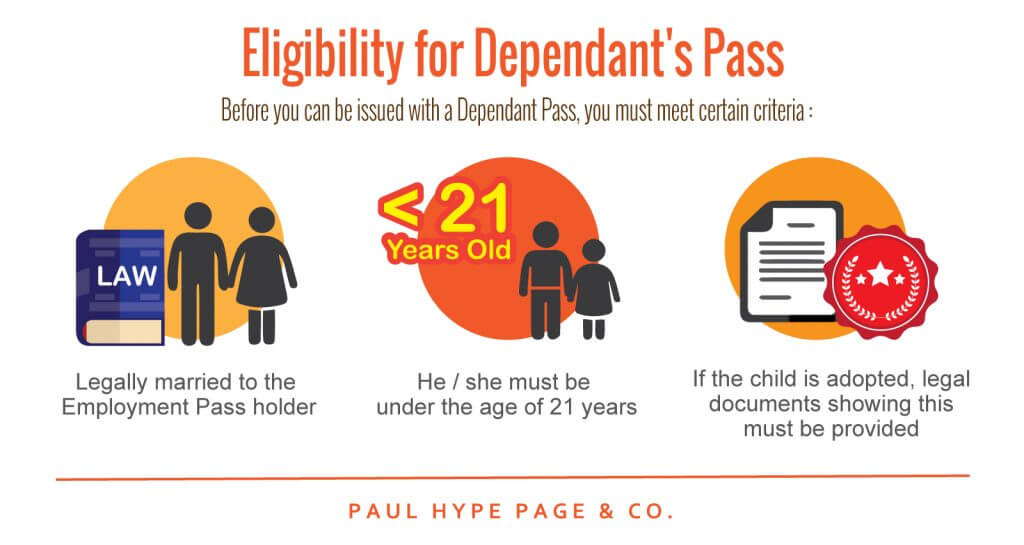 What are the documents needed to apply Dependant Pass?
There are two parts for this section:
Spouse:
Marriage certificate (State EP holder full name and partner)

Latest passport copy

Education certificate

Previous work pass (EP / S Pass / DP / WP – if any)
Children:
Latest passport copy

Previous Singapore visa (DP – if any)

Health Promotion Board (HPB) report – Foreign born children under the age of 12 years old will need to apply this via the National Immunisation Registry before we can proceed with the DP application

If applicant will be studying in Singapore, school information as well as estimated start and end date is needed (Nursery not included)
Applicants who hold non-English documents or certificates are required to submit a copy of the original papers and the official English translation certified by the respective embassy.
What is the timeline for a Dependant Pass application?
Once the Employment Pass / S Pass is approved and an In-Principal Approval (IPA) letter is issued by MOM, you can submit an application for a Dependant Pass.
The standard timeline needed for MOM to assess the initial application submitted will be 1 to 3 weeks.
Share This Story, Choose Your Platform!