Why You Should Start Your Business in Singapore
- Learn how to Establish and Register Your Company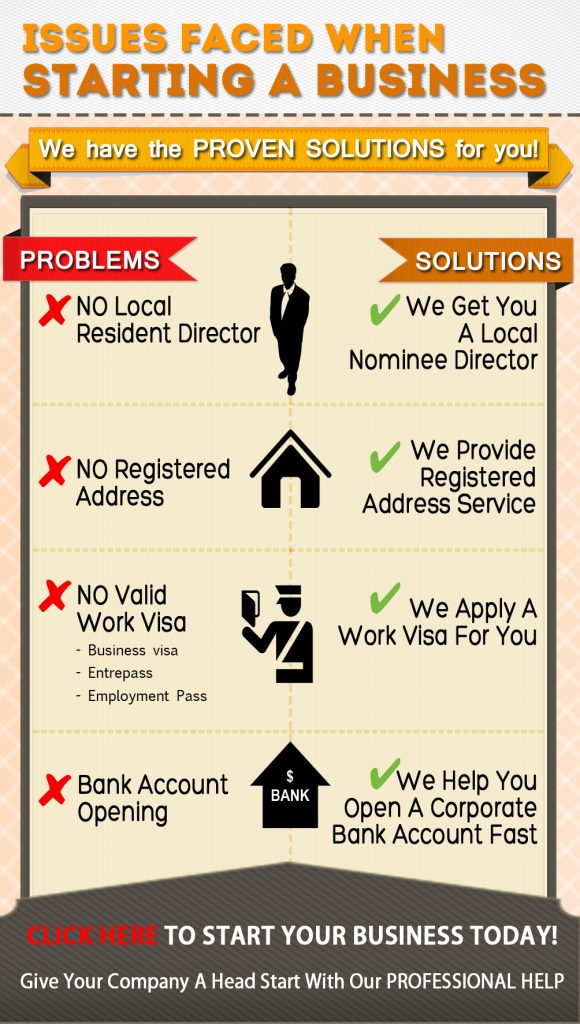 Singapore is one of the most beautiful countries in the world. Its people and surroundings are an interesting mix of the new and old cultures. You get the best of both worlds. Additionally, because of its special geographic position and importance in Southeast Asia, Singapore plays an important role in international trade. In fact, a recent report by World Bank ranked Singapore as the best city in the world to start a business.
For foreigners wishing to start a business form partnerships in Singapore, the process and steps are quite easy and stress free than the case in most other countries.
Here in this article are a few reasons listing that you may consider when thinking of starting a company in Singapore:
1. Strategic location
With Singapore located right in the heart of Asia, its position offers unlimited commercial  business potential. This in essence and virtual means that business people setting up their operations and processes in Singapore have to meet an open market of more than 4 billion people living in Asia.
The transport structures to the outside world is also very much developed with both the Port of Singapore, and the Changi international airport being ranked as the best in the world for over twenty years.
2. Flexible Immigration Laws
Immigration laws and terms are most flexible in Singapore and obtaining a visa, popularly known as an entrepass into Singapore is not as cumbersome as in most other countries. This makes Singapore a global choice of many investors, shareholders and expat workers around the world. If as an entrepreneur, you wish to relocate to Singapore, the government has made the necessary permits easy to obtain.
3. Minimal Bureaucracy
From the immigration laws to business registration policies, Singapore remains one of the very least bureaucratic countries in Asia. In fact, it only takes 3 days to fully register a business in Singapore, get it incorporated and start trading!
The government of Singapore is also largely pro-business, a fact that is seen in the country's flexible immigration laws. Getting a work pass for a foreigner into the country is as easy as getting an incorporation license for your business.
This all-time low level of bureaucracy has made Singapore a favorite of many investors from different nationalities thereby making the city-state of Singapore a melting-pot for people of different cultures.
One benefit for foreigners who want to register companies in Singapore is that they do not physically need to be in Singapore to do so. The owner of the foreign organization does not need to apply for an employment pass or entrepass if he or she will not be operating business on-site. Instead, it is allowed for the owner to move around on a visitor visa if only going to be in Singapore on a few occasions for business meetings. Thus it means you need to appoint a local director once registered.
4. Favorable Tax Rates
Singapore remains one of the Asian countries with the most favorable tax rates and tax incentives that attract and keep diverse global investments. The corporate tax rate in the city-state is a lowly 17%. This low taxation rate has made Singapore consistently rank as the number one destination for global investors and business executives and facilitated competitive business practices which are a pillar to successful economic development.
The tax rates which have been falling over the years have accelerated the economic development of Singapore, and led the World bank to rate it as the world's number one country with ease of doing business activity.
5. Skilled Human Resources
Singapore has some of the very best and highly skilled pool of human resource anywhere in the world. This assures potential investors and individuals that in no way will their business ever suffer from lack of a workforce. On top of that, hiring talents is a breeze.
For investors wishing to invest in Business Process Outsourcing, the skilled workforce of Singapore gives them a necessary incentive and consultation to invest in call centers and other BPO-related ventures in the country. This attraction to investors and the skilled human resource ensures that jobs are readily available in the country.
6. Protection of Intellectual property rights
It is basically believed that Singapore is poised to become the next Silicon Valley, and as such the protection of intellectual property rights and privacy is held very seriously. Not only can IP holders register their patents in the country, but Singapore is also a signatory to most Intellectual property patents including the Agreement on Trade-related aspects of IP rights and World Intellectual Property Organization.
7. Higher Quality of Life
Many people who relocate to Singapore do so together with their families. This is essentially because the country offers the best living conditions. With an extensive healthcare system, banking facilities, good internet structure, developed transport, supply of goods and communication industry and other social amenities, Singapore not only offers the best place to do business but also to develop the social life.
General Information when applying a company
Thought it does not seem to be difficult to form a private limited company, many times, the application fails simply because requirements are not met and guidelines are not adhered to due to the inability of business owners to understand the requirements and procedures of company formation. Here gives some information and detailed tips for company incorporation.
Accounting and Corporate Regulatory Authority (ACRA) is the national regulator of business entities and public accountants in Singapore. Generally, its role is to achieve synergies between the monitoring of corporate compliance with disclosure requirements and regulation of public accountants and finance performing statutory audit. Since there are many cultures living together in Singapore as mentioned earlier, it limits the company name that cannot be something that is vulgar or offensive to any of them. This important step needs to be sorted out before the start of the registration process from the registrar.
However, in Singapore, a foreigner is not allowed to register a company by himself. The policy is, at least one director who is a local resident is required when naming directors of the company. A resident is defined as someone who is a Singapore citizen or who holds valid residency passes such as Permanent Residency or other legal passes like Entrepass, Employment Pass or Dependent Pass. It is free to nominate as many directors as you like. Additionally, at least one shareholder is required. The shareholder and director can be the same person and the shareholder does not need to be a local. What's more, a valid local Singapore address which cannot be a PO Box is mandatory. Otherwise, it may get stuck when proceeding with the incorporation process.
Once the company is established, the owner has to open a corporate bank account which can be with any of the local or international banks in Singapore. It is also required to appoint at least one local company secretary for the company to handle ongoing statutory compliance matters under the section of The Singapore Companies Act.
You can find the general requirements and procedures needed for incorporating a Singapore Company below to get more information:
If you have not known the licenses required for different industries, you can click here to see Singapore business licenses and how to apply them.
Entering Singapore for Business
Business entrepreneurs frequently need to travel. The Singapore's pro-business policies let investors as well as entrepreneurs running companies within the nation to enter and exit relatively easy from the country via special passes and visas. If applications are submitted online, foreigners from India and China can get approval within 1 day. For nationals from other countries, you may want to visit to the ICA website to learn more about the visa details.
Banking Facilities
In addition to setting up a business in company, you may also like to open up a personal bank account. Setting aside work money from personal money is extremely crucial when "working out tax" time comes along.
In order to open up a bank account, you must bring along passports and personal signatures of al directors, secretaries, and staffs that needs to access the account. Although the form could be complex, but the lady behind the counter are usually helpful.
Singapore, Lucrative Place for Expats
Singapore is considered to be the best place for expat entrepreneurs. Recently, a study revealed that 7 out of 10 expat entrepreneurs believe that they have gained a lot with their startups in Singapore. They say that one of the benefits of starting up a business in Singapore is the ability to grow very fast.
So, if you're thinking about starting up a business in Singapore, the first place you should check out is the primary Singapore government's website.
Entrepreneurs wishing to register their business firms in Singapore need not be Singaporeans themselves. But if the person is not a permanent resident, he/she must send an application to receive an Employment Pass if they wish to be actively involved in running their business in Singapore on a daily basis.
Paul and Hype Page Co. is a leading consultancy offering several different corporate services to foreign entrepreneurs to incorporate their business in Singapore.
Need to seek Professional Help for formation of a company in Singapore?
If you are looking to set up a company in Singapore, click here for Types of Company Formation.
For Registration of Business, click here for your Business License Guide.

More about our services & fees can be found here:

For Further Questions , please email us or call us +65 62214711