Annual Compliance with ACRA Singapore
According to the Singapore Companies Act, all Singapore private limited companies must comply with the annual filing requirements of two of Singapore's government agencies: the Accounting and Corporate Regulatory Authority (ACRA) and the Inland Revenue Authority of Singapore (IRAS). ACRA is the national regulator of business entities public accountants and corporate service providers in Singapore. It includes the Registrar of Companies (ROC). ACRA also runs Bizfile. Bizfile is ACRA's online filing system. IRAS is the statutory board which oversees all tax matters in Singapore. Both serve Singapore citizens, permanent residents, and foreigners living in Singapore.
*Annual filings are mandatory for both active and dormant Singapore companies.
**Failing to regularly meet ACRA ongoing compliance requirements in a timely manner can have consequences.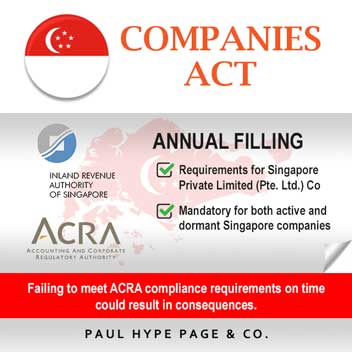 Filing Requirements for the Fulfillment of Annual Compliance with ACRA
Annual General Meetings and Annual Filings 
Timespan: ~3 weeks
Every company must hold an Annual General Meeting (AGM) either once every calendar year or 15 months from the date of its last AGM, whichever is earliest. However, companies that have been newly incorporated are allowed to hold their first AGM within 18 months from the date of incorporation.
Once an AGM is held, the annual returns of the company must be filed with the ACRA within one month from the date of the AGM. The annual returns will be submitted by our corporate specialist and the following information of the company will be verified during the process:
Company's full name and registration number;
Registered address;
Principal activities;
Company type (i.e. private company, public company, small exempt private company);
Summary of issued and paid-up share capital;
Registered charges;
Information of directors, company secretary, auditors and shareholders;
Date of AGM and the financial period to which the audited accounts have been made up;
Financial statements, if applicable
Financial Statements
Timespan: .~2 weeks
Filing Financial Statements in XBRL Format
A company is required to file its financial statements in XBRL format during the filing of annual returns, if the company either:
is insolvent (has more total liabilities than total assets)
has a corporate shareholder for the financial year
For compilation of financial statements services, our corporate specialists can be of assistance once the necessary financial statement form is filled. This form can be found at the following link:
Annual financial statements compilation
Accounting and Bookkeeping
Timespan: ~2 to 3 weeks
Our accounting and bookkeeping services can ensure that your company is compliant with the reporting and statutory requirements of various jurisdictions of the region. Our professional corporate specialists can embed process and control systems to capture and report transactions accurately and transparently. We ensure good accounting practices that promote quality of financial information of business units or firms within a business group. We do so by adhering to the necessary degree of preparation with regard to such practices.
We can do the following for you:
Set up an accounting system
Prepare a chart of accounts
Prepare monthly cash and bank reconciliation statements
Prepare monthly/quarterly/annual management financial reports and monthly/quarterly GST returns
Compile statutory financial statements in accordance with financial reporting standards
Prepare financial statements in XBRL format for ACRA filing
Topics relating to Singapore Accounting
Documents Required
Please furnish us with the company's bank statements for the entire financial period/year.
For sales transactions, state the sales invoice number so that we can trace the status of invoices and also figure out the trade receivables balance.
Additionally, you can also state the following in your email to us:
Any significant transactions not reflected in the bank statements (e.g. large sales invoices for which payments have not yet been received, unpaid purchase invoices)
Unusual/non-routine transactions
Transactions happening between the directors/shareholders of the company (e.g. drawing, additional capital injected into the company, loans to the company)
Any other transactions affecting the company of which you are aware
Corporate Tax Filing
Timespan: ~1 week
Our corporate specialist will follow up on the work of corporate tax filing after the compilation of financial statements is signed and agreed by the company. A company is taxed on the income earned in the preceding financial year.
New Companies
Corporate Tax Rate
With effect from YA 2010, a company is taxed at a flat rate of 17% on its chargeable income regardless of whether it is a local or foreign company. See Singapore personal tax rates
Tax Forms to be Submitted Yearly
All companies need to submit two corporate income tax forms to IRAS every year:
Estimated Chargeable Income (ECI) form within three months from the company's financial year end except for (a) companies that fulfill the conditions under the Administrative Concession; and (b) certain entities that are not required to file ECI
Corporate Income Tax Returns, commonly known as Form C-S or Form C, by November 30 of each year,  except for dormant companies for which IRAS has waived the requirement to file.
Stay on top of regulatory compliance requirements in Singapore
Paul Hype Page & Co corporate specialists are able to ensure your company fulfills its regulatory compliance requirements related to Singapore's company laws and regulations.
*By complying with regulations, your company avoids not only penalties or legal repercussions, but unnecessary damages to your brand name.
Paul Hype Page & Co – Acra service provider and Asean Chartered Accountant.
Paul Hype Page & Co. have 3 physical offices in Singapore, Malaysia and Indonesia
Our Firm Goal is to assist Foreigner and Foreign Companies to set up business in Asean.
How we can help you:
We will call you back, please click below link and make appointment with our Sales consultant:
Step 1- Listen to your Business plan and Relocation needs.
Step 2- Analysis your Singapore Tax Planning
Step 3- Recommend the most suited type of Company Incorporation , Open Bank account  and
Work Visa
Step 4- Arrange for your Spouse and Children Visa
Step 5- Assist as your company to hire staffs and handle all HR matters
Step 6-  Every financial year end, we assist you with your yearly Acra Financial and Tax Compliance
Step 7- Assist you to expand business to Malaysia, Indonesia , Vietnam and Thailand.
Get in Touch with Us Today.
Paul Hype Page
Website: www.paulhypepage.com
Which Stage of Business Is This At?