Annual Compliance with ACRA Singapore
According to the Singapore Companies Act, all Singapore private limited companies must comply with the annual filing requirements to the Accounting and Corporate Regulatory Authority (ACRA) and the Inland Revenue Authority of Singapore (IRAS).
*Annual filings are mandatory for both active and dormant Singapore companies.
**Failing to regularly meet ACRA ongoing compliance requirements in a timely manner can have consequences.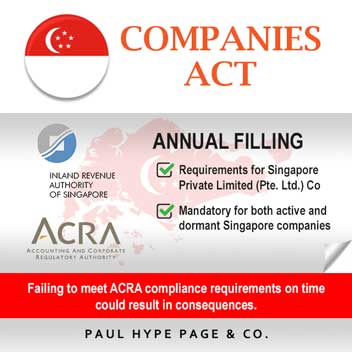 Filing requirements fulfill for Annual Compliance with ACRA Singapore
Stay on top of regulatory compliance requirements in Singapore
Paul Hype Page & Co Corporate Specialists is  able to ensure your company fulfill your regulatory compliance requirements when it comes to Singapore's company laws and regulations.
*By complying with regulations, your company avoids not only penalties or legal repercussions, but unnecessary damages to your brand name.
Contact us today!
Which Stage of Business Is This At?