Foreigners interested in company incorporation in Singapore through the use of the work visa known as the Employment Pass (EP) must have a minimum monthly salary of S$3,900, adequate educational qualifications, and sufficient work experience.

The Employment Pass (EP) is one of the work visas which can be used by foreigners in Singapore. It is intended for foreigners who have the requisite qualifications and adequate skill level. It is the most commonly-issued work visa in Singapore. Owning an Employment Pass can make it much easier for a foreigner to incorporate a company in the country.
Every foreigner who is interested in incorporating a Singapore company must apply for an Employment Pass. If the foreigner's application is approved by the relevant authorities, the foreigner may register a business and commence business activities in Singapore. This business may be a sole proprietorship, private limited company, partnership, or any other business entity. There are many advantages of owning an Employment Pass. One of the most notable is the fact that it grants its holder the ability to apply for visas for family members. These visas include the Dependent's Pass and Long Term Visit Pass. They allow the Employment Pass holder to bring other family members with them to Singapore.
Requirements of Incorporating a Singaporean Company
1) Directors
A minimum of one local resident director is mandatory. A resident director is defined as a person who is a Singaporean citizen, a Singaporean permanent resident, or a person who has been issued an EntrePass, Employment Pass, or Dependent's Pass. This rule applies to all business entities in Singapore.
2) Shareholders
Shareholders can either be individuals or corporate entities. The shareholding of a company can be fully local or fully foreign. Any other combination is also permissible. A director is also allowed to be among the company's shareholders.
3) Paid-up Capital
The minimum amount of paid-up capital for the registration of a Singapore company is S$1. This is also true of cases in which the company is a subsidiary company or a foreign company with a branch in Singapore.
4) Registered Address
The address must be a physical local address. A PO Box may not be used.
5) Company Secretary
The Companies Act requires one company secretary to be appointed. The company secretary has to be a natural person as well as an ordinary resident of Singapore.
6) Audit Requirements
Unless exempted from audit requirements under the Companies Act, every company must appoint an auditor within three months of its incorporation in Singapore. Only small private companies and dormant companies are exempt from audit requirements. A small exempt private company is one that meets the following conditions:
–  The turnover for the financial year is less than S$5 million
– The company does not have more than 20 shareholders
– The company does not have, directly or indirectly, a corporation as a beneficial shareholder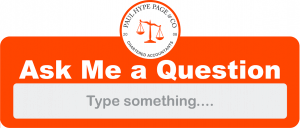 How to Apply for an Employment Pass
Before anyone may apply for an Employment Pass, the first step to be taken is to fill out the online incorporation form and prepare the necessary documents.
Each Singapore resident individual shareholder and director must provide a copy of a Singapore IC or passport if the individual is not a citizen of Singapore. Each shareholder and director must also supply proof of residential address, such as a recent utility bill, residential phone bill, tax bill, or cable TV bill. Each corporate shareholder, meanwhile, must supply a Foreign Corporate Company Certificate and a Special Director Resolution.
All documents must be in English or officially translated in English. All copies of documents must either be certified true copies by a notary public or original copies.
Receiving an Employment Pass is not always easy. Even slight errors may bring about the rejection of an Employment Pass application. This is where we at Paul Hype Page & Co can be of assistance. Our team members will use their expertise and knowledge to ensure that you will receive your Employment Pass so that you can proceed with the next steps of Singapore company registration as soon as possible.
Criteria Related to Employment Pass Approval
Not everyone who applies for an Employment Pass will have their application accepted. Those who do not satisfy certain criteria will almost certainly have theirs rejected. On the other hand, those who do will put themselves in a position to have a successful Employment Pass application.
The first Employment Pass assessment criterion is that of current citizenship. Foreigners who are not willing to consider becoming a Singaporean citizen in the future by surrendering their current citizenship may find it more difficult to receive an Employment Pass. Those who have certain specialist skills will also be likely to receive an Employment Pass. This is because they will be more able to contribute to the success of Singapore economy. The applicant's age is also taken into consideration because the younger the applicant, the more the applicant would be able to contribute over time. Applicants who have any work experience relevant to the Employment Pass application will also be in good stead, as will those with educational qualifications considered to be suitable. Finally, for those who are already business owners at the time of application, their respective company's paid-up capital, background, and reputation within the industry will be taken into account.

Self-Assessment Tool for Employment Pass Application
Those who are applying for an Employment Pass may use the Self Assessment Tool (SAT) provided by Singapore's Ministry of Manpower (MOM) on its website. It may be used to check eligibility for an Employment Pass application. According to the information provided by MOM on its website, this tool is used to determine if the applicant is eligible for either an Employment Pass or S Pass. It uses information such as educational qualifications, work experience, and salary to reach a conclusion. However, the result determined by the SAT will not necessarily be the same as the applicant's actual result.
Those who use the SAT may preview and check their personal details before using it. If necessary, they may also edit any details which are incorrect or have not been duly updated. After the SAT is completed, applicants may print their results as well.
Approval and Collection of Employment Pass
The duration for approval of an Employment Pass applications depends on the method used to apply. Those who applied online will usually receive MOM's decision within three weeks of the application. Those who applied in person will usually receive it within eight weeks. At any time after submission of the application, the applicant may view the current status of the application online.
If you need to contact anyone at MOM for reasons related to your Employment Pass application, we at Paul Hype Page & Co will do our part to ensure that your interactions with the relevant authorities will proceed smoothly. In certain cases, we will even speak to people at MOM for you if there are matters to which you are unable to attend.
Should an Employment Pass application receive approval, the applicant will receive a notification stating that the application has indeed been approved. After obtaining an In-Principle Approval (IPA) letter, which will serve as an entry document to Singapore, the applicant must then meet with an authorized overseer for the signing of the IPA. One day after that, the applicant must then meet with the authorities at MOM for finger printing.
There are also certain documents required of those who are to receive an Employment Pass. They are as follows:
Applicant's passport or travel document (original)
Passport-sized photo (taken within last three months) – those who do not have one can take it at the MOM service center
Details of applicant's Short Term Visit Pass / immigration pass that the applicant is currently holding to remain in Singapore
Applicant's residential address in Singapore (if any)
Contact details of an authorized contact person for the purposes of sending a text-message or email alert, as well as a delivery address, for the purpose of card delivery
Clear, scanned copies of the following documents in PDF format:
– Disembarkation / embarkation card (immigration white card)
– Completed declaration form attached with the applicant's In-Principle Approval letter
Starting a Business in Singapore
Before starting business operations, there are several further matters which must be addressed.
After receiving the Employment Pass from MOM and signing any necessary company resolutions, the new Employment Pass recipient can officially become a director and shareholder of the company.
Some other things which will be helpful in starting a Singapore business include up-to-date accounting software, a fully-serviced office, an employment contract template, a financial planning and budgeting template, and a sample of the company's business plan. Someone in the company who is authorized to do so must also open a corporate bank account. Corporate bank accounts are required of every company in Singapore.
Legal Compliance Requirements
There are required procedures to be followed when filing an annual return with the Accounting and Corporate Regulatory Authority (ACRA), as well as when filing tax returns with the Inland Revenue Authority of Singapore (IRAS). Failure to follow these procedures is a legal violation and will be suitably punished.
Once a year, all companies in Singapore are to file an annual return with ACRA. An annual return is a document which contains the most important information about a company. This information includes the company's principal activities, shareholders' details, name, registered office address, officers' details, registration number, share capital, and principal business activities. An annual return is to either be signed by a company director or company secretary. When the annual return is submitted, all of the company's audited financial statements must be attached to the submission unless ACRA considers the company to be a small private company. ACRA defines a small private company as one which earned less than S$10 million in total revenue during the preceding fiscal year, one which accumulated less than S$10 million in total assets during the preceding fiscal year, and one with fewer than 50 employees. All three of these criteria must be fulfilled for a company to qualify as a small private company. A company's annual return is to be submitted within 30 days of its annual general meeting.
All Singapore companies are also to file tax returns with IRAS once every year. The first step to be completed in the filing of tax returns is the reporting of Estimated Chargeable Income (ECI). A company must report its ECI within three months of the end of the financial year. The ECI Form must be used when doing so. The only companies which do not have to report their ECI are those without any ECI and have an annual revenue that does not exceed S$1 million. Once ECI has been reported, the company is to file its income tax return. The deadline for this filing is either November 30 (for those using paper filing) or December 15 (for those using e-filing). All tax returns are to be filed based on the company's profits during the preceding year. Dormant, non-operational companies without any income during the financial year may apply to IRAS for the possibility of a waiver of the filing of income tax. Should the waiver be granted, the company then becomes exempt from reporting ECI and filing income tax.
It is incumbent upon the company secretary to ensure that these requirements are fulfilled. The company's directors, meanwhile, are to oversee the company's financial statements and verify their accuracy and compliance with existing accounting standards.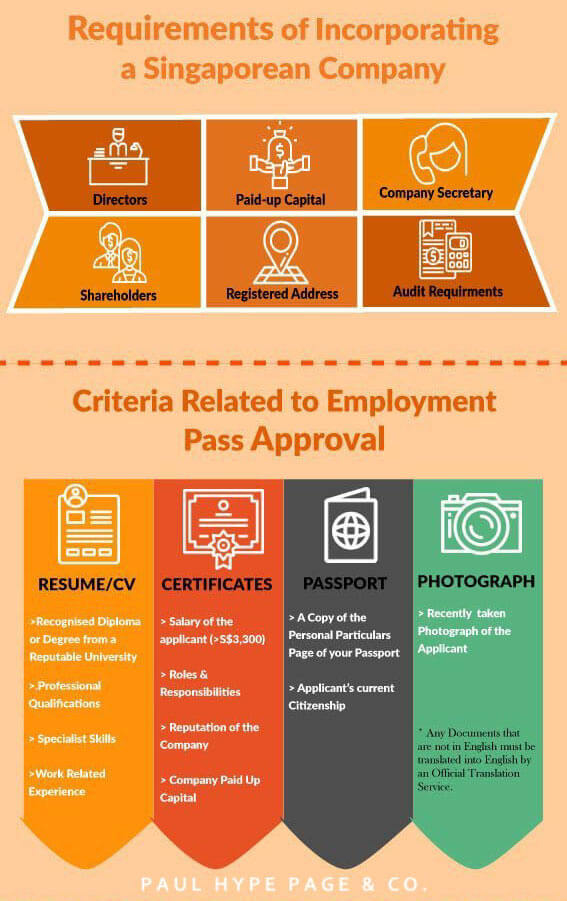 Fees for Incorporation with Employment Pass (Package)
Package for Foreign Entrepreneurs Relocating to Singapore
Company Incorporation with Employment Pass
Company Registration
S$800
Acra Registration Fee
S$315
Appointment of Company Secretary (for 1 year)
S$600
Application for Employment Pass (EP)
S$800
Nominee Director (for 2 months)
$400
Registered Office Address (for 1 year)
S$240
Total
S$3,155

Additional Services (Optional)

Dependent Pass for spouse of child under 18 year (each)

S$500

Tax Services and Form C submission (for 1 year)

S$600

Accounting Services and Financial Statement Preparation (for 1 year)

S$600
Click here to download 
Singapore Company Incorporation with Employment Pass FAQs
Do all foreign entrepreneurs have to relocate to Singapore?
Tiwi
2020-06-22T11:55:22+08:00
It is not necessarily for foreigners who own a Singapore company to relocate there. The company can be run by other people who live there. However, the foreign entrepreneur must be in Singapore when the company's bank account is to be opened.
Why did the Ministry of Manpower create the Self-Assessment Tool?
Tiwi
2020-06-22T11:55:04+08:00
The Self-Assessment Tool is to be used by those who would like to know more about their chances of having their EP application approved. Those who are unsure about their status can use this tool. Those who find that they are likely to be rejected can then make the necessary adjustments so that their application will be approved.
Why must ACRA specify requirements that define a Small Private Company?
Tiwi
2020-06-22T11:54:46+08:00
ACRA must do so because there are certain benefits only available to small private companies. The requirements specified prevent ineligible companies from benefiting from these advantages.