Register a Company in Singapore
Why Register A Company in Singapore?
Among the many locations available for establishing and operating a business, there are various reasons why Singapore is the desired place for it.  
Many entrepreneurs are migrating to Singapore in search of investment opportunities mainly because of Singapore's open-door immigration regulations, market policies, low rates on taxes and tax exemptions that reduce costs. 
Other benefits of doing business in Singapore include the well-developed business structures, institutes and systems, policies that result in simplified procedures and business practices.  
The social life and amenities such as banking and offices solution, the free trade agreements and the Investment Guarantee Agreements in Singapore is well above its neighboring countries, in which why several publications ranked Singapore as one of the best place in Asia to start a business.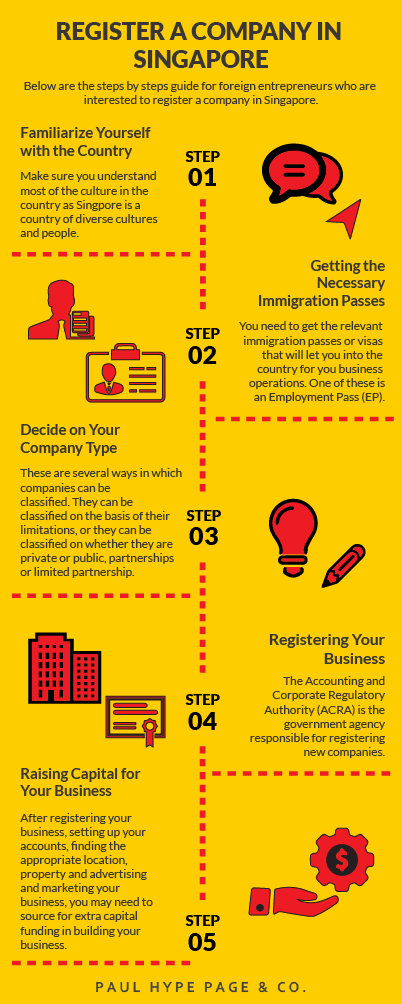 Steps to Follow for Your Company Registration in Singapore
Be it a foreign company or a local entity, initiating a private listed company is relatively easy, but can be confusing and frustrating for a person who doesn't have the right information. Hence, we at Paul Hype Page & Co – Singapore's No.1 ACRA (Accounting and Corporate Regulatory Authority) license service provider are here to provide you the solution.  
There is no need for further extensive researching; our article here alone will provide you all the necessary information needed. 
#Step 1 –

Decide on Your Company Name & Type
This is the most important step before anything else, decide on the name of your company. After doing so, it is also advisable to get a company business profile. This will be helpful when you are approaching investors and the authorities.  

There are several ways in which companies can be classified. They can be classified on the basis of their limitations, or they can be classified on whether they are a private limited company or a public listed company, partnerships or limited partnership .On the basis of their limitations, they can either be limited by shares, guarantee, or they can be unlimited companies.
#Step 2 – Familiarize Yourself with the Country
Singapore is a country of diverse cultures and people. She has years of history of being a major port in the region. This has made Singapore a global city with people and influences from all over the world. Despite this, some will still find the culture totally different and worlds apart from their own.

 
 If you wish to start a business here, the first step you should take is to familiarize yourself with the country. Ensure yourself to understand the culture of the multi racial citizens that resides in Singapore. 

 
Acquaint yourself with the laws and regulations of the country as well as carry some market research to help your Singapore company incorporation sail towards the right direction. The last thing we want is any complication with the authorities. Fret not, because we at Paul Hype Page & Co is an expert when it comes to Singapore company Incorporation, and we will guide you all the way to the finish line.
#Step 3 – Registering Your Business
ACRA is the government agency responsible for registering new companies. In order to successfully register/ incorporate your company with ACRA, there are requirements, rules and regulations that you will need to keep abreast with. You will need to have; 
At least one director who is,

 
a) a legal resident of Singapore
b) the person must be 18 years old and above
 A physical registered address which must not be a Post Office box number,
Minimum paid up capital of S$1,
A company secretary who must be a natural resident of Singapore,
Identification documents for the director/shareholders of the Singapore company, passports and special Director's resolution certificate of incorporation,
A working bank account registered with the company you are opening,
To fill the Bizfile and pay the requisite licenses fee. However, in most cases you will need to hire a professional firm like Paul Hype Page & Co to carry out the incorporation process on your behalf.

 
Other than registering business names, ACRA is also mandated by the government to ensure that corporations comply with disclosure requirements and regulation of public accountants performing statutory audit. 
The charges for a foreigner wishing to register a business in Singapore range from S$300-S$1,200, with an extra S$15 for each business name you may wish to register.
You will need to register with the Inland Revenue Authority of Singapore (IRAS) for the goods and services tax (GST) when (a) your annual taxable turnover exceeds SGD 1 million.
Unlike many other jurisdictions within the commonwealth,incorporating a company will need a minimum of only one subscriber. Once the proposed name of the company has been approved, the next step should take one or two days.
The subscriber or the subscribers will forward to the registrar of companies the memorandum and the articles of association. These two documents are mandatory. The memorandum of association describes the relationship between the company and outsiders. On the other hand, the articles of association describe the relationship between the shareholders and the directors. Basically, the memorandum and articles of association form the constitution of the company.
In addition to filing these documents with the registrar, the subscribers may be required to submit further information together with a $300.00 fee in order to facilitate the incorporation
 The registrar will give further directions before the client receives a registration number via email notification. The registration number acts as an official certificate of incorporation and if you want a hard copy, this will cost a fee of $50.00.
Besides the certificate of incorporation, you will also be able to obtain a PDF version of your company business profile by making a request online and paying a nominal application fee. The company business profile is usually available for download within an hour of the request.
 Your company may also need to apply for license, depending on the type of business activity you are engaging yourself in. You can check more on EnterpriseOne's Online Business Licensing Service (OBLS)
#Step 4 – Getting the Necessary Visas
Once you have done all of the above and have successfully completed your company's incorporation in Singapore, getting yourself into the country legally is the next step. You need to get the relevant immigration passes or visas that will let you into the country for your business operations. A Singapore Employment Pass (EP) is one of the many visas that is available for foreign company and business owners.

 
However, for business executives who are constantly traveling in and out of the country, without the need for dependents to join them, a multiple journey visa instead of a complete transfer would be more appropriate. Additionally, business executives wishing to hire employees from their home countries are advised to consider getting Employment Passes and Work permits for them.
#Step 5 – Passing the KYC Check
This is a vital step for any Singapore company incorporation. All our existing and new client will go through this step as part of the compliance process.
Know your customer (KYC) refers to due diligence activities that all regulated companies must perform to ascertain relevant information from their clients for doing business with them.  With our pending patent 

ibizfile

 system, together with the assistance of Dow Jones, the process of conducting a KYC search is easy, effective, and legitimate in accordance to the Singapore Evidence Act.
#Step 6 – Raising Capital for Your Business
After registering your business, setting up your accounts, finding the appropriate location, property and advertising and marketing your business, you may need to source for extra capital funding in building your business. This shouldn't be difficult as the Singaporean government and agencies has established several funds/ schemes for entrepreneurs and business investors.
What Should I Do After a Successful Singapore Company Registration?
After successfully registering your Singapore company, you can proceed to open a corporate bank account in any of the major local and international banks in Singapore.  
Many Singaporean banks require the physical presence of the company principals as part of the account opening process. However, if you are unable to head to Singapore, you should choose a bank that does not have this requirement.