Register a Singapore Company
In our other related Singapore Company Registration articles, we have explained on the guidelines of incorporating a company, be it a local or a foreign incorporation in Singapore.  
However, it is slightly different here. We will advise you the process of registering a Singapore company.  
Before you register a company in to start your business in Singapore, you must first understand there are 2 main types of companies – public and private companies. 
Public companies are listed on the Singapore Exchange (SGX) and usually have more than 50 employees. Private companies are not listed on the SGX and have a maximum limit of 50 members. 
The registration of a Singapore company differs from a local resident and a foreigner, as the process, paperwork, and requirements will also be different. 
Know Your Customer (KYC)

 Proces

s
Know your customer (KYC) refers to due diligence activities that all regulated companies must perform to ascertain relevant information from their clients for doing business with them.  
This is very important; hence, we have placed it on top of this page. Everyone who is incorporating a company in Singapore are required to pass the KYC process. This is a necessary measure to ensure that everyone that has a company in Singapore are legitimate entities. 
With our pending patent ibizfile system, together with the assistance of Dow Jones, the process of conducting a KYC search is easy, effective, and legitimate.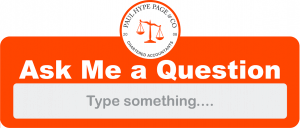 Company Registration and Compliance
Upon registration, all business entity in Singapore must comply with the regulatory provisions of the Singapore Companies Act and any rules made under the Act. 
All companies must have at least one director who is resident in Singapore. Only individuals of legal age and capacity may be appointed as a company director.  
Disqualification of directorship will take into effect if the individual is: 
Undercharged bankrupts (unless a permit has been obtained from the High Court or the Official Assignee)

 

Under disqualification orders made by the Court

 

Convicted of specified offenses or offenses involving fraud or dishonesty punishable with imprisonment for three months or more.
It is important for all our customers to pass their KYC process, as it determines the incorporation of the company, and the registration of the corporate bank account. 
Be it a foreign individual or a local resident who wants to do a Singapore company registration with the intention to relocate will have to accomplish the following:
Directors:

A minimum of one local director 

(a Singapore Citizen, a Singaporean Permanent Resident, a person who has been issued an 

EntrePass

, Employment Pass, or Dependent Pass) 

is mandatory.

 If this can't be satisfied, Paul Hype Page & Co. will register an offshore company with a local resident nominee director.
Shareholders:

This can be an individual or a corporate entity. 100% local or foreign shareholding is allowed. A director and shareholder can be the same or different person.

 

Paid-up Capital:

This refers to the sum of money that a company has received from shareholders who have completely paid for their purchased shares. Minimum paid-up capital for registration of a Singapore company is SG$1.

 

Registered Address:

The address must be a physical residential or business address, but not a post office box.

 

Company Secretary:

The qualified company secretary must be a Singapore resident. In this case, Paul Hype Page is the right person to be your company secretary till you get your own.

Corporate Tax:

Pay no more than 8.5% tax on your first S$300,000 of annual profits and 17 % thereafter. Also, you can forget about dividend or capital gains taxes.

 

Documents Required for the Company Registration
Singapore resident, an individual shareholder, and resident director
Copy of Singapore IC; and
Copy of passport if the individual is not a citizen of Singapore
For non-resident individual shareholder and director
Copy of passport; and
Copy of residential address proof such as utility bill, residential phone bill, or cable TV bill
For each corporate shareholder
Copy of the foreign company certificate; and
Special Director Resolution to resolve to become a newly incorporated company subsidiary shareholder
No Physical present required
YOU DO NOT NEED TO BE PHYSICALLY 

PRESENT OR

 CERTIFY TRUE COPIES OF THE DOCUMENTS IF YOU CHOSE PAUL HYPE PAGE & CO TO INCORPORATE YOUR COMPANY. WHY?!
Our state-of-the-art and pending patent ibizfile system mean you Singapore company incorporation can be done online, fast and easy. 
However, there are other legal documents you might need once your company has been registered: 
Employment Agreement
Non-Disclosure Agreement
Distributor Agreement
Business Referral Agreement
Scope of  Singapore Incorporation Services We Provide
Name check and reservation
Preparation of memorandum & articles of the company and other incorporation documents
Preparation of registration forms
E-Certificate of incorporation
Preparation of compliance corporate kit, including corporate seal, share certificates, register and minutes book
Minutes of first board meeting
Resolution to open a bank account
Documents Required for Opening Corporate Bank Account
Completed corporate account opening forms (with registration number)

 

Board of directors' resolution approving the opening of the account and the signatories to the account

 

Certified true copy of certificate of incorporation (must be certified by the company secretary or one of the directors

 

Certified true copy of company's business profile from company Registrar

 

Certified true copies of company's Memorandum and Articles of Association (MAA)

 

Certified true copies of passport (or Singapore IC) and residential address, proof of directors, signatories, and ultimate beneficiary owners. However, if you are in Singapore, just bring the originals and the bank will make a copy.

 
However, please take note that Singapore banks may ask you to produce additional documents depending on circumstances.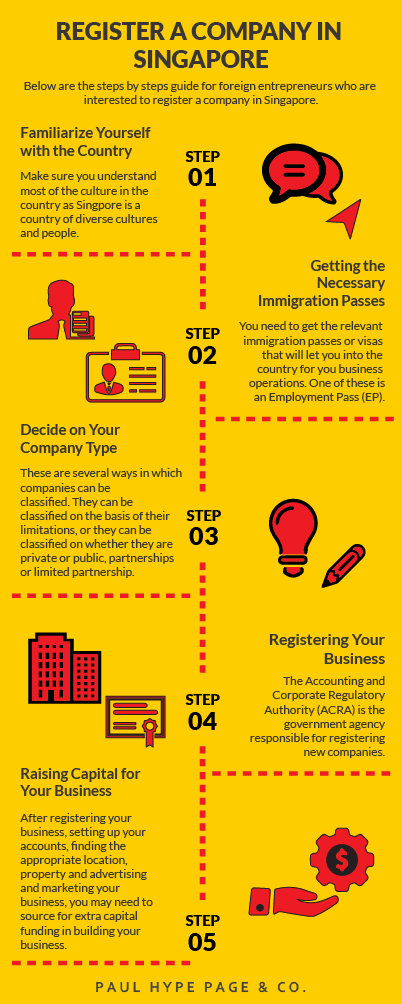 FAQ
What a foreigner have to do if he wants to register a business firm in Singapore? 
A foreigner needs to apply for an Employment pass (EP) if the foreigner wants to register a business and act as a local manager of the business firm. The foreigner must also have a Singapore residential address. Also, it is a MUST to obtain the service of ACRA corporate service provider for this
Can a S Pass holder register a business?
Please check the terms and conditions of your S Pass. If unsure, you should consult the Ministry of Manpower (MOM). However, we highly recommend setting up your company with an employment pass. 
What are the company names that I am not allowed to use?
You are not allowed to use words that have been trademarked. Example, the word "Temasek". This is a name which the Minister has directed the Registrar not to accept for registration.
For Further Question on Singapore Business Acts , please email us or call us +65 62214711