The setup of a company in Singapore, whether a sole proprietorship, limited liability partnership (LLP), private limited company, or any other business entity is overseen by the Accounting and Corporate Regulatory Authority (ACRA).

In today's competitive corporate world, setting up a new enterprise is not an easy task. This is especially true for those who choose a foreign country for such a venture.
If the country you have chosen is Singapore, we at Paul Hype Page & Co are here to make your idea of a Singapore business a reality.
The World Bank recently ranked Singapore, a beautiful country with an interesting mix of old and new cultures, as the best city in the world to start a business. Additionally, because of its special geographic position and importance in Southeast Asia, Singapore plays an important role in international trade.
Also, studies conducted by Singapore's Economic Development Board (EDB) shows that 80 out of the world's top 100 tech firms have operations in Singapore, and they are increasing investments. This means the economy of Singapore is growing, making it an excellent place to start a business.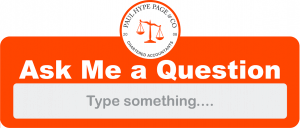 General Information About Business Registration
It is not difficult to form a legal entity (i.e. private limited company, limited liability company, or sole proprietorship) in Singapore. However, many applicants fail because of a lack of adherence to requirements and guidelines. This is due to the inability of business owners to understand the requirements and procedures of company formation.
Here are some of the ways in which one can simplify the process of company registration in Singapore.
Before starting the registration process, one should already have prepared everything which is necessary. These include an approved company name, a company secretary, shareholders, directors, paid-up capital of at least S$1, and a registered address. Information regarding each of these areas will need to be presented to the Company Registrar. The Company Registrar will also need a description of what will be the company's business activities as well as the company's Memorandum and Articles of Association. Foreigners who intend to operate the proposed company locally will also require an Entrepreneur Pass or Employment Pass.
If each of these have been prepared ahead of time, the incorporation process should be able to proceed much more smoothly than if they were not ready.
Singapore Governing Bodies
The following is a list of seven Singapore government agencies that one needs to know when registering a business. These agencies will determine whether a business thrives or flounders.
The Accounting and Corporate Regulatory Authority (ACRA) is the national regulator of business entities and public accountants in Singapore. It has two roles: the monitoring of corporate compliance with disclosure requirements and regulation of public accountants and finance performing the relevant statutory audit.
The Central Provident Fund Board (CPF) is a pension fund that helps Singapore residents and permanent residents fund living costs upon retirement.
The Singapore Economic Development Board (EDB) works closely with international businesses to seek out business opportunities in Singapore within various industries, as well as establish and deepen strategic activities within Singapore.
Formed by the merger of International Enterprise (IE) and SPRING Singapore, Enterprise Singapore (ES) is a one-stop agency that provides enterprise support in the form of grants, loans, insurance, and tax incentives. It also provides non-financial assistance such as startup hubs and business toolkits.
The Inland Revenue Authority of Singapore (IRAS) is a Singapore government agency with which all Singapore tax requirements of a business must be registered. These include individual income taxes, corporate taxes, withholding taxes for non-resident companies, and the Goods and Services Tax.
For all things employment-related in Singapore, one must liaise with the Singapore Ministry of Manpower (MOM). MOM is the government agency where individuals apply for an Entrepass, Employment Pass, S Pass, Employment Pass for any employee that is not a Singapore resident, Dependent Pass, and Long Term Visit Pass.
SkillsFuture Singapore (SSG) is a government agency that provides and facilitates lifelong learning, training, and development programmes for local employees.
Foreigners and Company Registration in Singapore
Foreigners are not allowed to register a company on their own in Singapore. The regulation states at least that one individual – namely, the company director – be a Singapore citizen or an individual who has a valid residency with a Permanent Residency status or other legal passes.
Once the company is registered, the business owner will then need to open a corporate bank account. This can be established with any of the local or international banks in Singapore.
In addition to setting up a business account, it is advisable to open a personal bank account. This helps with official payments. Setting aside work money from personal money is extremely helpful when working out how much tax money is to be paid.
Why Singapore Is Conducive to Starting a Business
Singapore is a prime investment location for a great many expatriate entrepreneurs. A recent study indicated that seven out of 10 expatriate entrepreneurs have profited from their start-up in Singapore. Many stated that one of the many benefits of starting up a business, whether an ordinary business or an online business, in Singapore is the potential for rapid business growth. With a well-conceived business plan, reasonable market strategies, proper market research, and the business-friendly environment present in Singapore, these entrepreneurs were able to enjoy excellent results before too long.
Here are some of the reasons why Singapore is conducive to starting a business.
Singapore's government has been known to pass business-friendly laws. Foreign-owned businesses which operate in Singapore generally do not have to surrender any managerial rights to locals. These businesses and local businesses are also on a level playing field. This is because all businesses operating in Singapore must abide by the same business laws.
Those who start a business in Singapore will also enjoy the privilege of working with some of the best and brightest in their field, whatever that field may be. This is because Singapore, as an extremely business-friendly country, is able to bring in some of the finest talents from all over the world in multiple industries. Therefore, new business owners will have the chance to learn from these people.
Singapore's corporate tax laws also serve as a major reason why many companies are registered there. Singapore companies are taxed at a flat rate of 17%. This flat rate is one of the lowest in the world. This low tax rate draws many companies to Singapore. Furthermore, non-resident corporations are exempted from paying any taxes during their first three years of taxable income. Meanwhile, Singapore small and medium enterprises (SMEs) benefit from the Start-Up Tax Exemption Scheme. Under this scheme, eligible businesses will receive a tax exemption on their normal chargeable income for each of the first three consecutive years in which the business is in operation. The first S$100,000 of income earned will receive a 100% tax exemption and the next S$200,000 will receive a 50% tax exemption.
The Start-Up Tax Exemption Scheme
The Start-up Tax Exemption Scheme was introduced by the Singaporean government in 2004. Its purpose was to encourage entrepreneurship in Singapore, promote the setting up of new businesses, and help SMEs grow. The government also recognized that small business owners, especially those who own SMEs, need the money that they would save by way of this scheme. This is because various startup costs will be incurred during the opening and running of a business. When a business is small or newly formed, it will not have much in the way of capital or financial wealth. Such concerns may cause people who want to own a business to become reluctant to do so. Fortunately for them, through this scheme, the Singaporean government has alleviated any such concerns.
It would be advisable for businesses which are eligible for this scheme to focus on expenditures which are essential for as long as they are eligible for it. This is because doing so would almost certainly prevent the business from facing any major financial problems. Should a business disregard this advice and use the money saved by way of the scheme on non-essential expenditures, it could lead to future financial problems. This is because, regardless of the business's current financial situation, some expenditures and purchases are unavoidable. Thus, it would be more efficient to put the money saved to good use by focusing on the necessities.
The Fastest-Growing Industries in Singapore
In every country, certain industries will grow at faster rates than others. This makes them better options in which to start a business for new business owners. They will also be among the most profitable business options in the country. Of course, this is also the case in Singapore. Each type of business listed should be in a very strong position in the time to come.
One of Singapore's fastest-growing industries is that of financial technology (fintech). The number of fintech startups in Singapore has been growing tremendously. Companies such as TradeHero, MoneySmart, and Flywire have been at the forefront of the country's fintech revolution. Some banks, such as OCBC, have also made forays into the world of fintech. As cashless payments and e-wallets continue to be on the rise, Singapore's fintech industry should continue to grow at its current rapid pace.
Another booming industry in Singapore is the health and fitness industry. Many people across Singapore have become more interested in more niche and less mainstream forms of physical activity. Thus, niche gyms and boutique fitness businesses have been gaining in reputation and popularity among the general population. The likes of Grapple MAX, Barre2Barre, and Bbounce Studio are among the fitness companies which have recently seen tremendous growth. As the population is generally becoming more health-conscious, one can expect this industry to remain vibrant and full of growth potential.
The medical industry should also see much growth. Singapore's healthcare sector is known to be one of the best in the world. According to Singapore's latest Budget, this outstanding level of healthcare will be bolstered even further by the government's additional S$10.2 billion to be spent on it. Hospitals, clinics, and nursing homes will be built, and more healthcare professionals will be hired. Medical technology will also be important because sufficient technological advancement will be required to keep up with the increased demand in the industry. Medical tourism is also expected to see an increase, as more foreigners are expected to come to Singapore to have their medical needs fulfilled.
Contact us at Paul Hype Page & Co, whether via e-mail, telephone, or social media, if you would like to register a company in Singapore. Our team of company incorporation specialists will do all they can to help you establish your Singapore company. We will ensure that you go through the entire process with as few problems as possible.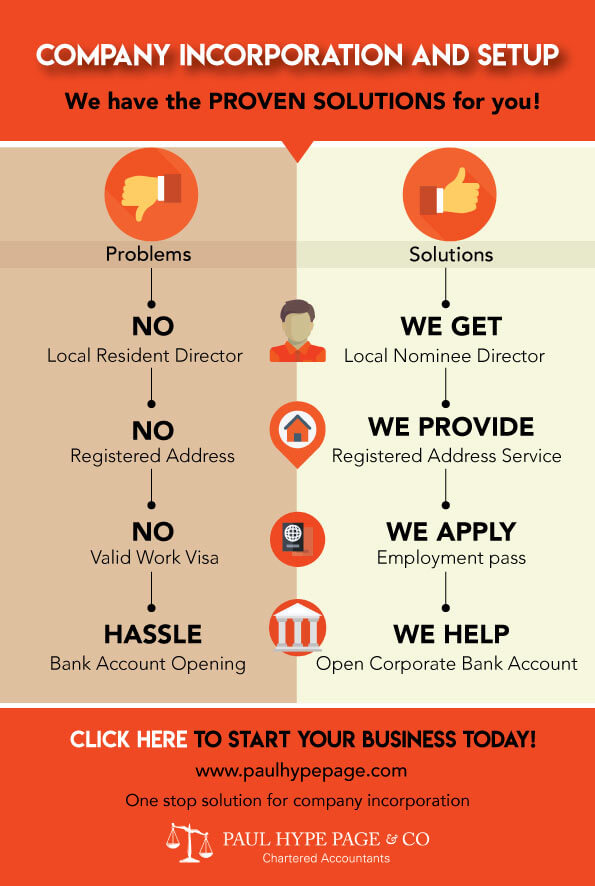 Starting a Business in Singapore FAQs
What Business entities exist in Singapore?
Tiwi
2020-06-24T14:53:29+08:00
Those who are interested in starting a Singapore business may select one of several business entities. Among these are the sole proprietorship, limited liability partnership, private limited company, and limited partnership. Foreigners have additional options such as the representative office, foreign branch, and foreign subsidiary.
Why is Singapore's Corporate Tax Rate so low?
Tiwi
2020-06-24T14:53:08+08:00
Historically and even today, Singapore's government has been known to be extremely pro-business and supportive of corporations. By setting an extremely low corporate tax rate, the government intends to induce business owners from all over the world to conduct business operations in Singapore. It also serves as a means to encourage Singaporeans to start their own businesses.
Why are so many Government agencies related to Businesses in Singapore necessary?
Tiwi
2020-06-24T14:52:37+08:00
Although the abundance of government agencies that cater to businesses in Singapore may imply that there is too much bureaucracy in the country, this is not the case. Each agency such as ACRA, the CPF, IRAS, and SSG has its own specific functions and serves the country's businesses in a different way. These agencies work together to create favorable conditions for Singapore's businesses.