Singapore Business License
 
For every Singapore business, besides fulfilling ACRA company registration requirements as follows:
Having a Singapore resident director who is a Singapore citizen, PR or holding a relevant working visa such as Employment Pass, Entrepass or Dependent Pass.
A registered Singapore local address
Many Foreigners or new start up companies may not be aware of their registration needs for the relevant Singapore business license. Depending on your business, you may need to be licensed by different authorities. Beyond a basic operating license, you may need specific permits, such as an environmental permit. Regulations vary by industry and professional therefore very important to understand the licensing rules where your business is located. Not complying with regulations for licensing and permitting can lead to expensive fines and put your business at serious risk.
At Paul Hype Page & Co, our Singapore business licenses specialists provide you with rare breadth and depth of Singapore license expertise as well as our proactive, innovative approach to reducing your setting up burden. If you are actually interested in finding out more about the licenses required for a wide variety of Singapore businesses, this guide will be able to assist you.
Different Types of Businesses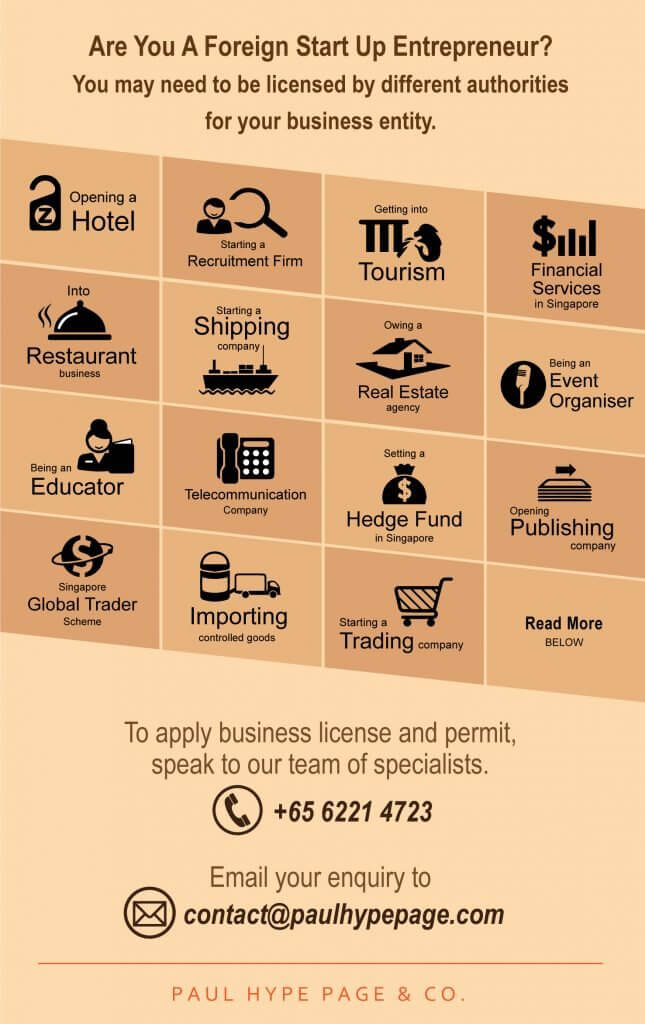 Paul Hype Page & Co.
With our team of expert staffs, you can rely on our services to assist in incorporating your business operation as LLP. You do not need to waste countless hours thinking about how to go about your application. Our strategy is proven and we will supply with all the tools and information to start a business in Singapore, how to be more competitive in your niche, how to set business standards and prepare for risks and challenges, and keep records of important documents and company's policy.
Singapore government has assigned intellectual property and innovation rights to foreign corporation, engineers, investors, and designers to ensure that they receive revenue from income from offshore firms, rather than have those royalties come to them directly. This means that Singaporeans receiving income through offshore companies DON'T attract any tax. At Paul Hype Page & Co, we have the experience and specialize on offering tax haven incorporation services for firms in different tax jurisdictions. We operate within the limits of laws and regulations set by the government of Singapore. We provide details and solutions for offshore as well as local corporations all aspects of offshore companies, for both outbound and inbound international tax structuring.
If you are interested to register a company in Singapore, at least one resident (Singapore citizen, PR or EP holder) is mandatory. However, there are no limits on the number of additional local and foreign directors a Singapore Company can appoint. Directors must be 18 years old and not be convicted of malpractice or be a bankrupt in the past.
Whatever your needs, we invite you to contact us today to kick-start your Singapore venture today!
Registering a Business in Singapore? Find out How You Can Obtain the right Singapore Business Licenses & Permits with our recommendation below