An Employment Pass holder holds an important work visa which, like other Singapore visas, allows the holder to work in Singapore. As of 2020, every EP holder in Singapore must earn at least S$4,500 every month while also possessing a university degree and any necessary work experience.
You have decided to work in Singapore, and you are planning to open your own business. or maybe you have a job placement and want to move there with an Employment Pass.
However, before you proceed with all that, it is vital that you understand the legal proceeding and requirements of Singapore Company Incorporation.
One important relocation need is the work visa. Non-residents in Singapore will have to navigate different visas, employment and legal entry requirements. Just like any other country, you will need to apply for a work visa/pass in order to work legally in Singapore. Here's a breakdown on one of the most common work visas.

What is an Employment Pass (EP)?
Employment Pass allows foreign professionals who have job offer in Singapore to relocate there and work. Specifically, it is geared towards directors, managers, executive or those in specialist roles. This pass is valid for 2 years and can be renewed thereafter.
It is prohibited for a foreigner to obtain the Employment Pass by themselves, additionally, every application done via Singapore government portal will need to be done via a SingPass ID. Therefore, it is advisable that foreigners obtain this service from an experienced license service provider, such as us, Paul Hype Page & Co.
If you cannot find a job or a company to sponsor for your Employment pass application , you can always do it on your own – Incorporation with Employment Pass
Advantages of being an Employment Pass holder:
EP is valid for 2 years and can be renewed for an additional 3 years compared to Entrepreneur Pass (EntrePass), which can only renewed up to 1 year. As for the Personalised Employment Pass (PEP) it is valid for 3 years and can not be renewed.
Makes it easier for you to apply for a Permanent Resident (PR) status and once you become a Singapore Permanent Resident (SPR), it is possible for you to become a citizen.
Allows you to open bank account, apply for credit card, rent an apartment, and telco services/cable contract.
Automatically places you on an integrated system that allows you to pay taxes and resolve immigration issues promptly.
You can bring in your immediate family members (parents, spouse, children) to Singapore if you earn at least $6000 per month.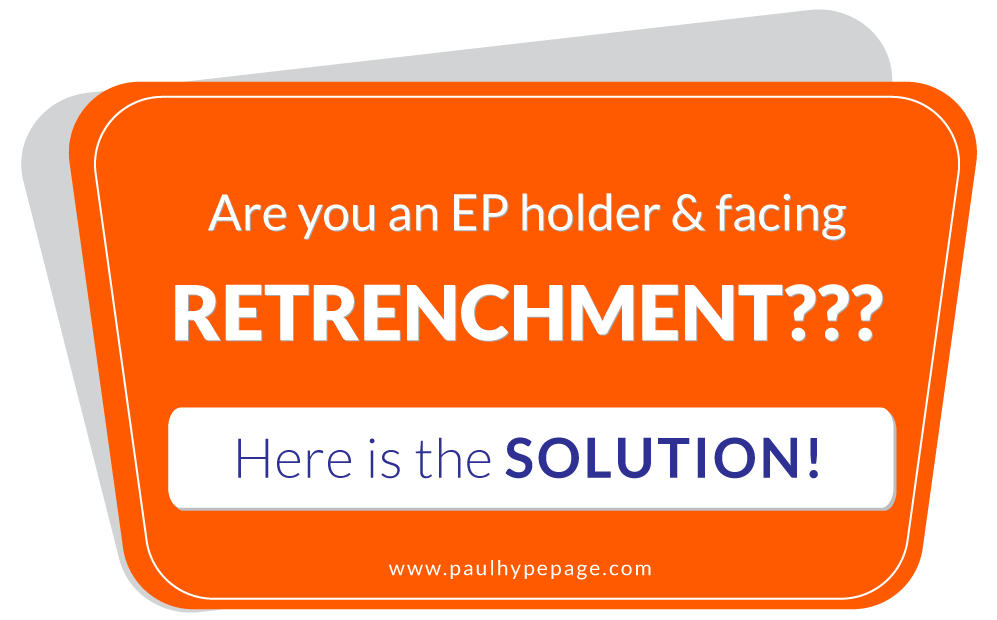 Eligibility for Employment Pass
Below are the minimum requirements by MOM:
 Must have at least a minimum income of S$4,500
 A graduate/postgraduate degree/diploma
 The professional qualifications needed for the job
 Work experience relevant to the job
Documents Required for the Application

Employment Pass Application Process 
Application of the Employment Pass is done online via EPOL (MOM's application website). Do take note that only your employer or a government-licensed immigration agency can apply on behalf of you.
With the current system, the possible statuses for your Employment Pass application are:
Pending.
Pending inputs from vetting agencies. Expected outcome is 2 months from the Date of Application.
We need inputs from other agencies to process this application. In most instances, the outcome will be available in 4 weeks' time. Some cases may take longer.
Approved/Rejected
The timeline varies by cases. Also, there is no definite time on each status.
For more details of the process,  you can refer to Employment Pass Procedures.
Why will an Employment Pass application get rejected?
From our experience, we have compiled a list of Employment Pass Success Factors  which will increase your success rate.
| | |
| --- | --- |
| Reason | Explanation |
| Your job scope is totally different from your qualification | If your education and experience do not align with your job requirements, your application will be rejected. |
| 1. Your employer is not competent enough / does not have a balanced a ratio of locals to foreign employees | 2. They did not hire locals hence deemed not a good contribution to Singapore. |
| Your position can be easily filled by a Singaporean  | there are sufficient locals that can do the same job |
| You did not fulfill the criteria | From April 2016, MOM has introduced stringent rules especially for salary and academic qualifications |
| 3. Your duration of previous job is less than 2 years without acceptable reason | 4. MOM prefer non job-hoppers or spotty work records |
| There are discrepancies in your personal information  | There is inadequate information to substantiate your credentials, or incorrect information. |
| Your resume or CV does not show an increasinglevel of responsibilities and salary | 5. It means you are not progressing, and there is no value-added benefit to Singapore in employing you. |
Explore more on Employment Pass in other countries:

Employment Pass Guide FAQs
Why is the Employment Pass the most common Singapore visa which is issued?
Tiwi
2020-06-23T10:33:44+08:00
All visas offered by the Singaporean government provide various advantages to those who obtain them. However, the advantages offered by the Employment Pass are more numerous, accessible, and commonly needed or desired when compared to the advantages offered by other visas. Therefore, the Employment Pass has become the most frequently issued, desired, and recommended visa in Singapore.
Why does the Singaporean government offer various Visa Types?
Tiwi
2020-06-23T10:33:25+08:00
People of various educational levels, skill levels, and salaries are interested in moving to, living in, and working in Singapore. These differences prevent the same visa from being used for every foreigner who plans to work in Singapore. Thus, to overcome this potential problem, the Singaporean government must offer different types of visa to cater to the needs of as many foreign workers as possible.