A Singapore passport can be obtained by anyone of any nationality as long as they fulfill all of the government's criteria to receive one. Any citizen or PR of the country may apply for one.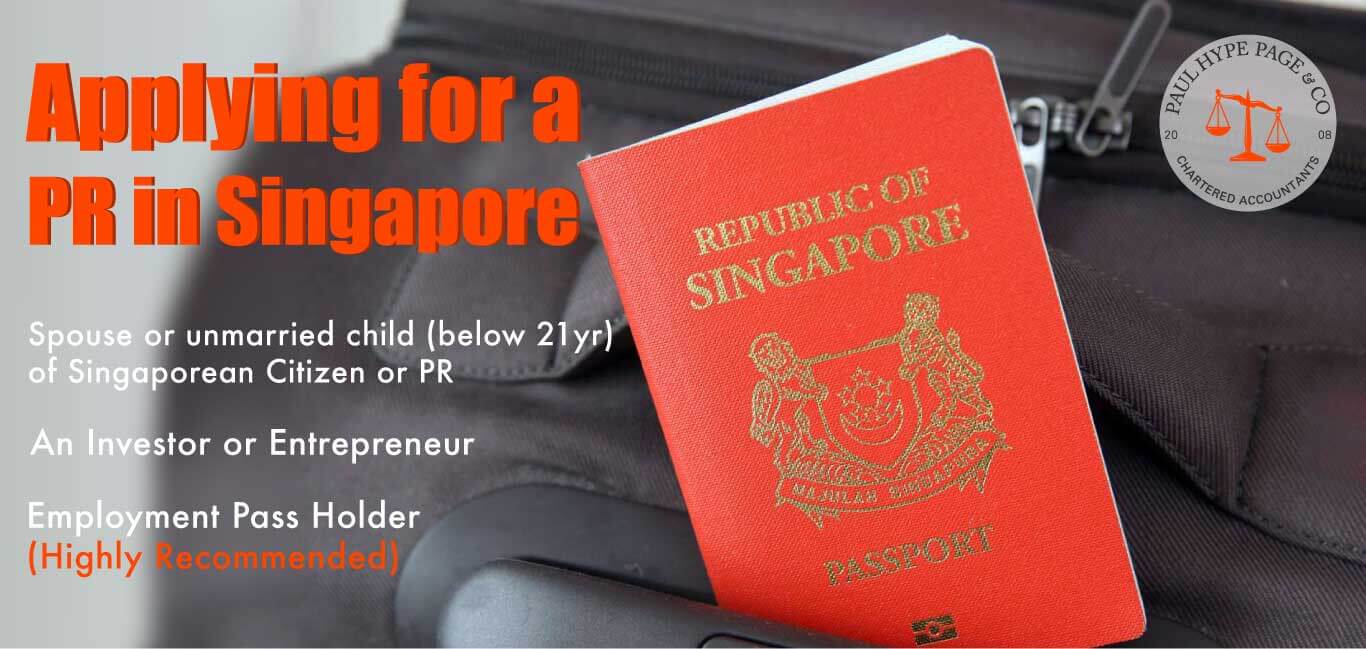 Passports are an important tool for everyone in the world. Without a passport, a person cannot legally travel between countries. All countries require those entering to have a valid passport so that laws related to immigration are upheld. Another reason why passports are important is the fact that a passport contains all of a person's important personal details such as name, date of birth, and passport expiry date. In certain cases, passports may even be used as a form of personal identification because of the information contained in them.
Therefore, it is not surprising that many people who move to another country to live and work for an extended period of time often plan to obtain a passport of that country. Such is also the case in Singapore. Singapore's passport is one of the most highly sought-after passports in the world because of the many foreigners who have moved there.
If you are one of the many foreigners with plans to establish residency in Singapore, we at Paul Hype Page & Co are able to help you. We have a proven track record of successfully helping our clients relocate to Singapore after completing every step of the process.
According to the Global Passport Power Rank for 2019, which is a set of rankings issued by The Passport Index intended to measure the amount of mobility granted by a particular country's passport, a Singapore passport is in 15th place, ahead of countries such as France, Belgium, and Norway while being just behind Ireland and Sweden. It is the third-most powerful passport in Asia, only behind those of the United Arab Emirates and South Korea. In 2019, a Singapore passport grants its holder visa-free access to 166 countries around the world. As a result, demand for a Singapore passport is high.
Why Singapore Is a Desirable Destination
There are several reasons why people from all over the world choose to work and live in Singapore, with some even getting a Singaporean passport or becoming a permanent resident or citizen of the country. One important reason is the fact that Singapore's government has gone to great lengths to attract a talent pool that can contribute to the growth of its economy. The government is keen on encouraging foreigners to make a home in Singapore by increasing the incentives and benefits available for its citizens and others living there. The government understands that foreign talents are a valuable resource in Singapore, so it does all it can to ensure that all their needs and wants are fulfilled as fully as possible.
Another factor that draws foreigners to Singapore is the country's high level of development. According to the United Nations' Human Development Index, Singapore has a development score of 0.932. This ranks it ninth in the world and second in Asia, only behind Hong Kong. This same index also shows that Singapore is one of the 59 countries in the world which has attained the coveted status of "Very High Human Development". The Singaporean government constantly attempts to improve the country's level of development, whether economically, infrastructurally, technologically, or even socially. This helps keep the country very competitive on a global scale, thus causing many foreigners to want to live there.
Another reason that many foreigners are interested in moving to Singapore is the country's high level of connectivity to the rest of the world. Singapore Changi Airport is one of the world's best and provides flights to many cities all over the world. For regional travel, Singapore has rail and road links to Malaysia, its northern neighbor. There are also ferries which connect Singapore to various ferry terminals in Malaysia and Indonesia. As one of the world's smallest countries, it is important for Singapore to stay connected to the rest of the world.
With all of these factors working in Singapore's favour, it is little wonder that many foreigners have intentions of not only living and working in Singapore, but also obtaining a passport from there.
Advantages of Owning a Singapore Passport
For those who choose to do so, owning a Singapore passport can be very advantageous and rewarding. As has been mentioned, Singapore's passport is one of the world's most powerful. A Singapore passport provides visa-free access to almost all of the world's countries. Furthermore, even in cases of countries for which a Singapore passport holder requires a visa, the fee required for the visa tends to be lower than those required of passport holders of other countries.
Singapore passports also have a high level of both security and convenience. This is due to the fact that they are biometric passports. A biometric passport is one which contains an electronic chip filled with its holder's biometric information. This information is then used to verify the identity of the passport holder. The Immigration and Checkpoints Authority (ICA) was one of the world's first immigration authorities to introduce a biometric passport. This was done with the introduction of the Singapore Biometric Passport Project. This project was intended to integrate world-class standards, combat the forgery of passports, and defend the country against terrorist activity. Singapore biometric passports, also known as BioPasses, were launched in 2006. Since then, BioPasses have proven to be highly successful.
Holders of Singapore passports also have a positive reputation in most countries. This is the case because Singapore passport holders are deemed to be people of low risk and therefore unlikely to commit crimes while abroad. Reasons for this include the country's excellent standards of law enforcement, its low crime rates, and high-quality government administration. Therefore, Singapore passport holders can expect to be treated well wherever in the world they go.
Laws Regarding Singapore Passports
It should go without saying that there are several laws regarding Singapore passports which must be followed. The primary law that governs all actions related to such passports is the Passports Act. This Act was originally enacted in 2007 and was subsequently revised in 2008. It contains information on everything the passport holder needs to know about the passport. The legal information in the Act is related to areas such as passport application, issuance, validity, refusal of passport, passport-related offenses, and other regulations.
The ICA has also specified some information of which a Singapore passport holder must be aware before traveling to another country. The most important piece of information stated on the ICA's website is that the passport must have a remaining validity of a minimum of six months before the holder's departure from Singapore. It must also have been kept in good condition; this is defined as not having any pages missing or torn. Those who fail to fulfill either of these criteria may be barred from entering the foreign country.
The passport holder is also required to have all necessary entry visas if the holder is traveling to a country which requires one. Once again, those who do not have such may be barred from entering the foreign country. Anyone who has any questions regarding visa requirements or consular offices located abroad may contact the Ministry of Foreign Affairs for further information.
Anyone who discovers any discrepancies contained within their passport information after arrival in or departure from a foreign country is to contact the immigration authorities or police in that country. Failure to do so may constitute a violation of immigration laws in certain instances.
Singapore Passports and Citizenship
As is the case in any other country, owning a Singapore passport is closely linked to being a citizen of the country. In Singapore, only citizens may apply for a passport. Although the process of becoming a Singaporean citizen can be complex, receiving the passport will certainly make it worthwhile.
However, before a person can become a citizen of Singapore, the person must first apply to become a permanent resident (PR). To become a Singapore PR, the applicant must be one of the following: an aged parent of a Singaporean citizen; an Employment Pass (EP), Personalised Employment Pass (PEP), EntrePass, or S Pass holder; or a spouse or unmarried child (below 21 years of age) of a Singaporean PR or citizen.
Should you need any of the passes mentioned in the prior paragraph, we at Paul Hype Page & Co can be of assistance. Our team will guide you through all the steps required to receive an EP, EntrePass, or any other work permit which you may require.
There are also three schemes through which one can apply for PR status: the Professional, Technical Personnel and Skilled Workers (PTS) scheme, the Global Investor Program (GIP) scheme, and the Foreign Artistic Talent (ForArts) scheme. Those eligible for the PTS scheme must be working in Singapore, holding an EP, and earning a minimum of S$2,000 per month. Those eligible for the GIP scheme must have a minimum of three years of business or entrepreneurial experience and at least S$2.5 million to be invested. They must also submit their company's last three years of audited financial statements. Those who qualify under the ForArts scheme must be able to supply evidence of significant achievements within their artistic field while also proving how they will be able to contribute to Singapore's current artistic and cultural scene.
After collecting the necessary documentation and submitting the application to the ICA, the applicant will usually have to wait for anywhere between four and six months to find out the outcome of the application. If the application is approved, the applicant must then schedule an appointment at an ICA office to receive identity cards and entry permits. Then, after spending at least two years as a PR, assuming the applicant is at least 21 years old and legally employed in Singapore, the applicant may then proceed to apply for citizenship. If certain other criteria are fulfilled, one may also choose to apply for citizenship by descent.
Singapore citizenship applications may be made on the ICA's website. After all documents have been submitted, the applicant must meet an ICA officer to verify all provided documents and information. On occasion, the ICA may require additional documents. After anywhere between six and 12 months, the applicant will discover if the application has been approved. If it has, the applicant must then renounce foreign citizenship (dual citizenship is banned in Singapore), register as a Singaporean citizen, and subsequently receive an identity card and a citizenship certificate at an official ceremony.
Once this has been completed, the passport application can be made. The application, along with passport photographs, must be submitted to the ICA. This can be done via mail, in person, or online. Approximately one week after submission of the application, the ICA will mail the applicant an acknowledgement card. This card serves as evidence that the ICA has begun processing the application. Once the passport is ready, the applicant must go to the ICA building to receive it. The applicant must bring their identity card, acknowledgement card, and citizenship certificate. However, the passport must be collected within three months of the date of issuance. If such is not the case, the passport will be cancelled.
Conclusion
The evidence in favor of receiving a Singapore passport is extremely clear. As one of the world's most powerful passports, a Singapore passport confers many privileges upon its holder. Although the process of receiving such a passport is long and complex, the reward of the passport is certainly worth the effort. As long as everything is done in the proper manner, there should be little to no trouble for one to join the ranks of Singapore's many passport holders.

Getting a Singapore Passport FAQs
Can anyone of any nationality become a Singapore PR?
Tiwi
2020-07-02T10:58:41+08:00
The Singaporean government does not place PR-related restrictions upon any nationality. Thus, any person of any nationality who fulfills the necessary criteria may become a permanent resident of Singapore.
Is a Singapore PR also a citizen of Singapore?
Tiwi
2020-07-02T10:58:09+08:00
Although PR status and citizenship have certain similarities, they are not the same. A PR of Singapore is not a citizen of Singapore. However, if certain criteria are fulfilled, a Singapore PR may apply for citizenship of Singapore.