Before this article begins, we at Paul Hype Page & Co would first and foremost like to state that we truly hope the information in this article never applies to you. Cancellation of an Employment Pass (EP) can be a tedious and arduous process.
If you are reading this right now, you are probably expecting your own EP to soon be cancelled because your employment in Singapore will soon be ending or the EP is expiring after its validity of 2 years. For this reason, if you would like to extend your time in Singapore, you will need an Employment Pass renewal.
Options after EP is Cancelled
On that note, Singapore is a country which is replete with business opportunities. Therefore, you should not be disheartened even though your current employment might be ending soon. This is because you now have the possibility of owning a Singapore-based business yourself and apply the right work.
In deciding on the visa to have for your own company, consider the visa you were previously holding:
If you are an employment pass holder, it is much easier to apply for the same visa under your own company.

If you are a S Pass holder, then applying for an employment pass can be more challenging as it is considered an "upgrade". S Passes have local hiring quotas while Employment Passes do not have minimum local hiring quotas, and there are no levies payable.

If you are holding a personalised employment pass and you want to start your own business, we suggest a joint venture as PEP holders cannot hold majority shares in any company registered with ACRA.
Reasons for Cancellation of an Employment Pass
There are various reasons why one might choose to have an EP cancelled.
You plan to resign your existing employment and leave Singapore permanently

You are retrenched by existing employer and wish to leave Singapore permanently

You plan to resign from your existing employment and join a new employer in Singapore

You want to resign from your existing employment to start your own business in Singapore

You are retrenched by your existing employer and wish to find alternative employment in Singapore
Employment Pass Cancellation Procedure
The Employment Pass cancellation will be auto approved by MOM once the initiation for EP cancellation is done.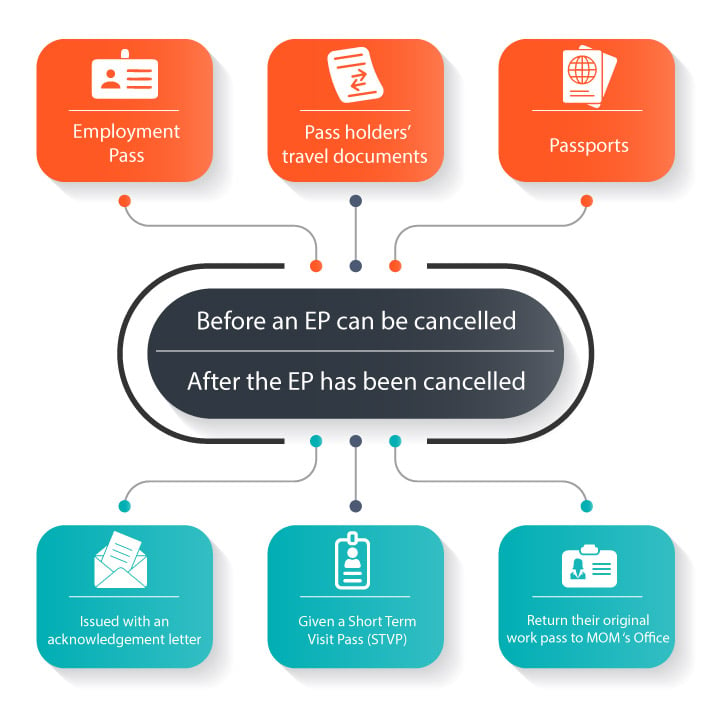 Who can cancel?
Their employer or an authorized immigration agency, in person or online.
What documents required?
The EP itself,

related pass holders' travel documents,

Their passports, and

Cancellation form.
What happens upon cancellation?
You are issued an acknowledgement letter and, Issued a Short Term Visit Pass (STVP) with 30 days validity period

You must return the original work pass and all other related work passes by dropping them at MOM's office or mail the passes within seven days of the date of cancellation.
NOTE: After an EP is cancelled, all related passes tied to the main pass such as the Dependant's Pass (DP) and Long Term Visit Pass (LTVP) will be automatically cancelled at the same time. Thus, such DP holders can no longer in Singapore and will also receive an STVP which will be valid for 30 days.
What to Do Before Leaving Singapore
Most people who have had their EP cancelled will spend the remaining 30 days in Singapore to complete any remaining formalities because the 30-day validity period of the STVP may not be extended. Those who have plans to continue working and living in Singapore may apply for jobs during this period. However, those who are offered a job must apply for a new EP.
Similarly, those who plan to remain in Singapore to set up a business will also be required to apply for an appropriate pass. This is where we at Paul Hype Page & Co offer our services. We offer a package that covers both the processes of company incorporation and EP application.
Those who violate the terms of the STVP's validity will be punished accordingly or possibly even deported. Such offenders are also likely to be barred from receiving any further Singapore work passes.
Formalities to attend to:
Formalities to attend to:
1. Tax Clearance for Foreign & SPR Employees (IR21)
Confirm with your employer as employers have the responsibility to file the Form IR21 and withhold all monies due to the employee for tax clearance purpose. This applies to all work pass holders including Personalised Employment Pass (PEP) holders.
2. Accommodation payment and deposit matters
Those who have been renting must inform their landowner, settle any payments, collect their deposit. They must also close accounts with any utility providers and collect any unclaimed deposits.
3. Bank account maintenance or closing
The banks with which the person leaving has accounts must be notified, as well as any relevant credit card and insurance companies. All payments are to be made before departure.
4. Schools or organisations your Dependents may be tied to
Those who have dependents in Singapore must also ensure that all institutions to which dependents are attached are appropriately notified.
Recommendation: If you are facing the end of employment and cancellation for your EP, we strongly recommend that you see this as an opportunity by kickstarting your own business.
Can someone who has had an EP cancelled apply for another one?
Timothy
2020-07-02T15:11:48+08:00
There is no law which stipulates that one who has had an EP cancelled cannot apply for another.
Which countries are the most common destinations for those leaving Singapore?
Timothy
2020-07-02T15:11:26+08:00
The five countries which are the preferred destinations of those leaving Singapore are Malaysia, Australia, the United Kingdom, the United States, and Indonesia. These countries account for over 200,000 of the people who leave Singapore every year.
What is Singapore's net migration rate?
Timothy
2020-07-02T15:10:03+08:00
According to the latest statistics, Singapore's net migration rate is 13.1. This means that on average, out of every 10,000 people in Singapore, there will be 131 more people entering the country than leaving it. 
Share This Story, Choose Your Platform!