The Singapore government has recently introduced a brand-new work visa called the Overseas Networks & Expertise (ONE) Pass which will be officially launched on 1 January 2023. With this new Singapore ONE Pass, the government looks to rejuvenate its top talent pool by attracting them with a longer work visa to drive stability.
In this article, we will shed some light on the current foreign talent landscape, the ONE Pass requirements, some foreseeable challenges for such pass holders, and also comparing it against the existing work visas available in Singapore.
Singapore ONE Pass Requirements & Eligibility
The Singapore ONE Pass is a work visa with a validity of 5 years and is aimed at top talents in the business, arts & culture, sports, science & technology, and academia & research sectors.
Aside from the industries above, here are the main requirements to apply for the ONE Pass:
Earning a fixed salary of at least S$30,000 per month within the last 12 months OR will be earning a fixed salary of at least S$30,000 per month under their future employer in Singapore

Showcase past experience in working for an established company overseas for a minimum period of 12 months or will be working in an established company in Singapore
NOTE: An established company is deemed to have a market capitalisation of at least US$500 million or an annual revenue of minimum US$200 million.
The other alternative route to apply for the ONE Pass is through your past achievements. If you have outstanding achievements in the areas of your expertise, you are able to apply for the ONE Pass even though you do not fulfil the above salary requirements.
Renewal Criteria for Singapore ONE Pass
The ONE Pass can be renewed upon expiry if the conditions of renewal are met. Here are the renewal criteria:
Past 5 years in Singapore averaging a fixed monthly salary of at least S$30,000

Incorporated and operating a company in Singapore that employs at least 5 locals who are earning a minimum salary of S$5,000 per month.
As for the renewal requirements for the second route based on past achievements, it will be released closer to the launch on 1 January 2023.
Benefits of the ONE Pass in Singapore
The benefits of the ONE Pass are:
1. Greater flexibility for employment
As you do not need to be tied to just one employer, you are able to take on multiple roles to add up to the fixed monthly salary of S$30,000. You are also eligible to start your own company in Singapore as a business owner.
Aside from that, you do not have to have an existing job offer to apply for the ONE Pass as long as you can show that you received S$30,000 per month previously overseas.
2. Dependant Pass holders can apply for Letter of Consent (LOC) to work
If you have dependants who are moving with you to Singapore under the ONE Pass and have a valid Singapore dependant pass, they are allowed to apply to work via the Letter of Consent (LOC). This helps them to retain their employment when relocating to Singapore.
3. Longer validity for long-term stability
The ONE Pass has the longest work visa validity as compared to others. With the 5-year validity, it offers foreign talents the long-term stability of residing in the country.
Challenges ONE Pass Holders May Face
While on paper there are many strong points about the Singapore ONE Pass, every applicant is encouraged to consider all options as there are certain challenges that we foresee that these pass holders may face.
1. Stringent approval process
As this new work visa grants extreme flexibility, the government will vet every application thoroughly. Some of the measures that they are taking to ensure that the application is aligned to their requirements are:
Reviewing companies with limited track record

Verifying documents to ensure declared salary will be paid

Assessing market capitalisation & revenue for the companies
Existing Singapore Employment Pass holders can convert their EP to ONE pass. The Singapore Ministry of Manpower (MOM) will review the Personal Income Tax filings with IRAS to ensure that information in the application is consistent with the application.
2. Inability to secure a job in Singapore that meets the minimum salary requirement
One of the core benefits of the ONE pass is that you do not need an existing job offer to apply for the work visa. However, this could be a double-edged sword given that you may not have financial security in Singapore for a long period of time.
As not all companies can afford to hire a senior management staff with a monthly salary of S$30,000, job opportunities may be lower than expected. The long-term solution here is to leverage on this ONE pass to set up your own company in Singapore – this helps to bridge the gap and ensure that you have economic contributions in the country.
3. Yearly assessment of economic contributions
To ensure that the ONE pass holders are actively contributing to Singapore's economy, MOM will request for the following documents every year:
Details of professional activities for the past year

Total sum of annual salary earned from your professional activities
If MOM deems that you do not contribute to the economy meaningfully, the ONE pass may be revoked. This means that you will not be able to reside in Singapore and will affect your stability, especially if you have dependants. All these information collected will also be reviewed during the ONE pass renewal process.
Similar to the above, the best option is to register a Singapore company and operate it as your own business – there are many types of business entities to choose from, with private limited companies being the top choice for foreign talents.
Comparing ONE Pass with Other Singapore Work Visas
Here are the key pointers that compares the ONE pass with the other Singapore work visas that are for highly skilled foreign talents.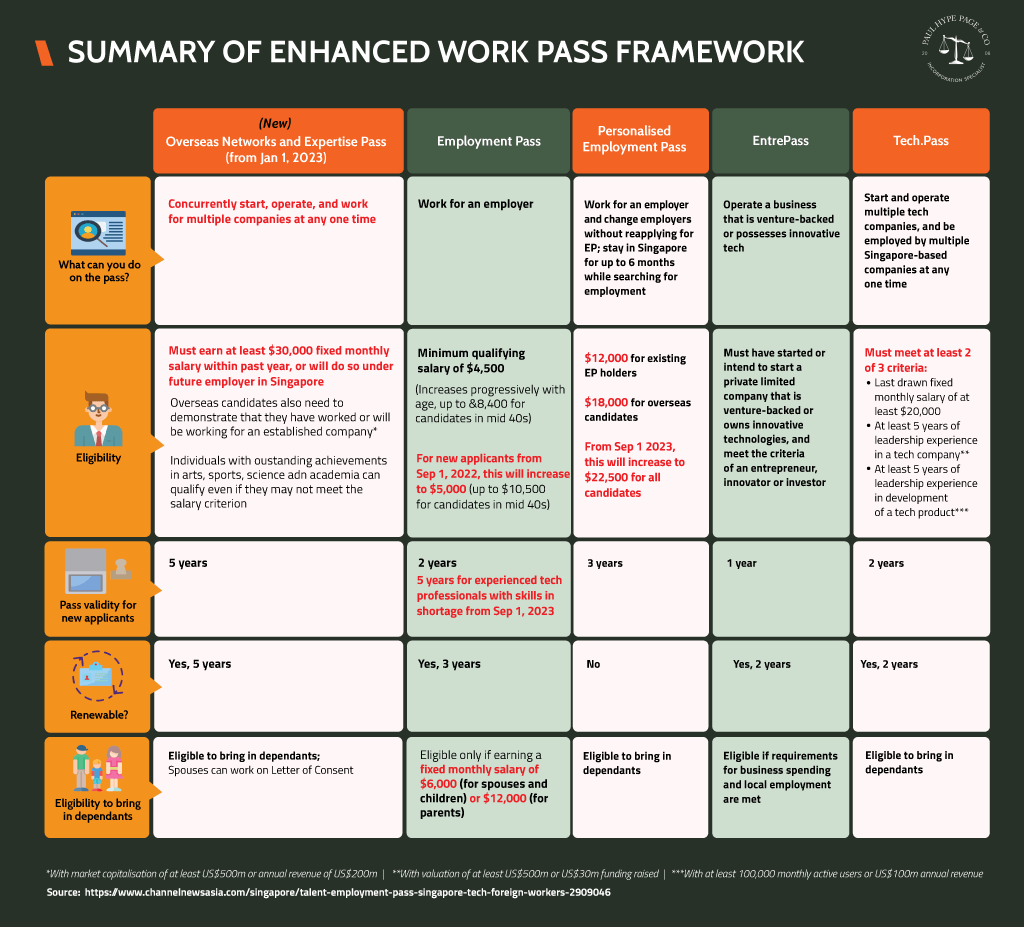 The ONE Pass in general has a longer visa validity of 5 years & is renewable for another 5 years. Dependants are also allowed to follow ONE pass holders into Singapore with the option to work with a LOC.
Converting Singapore Employment Pass (EP) to ONE Pass
Existing Singapore EP holders can convert their EP to the ONE Pass if they fulfil the criteria. It is expected that the 5% percent of EP holders are eligible to apply for this new work visa, which is about 8,000 professionals. The big question for these group of pass holders is that should you switch?
Based on our recommendation, we would recommend you to keep your employment pass, especially if you already have your own company in Singapore. Although there are many benefits to the ONE pass, one must consider the personal income tax that they have to pay based on their salaries.
The personal income tax rate in Singapore ranges from 0 to 24%. The top marginal personal income tax rate is slated to increase from 22% to a maximum of 24% from YA 2024 onwards.
Singapore Foreign Talent Landscape
Singapore has always been one of the top destinations for foreign talents to live, work, or set up a company. However, in recent years, the country has found it difficult to retain highly skilled talents for a couple of reasons.
Length of work visas and employment passes may not be long enough to attract them

Level of competition in the economy
As Singapore looks to go full force to strengthen its work force, now is the best time to apply for your employment pass or work visas. We have seen high number of approvals for our Singapore Employment Pass applications recently.
Here are the outcomes of our EP applications for the past months:

Can I apply for the ONE Pass on my own accord, or would I need a company or agent to do so?
Paul Hype Page
2022-09-30T12:49:58+08:00
Application process and information will be released closer to the date of launch on 1 January 2023. It is expected that individuals can apply for the ONE Pass on their own. However, it is always recommended that you get a MOM-licensed employment agent like Paul Hype Page & Co to help with your application.
Share This Story, Choose Your Platform!