Singapore has consistently been ranked as one of the world's best places to work, live, and start a company. That's why people from all over the world come to Singapore, creating a diverse community of people with various cultural and religious backgrounds.
This unique mix has put Singapore on the map as a multi-cultural country with an array of celebrations that are observed through the year.
Key Public Holidays Celebrated in Singapore
As a nation that celebrates diversity and multi-culturalism, we have public holidays for each of our ethnic groups – Chinese, Malay, Indian, and Eurasian. These festivals are considered the main public holidays for Singaporeans, alongside National Day, which falls on August 9 every year, to celebrate the nation's independence.
Key Public Holidays
What is the occasion about?
New Years Day

The start of the new year in accordance with global celebrations.
New Year's Eve Countdown Parties are held at several locations, with the most popular waterfront events being 'The Marina Bay Singapore Countdown' and 'Siloso Beach Party'.

Chinese New Year

Marks the start of the lunar new year
Only public holiday in Singapore that has 2 consecutive non-working days
Best place to visit during this time: Chinatown

Good Friday

Takes place the Friday before Easter, and is a Christian holiday commemorating the crucifixion of Jesus and his death at Calvary.

Labour Day

An annual holiday to celebrate the achievements of workers. It serves as a mark of solidarity amongst workers.

Vesak Day

Vesak, also known as Buddha Jayanti, Buddha Purnima, Buddha Day, and Phật Đản, is a holiday traditionally observed by Buddhists.
It is known as the day where Vesak attained his enlightenment.

 Hari Raya Aidilfitri

Also known as Hari Raya Puasa or Eid al-Fitr
Marks the end of Ramadan where Muslims fast during daylight hours

Singapore National Day

Marks Singapore's independence from Malaysia in 1965
Often celebrated with live parade, performances, fireworks, festive sales, and activities
Aims to bring out the Singapore spirit

Hari Raya Haji

Also known as Hari Raya Qurban or Eid al-Adha – "Festival of the Sacrifice"
Day is spent praying at the mosque and sharing of one's wealth with the less privileged
Usually celebrated with bazaars

Deepavali

Most important festival for our Hindu community
Symbolises the triumph of light over darkness – the victory of good over evil
Visit Little India for colourful and spectacular light-ups and decorations

Christmas

The season of giving, celebrated mostly by Christians
Visit the world-famous Orchard Road for stunning Christmas decorations along its streets
Aside from those, if there is a general or presidential election in Singapore, Polling Day will also be an official public holiday. This is the government's way of encouraging the Singaporean popular to exercise their rights and duties to the country by casting their vote. However, by-elections are not considered as a public holiday.
List of Singapore Public Holidays 2023
With the dates of each public holiday differing every calendar year, here's a quick look at the full list of public holidays in Singapore in 2023!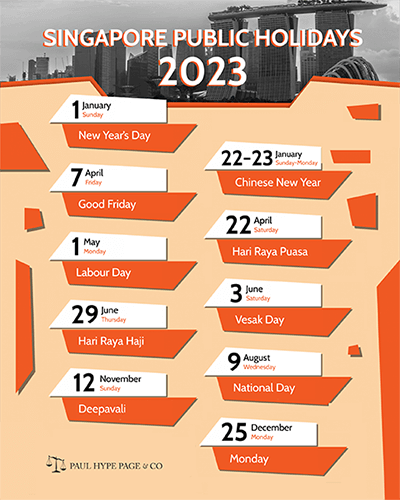 Employees' Entitlements on Public Holidays in Singapore
When it comes to the business end of public holidays, new employers in Singapore need to know that all their employees are entitled to be paid the gross rate of pay for every public holiday if:
The employee was not absent on a working day immediately before or after a holiday without a valid reason.

The employee was or will be on authorized leave on the day immediately before or after a holiday.
In any event that you would require your employees to work on a public holiday:
Company will be required to pay an extra day's salary at the basic rate of pay

Companies may have a mutual agreement with employees to substitute a public holiday for another working day
TIP:
While such agreements are perfectly legal, please make sure that it is properly communicated to avoid any disputes!
For those working in managerial or executive positions:
Time off in lieu of the public holiday may be given – this amount depends on the agreed number of hours.
These guidelines are in accordance with Singapore's Employment Act and are to be followed by all employers in Singapore.
If you are looking to work or live in Singapore for more than a year, do reach out to us to learn more about:
History of Public Holidays in Singapore
Did you know that many years ago until 1968, Singapore had an additional six public holidays? These six public holidays were:
Celebration of the birth of Prophet Muhammad

Additional Hari Raya Aidfilfitri holiday

Thaipusam

Holy Saturday

Easter Monday

Boxing Day
The reason why these public holidays were removed by the Ministry of Manpower was to improve the nation's business competitiveness as this means a reduction of business costs incurred by Singapore companies, and mitigate the impact brought about by statutory leave.
How Singapore's Public Holidays Compare to Those of Its Neighbours
To put things into perspective on how the Singaporean government stands regionally when it comes to public holidays, let's take a look at how nation's public holidays compare to our Southeast Asian neighbours – Indonesia, Malaysia, the Philippines, and Vietnam.
Number of Public Holidays in Each Country
Most of the four countries have similar number of public holidays, with the exception of Indonesia who has 16!
| Countries | No. of Public Holidays |
| --- | --- |
| Singapore | 11 days |
| Vietnam | 11 days |
| Malaysia | 12 days |
| The Philippines | 12 days |
| Indonesia | 16 days |
Public Holidays & Their Occasions
The similarities when it comes to the public holidays include:
NOTE: New Year's Day is not a nationwide public holiday in Malaysia although it is observed by most.
While there are common public holidays, there are also differences that denotes the cultural differences between the countries:
All the countries in comparison celebrate Lunar New Year except the Philippines

Hari Raya Aidilfitri is a two-day public holiday in Indonesia and Malaysia

Other Islamic festivals are also celebrated as public holidays in Indonesia and Malaysia

The Philippines also celebrates more Christian festivals
The Singapore Identity Through Public Holidays
Singapore has carved out a unique place for itself in the world today by celebrating its deep cultural heritage and multi-culturalism. Staying true to their ethos and values, Singapore public holidays represents a great reflection of our identity, where all four core religions are celebrated as holidays.
Find out more about Singapore with us today. From business incorporation, working visas, tax services to relocation services, we've got you covered.
Are part-timers entitled to holiday pay if they must work on public holidays in Singapore?
Timothy
2020-12-04T15:35:14+08:00
Yes.  Part-timers are entitled to holiday pay too if they must work on public holidays in Singapore. 
Share This Story, Choose Your Platform!