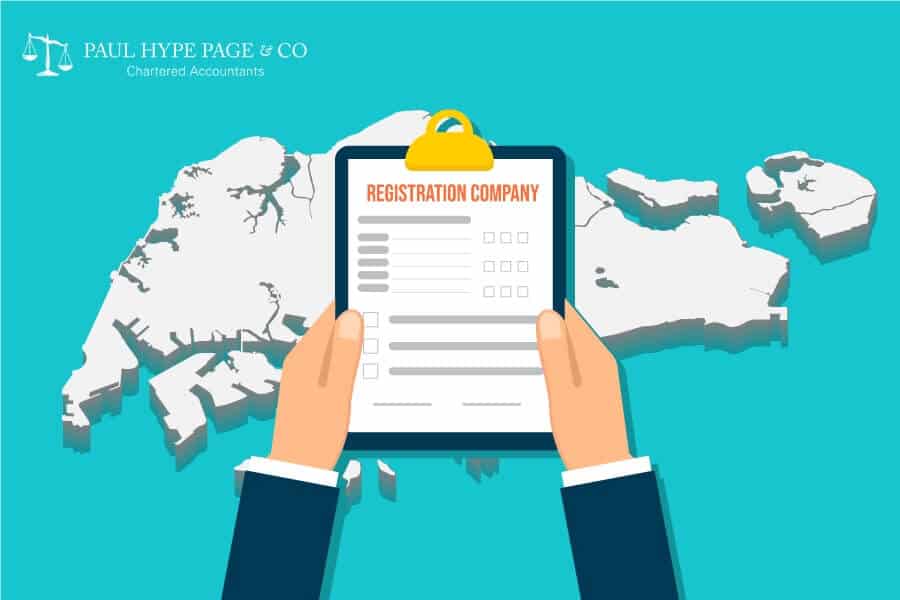 One of the more common questions we usually get is "How to register a company in Singapore as a foreigner?". If you're asking the same, this article is for you. For starters, you'll need to know that foreigners can register a company and own 100% of its shareholding.
You will need to engage a registered filing agent (such as a law firm, accounting firm or corporate secretarial firm) to submit the application in BizFile+ on your behalf.
One of the directors/authorised representatives/general partners/managers must be a local resident.
Agents usually provide services, such as:
Registration of company;
Provision of Company Secretary;
Provision of local nominee director;
Filing Annual Returns with ACRA;
Maintaining and updating of information with ACRA; etc.
Foreign entrepreneurs or existing Dependant Pass (DP) holders who wish to start a business in Singapore will need to consider:
Setting up a company with an Employment Pass (EP) or
Applying for an Entrepreneur Pass (EntrePass)
2022 Business opportunities in Singapore
Truth is, business anywhere is hard but having the right infrastructure, a supportive community, good financial, tax framework and planning definitely helps. Singapore having all of that is already a strong attraction to register a company in Singapore as a foreigner.
Highlighting some business opportunities:
The tech industry is a given and Singapore is no exception. If you're founding a startup, launchpads, accelerators, incubators, sandboxes, mentorship, venture capitalists- you name it, we have it. Read on about all things Startup Singapore.

Some popular businesses in consulting, lifestyle and services include home tutoring services, digital marketing, copywriting, cleaning service, and babysitting service.

Anything import-export, trading, shipping, logistics and supply chain management, Singapore is the "port of call" for you. Our dominance in the region is thanks to the elaborate infrastructure. we have in place, results in detailed and comprehensive procedures for businesses. To mention notable benefits, our network of over 50 comprehensive Double Taxation Avoidance Agreements, many free trade agreements and the Investment Guarantee Agreements.
How to choose company type according to business needs
We'll focus on the whys here and leave the elaboration in our article comparing different types on company structure.
First, let's establish that a private company limited by shares is the way to go. If this is your first business, you can get straight to registering the company. We go into the comparison of sole proprietorship, partnerships and other; and talk about the steps to register your company in Singapore as a foreigner.
A quick overview on the requirements:
At least one local resident director who is a Singapore citizen, a Singapore permanent resident, or an EntrePass/Employment Pass/ Dependent's Pass's holder with LOC.

At least one Shareholder

A physical local address

A company secretary
Who uses…?

Companies that….

Subsidiaries (Foreign Subsidiary Incorporation in Singapore)
Want a separate legal entity because they are venturing into new industries or markets, and would like to keep legal liabilities separate.

Wholly owned (100%) subsidiaries also allow HQ to keep the ratio of their shareholdings fixed. For example, Shareholder A of 50% and Shareholder B of 50% in HQ will have the same ratio in the subsidiary.

Related companies
Enjoy flexibility in their structure. Shareholders and directors in the Singapore related company can be exactly the same as the main company. Whenever a need arises and they would like to have new shareholders or investors, onboarding is simple.
Representative office (Foreign Representative Office)
Have little to no clients in the new market. Invoicing is still done by parent company. Once they have more clients, they can decide on setting up a more permanent establishment.
Branch (Foreign Branch Incorporation)
Would not like to have a separate legal entity due to commercial or tax purposes. For example, a company might want to retain their tax residency status at the overseas HQ jurisdiction. Having a permanent establishment in Singapore through a subsidiary or another set up might complicate that.
Re-domiciliation (Foreign company Re-domiciliation to Singapore)
Are larger in size (50 employees, S$10 million in total assets or annual revenue) and want to protect all their assets, branding and history, bringing it with them to make Singapore their new HQ.
Getting the right visa to run your business in Singapore
After you register a company in Singapore as a foreigner, you will need to get the right visa to live in Singapore and run your business.
Employment Pass (EP) vs EntrePass
There will always be a debate over an EP or EntrePass for foreign business owners. We are advocates of the Employment Pass. Why?
1. Higher application success rate
A qualified individual for EP should have a tertiary or degree certification and a minimum monthly salary of S$4,500 (in accordance to their resume). An EntrePass candidate is intended for serial entrepreneurs, high-calibre innovators or experienced investors whose business in Singapore that is venture-backed or owns innovative technologies. In comparison, the EntrePass is daunting.
2. EP is family friendly
If you're bringing spouse or kids in, they can apply for dependent passes attached to your EP. The qualifying salary for the EP holder is S$6,000. However, if you're on an EntrePass, you need a total annual business spending of S$100,000 and meet local employment requirements.
3. No specific requirement for renewal
The renewal of an EP is subjective by nature. The Ministry Of Manpower (MOM) looks at the company's need for the EP holder and their capabilities of engaging him/her for another period. The EntrePass is has a progressive renewal criteria framework. By the 2nd year, you should plan to hire at least 3 full-time employees (FTE) or 1 local professional, manager or executive (PME). Your total annual business spending by then must be at least S$100,000.
" We selected Paul Hype Page to help us incorporate our Singapore business entity and to secure Employment Pass for our staff. I was very impressed with the expert guidance the in-house corporate specialists provided to navigate the Incorporation and Employment Pass application process. Now that our staff is ready to relocate to Singapore and our company's bank account is open, we can focus in growing our business. "
EP vs Tech.Pass
The other hot new pass is the Tech.Pass. A new work pass initiated in 2021, the Tech Pass is available for top-notch foreign professionals and experts who are keen to launch businesses, head corporate teams, or become a lecturer in Singapore. Example: Top-notch e-commerce, AI, and cybersecurity foreign professionals and experts. While promising, it is still a new area and lacks case studies.
Paul Hype Page with 13 years of expertise in applying for EPs, we've accumulated a high success rate of 85%. Heavily attributed to our insights close working relations with clients. If your EP is important to you, call us for some planning.
Some difficulties to consider: Bank account opening
After you register a company in Singapore as a foreigner, you will need a corporate bank account next. Not long ago, back in 2018, bank account openings used to be form filling task and some administrative efforts. Now, there is strict enforcement of anti-money laundering (AML) frameworks and common reporting standards (CRS). Bank account openings have become a whole event.
Advise:
Best-case scenario with high success rates: You're physically in Singapore to visit the banker OR you have an EP
Most of the times, directors are not in Singapore to open their accounts. While most banks support remote account openings now, the trouble is in It results in banks wanting to see tax substance in a company.
Common indicators of tax substance includes:
Local staff in Singapore

Physical office in Singapore

Local sales or suppliers in Singapore
It might be a chicken and egg scenario- how do you achieve all these before your bank account is even set up? We've written an article providing some solutions and describing common mistakes made in opening bank accounts. Take a look here.
Other things to consider after your incorporation
1. Licenses
Doing business in Singapore is generally so easy, most general consulting and service businesses don't need a license. However, watch out for anything that might relate to specific industries like F&B, construction, finance and education etc.
2. Office rental
Co-working spaces are the trend now. Most of them concentrated in the city area.
3. Talent hiring
While hiring, act according to the Fair Consideration Framework of MOM which encourages local hiring before hiring foreigners.
4. Annual compliance
It's relatively easy in Singapore to maintain your company. If your company doesn't have specific taxes like goods and services tax (GST) or withholding tax (WHT), your compliance can be done just once a year. Make sure to consult with your accountants or company secretaries for this.
5. Living in Singapore
A very easily overlooked matter among the craze of setting up your business in Singapore. What's the plan with the accommodation? What's the transportation like? Do you need to convert your license? And most importantly post pandemic, do you need to be vaccinated? We have a whole category of articles to address these issues. Click here to read on.
Real challenges foreigners might face
Not all things are good, especially when you are planning to register a company in Singapore as a foreigner. Some of the realistic problems you might face include:
1. Grants don't apply to you
Local government grants generally have a requirement for 30% local shares in a company.
2. Other forms of financing are also difficult
Without an operational history, bank loans are difficult to get. If you're founding a startup, the competition to obtain investments by venture capitalists are even more demanding.  
3. Visa renewal
Getting financing is difficult, but if your company is left dormant without revenue, it's difficult to justify the need for you to stay in Singapore. Your visa is constantly hanging over your head.
All things considered, if you're looking to register your company in Singapore as a foreigner, having a local service provider heavily involved and supporting your operations would be a definite advantage. For 13 years, Paul Hype Page has been coming up with creative solutions for our client's EP applications, bank account opening and financing. Join our family, drop us a call to talk about how we can help.
Can anyone from any country receive an Employment Pass?
Tiwi
2020-06-24T14:32:54+08:00
The current regulations regarding the Employment Pass do not bar anyone from receiving one on the basis of nationality. Anyone who meets all of the relevant criteria may receive it. Therefore, any eligible person from any country may receive an Employment Pass.