Why You Should Set Up a Company in Singapore
The many business opportunities, openness to entrepreneurial activities, and low tax rates which exist in Singapore are among the reasons why it is advantageous to start a company there.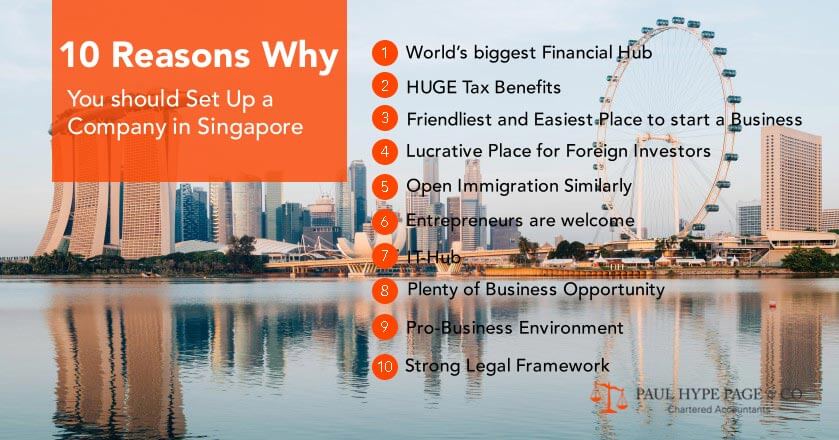 In Singapore, if you are engaged in some kind of activities for making profits, you need to register your business like sole proprietorship, private limited company, or limited liability partnership.
There are tons of websites offering consultancy services to help foreigners, locals, and now, university graduates to set up a business in Singapore. If you want to setup your Singapore company incorporation, you have to comply with its certain requirements.
Paul and Hype Page Co. provide fast and efficient services of registering and incorporating of your company that will comply with the legal entity of Singapore.
Here are 10 reasons why you should establish a Singapore company:
1. World's Biggest Financial Hub – Singapore lies in a strategic location. Singapore now hosts many successful businesses in the region as it is considered to be one of the BIGGEST financial hubs in the world and most industrialized country in Asia.
2. HUGE Tax Benefits – You will be very pleased to know that Singapore offers excellent tax benefits for medium as well as small-sized companies, provided that they were formed in the nation in the first place.
As a business entrepreneur, you will receive huge tax benefits in Singapore as they have double taxation agreements with more than 60 countries worldwide. In order to receive tax benefits, a financial statement has to be submitted annually to the IRS (only required from companies having sales over 5 million Singapore dollars).
3. World's Friendliest and Easiest Place to Start a Business and get a employment pass – Most people are interested to open their business in Singapore as it is extremely easy to do so. Not only it requires minimal effort on your part, but setting up a company can be done within couple of days.
Unlike in many Western nations, it takes only 1 to 2 days to register and incorporate a business in Singapore, with assistance coming along the way by the government. Simply put it, Singapore is the friendliest and the easiest place to start and manage a business.
4. Lucrative Place for Foreign Investors – You might be surprised to see lots of Singapore startups without Singaporeans in them. In fact, lot of business entrepreneurs are Americans, Australians, Spanish people, setting and managing their companies in Singapore for their base operations.
5. Open Immigration Similarly – Singapore has efficient and open immigration policy making it extremely easy for foreigners to visit inside the country and look out for business opportunities.
6. Most Singaporean wants to be entrepreneurs – In a recent survey conducted by Entrepreneurship Centre of National University of Singapore or NUS showed that most students in Singapore's universities as well as polytechnic institutions are fascinated by the idea of starting up their own business.
7. Plenty of Market – If you're planning to open up a business in Singapore, particularly in industries such as chemicals and chemical products, electronic parts and components, mineral fuels, transport equipment, manufacturing goods, among others, there's plenty of room for exporting and importing business opportunities.
8. Strong Legal Framework – Another benefit business entrepreneur reaps from establishing a company in Singapore is that there's a strong legal framework and strict protection of intellectual property of companies.
9. Pro-business Environment – Singapore is famous for providing pro-business environment, attracting foreign investments and entrepreneur from around the world. In Singapore, you can convert your creative vision, ideas, and dreams into business easily and earn significant profits too.
10. IT Hub – In terms of information technology (IT), Singapore is considered to be the top 3 countries in the world.
In addition, keep in mind to follow their cultural norms and other legal rules so that you don't attract unwanted eyes of the locals and government authorities:
In Singapore, using traffic as an excuse for being late doesn't always work. Taxi cabs are very dependable. Most importantly, cultural protocol is very special in Singapore and everyone MUST follow it.
The greetings, for example, for young and old people are different. Although it's culturally acceptable for women as well as men to shake their hands, women have to initiate the handshake first.
If you are a foreigner who wants to gain practical training for professions such as managerial, professional, executive, or specialist nature in Singapore, you may require a training visit pass, or TVP.
Business Opportunities in Singapore












Paul Hype Page & Co.
With our team of expert staffs, you can rely on our services to assist in incorporating your business operation as LLP. You do not need to waste countless hours thinking about how to go about your application. Our strategy is proven and we will supply with all the tools and information to start a business in Singapore, how to be more competitive in your niche, how to set business standards and prepare for risks and challenges, and keep records of important documents and company's policy.
Singapore government has assigned intellectual property and innovation rights to foreign corporation, engineers, investors, and designers to ensure that they receive revenue from income from offshore firms, rather than have those royalties come to them directly. This means that Singaporeans receiving income through offshore companies DON'T attract any tax. At Paul Hype Page & Co, we have the experience and specialize on offering tax haven incorporation services for firms in different tax jurisdictions. We operate within the limits of laws and regulations set by the government of Singapore. We provide details and solutions for offshore as well as local corporations all aspects of offshore companies, for both outbound and inbound international tax structuring.
If you are interested to register a company in Singapore, at least one resident (Singapore citizen with Entrepass) is mandatory. However, there are no limits on the number of additional local and foreign directors a Singapore Company can appoint. Directors must be 18 years old and not be convicted of malpractice or be a bankrupt in the past.
Whatever your needs, we invite you to contact us today to kick start your Singapore venture.
To further aid you, we have provided here a resource area with industry specific information and other industry resources to help you successfully start and run your business.
---
Paul Hype Page & Co. is an ACRA-certified business adviser. Our team of seasoned professional can help you set up a company in Singapore very quickly and easily following all legal entities, and offer you sound advice on how to make it successful too.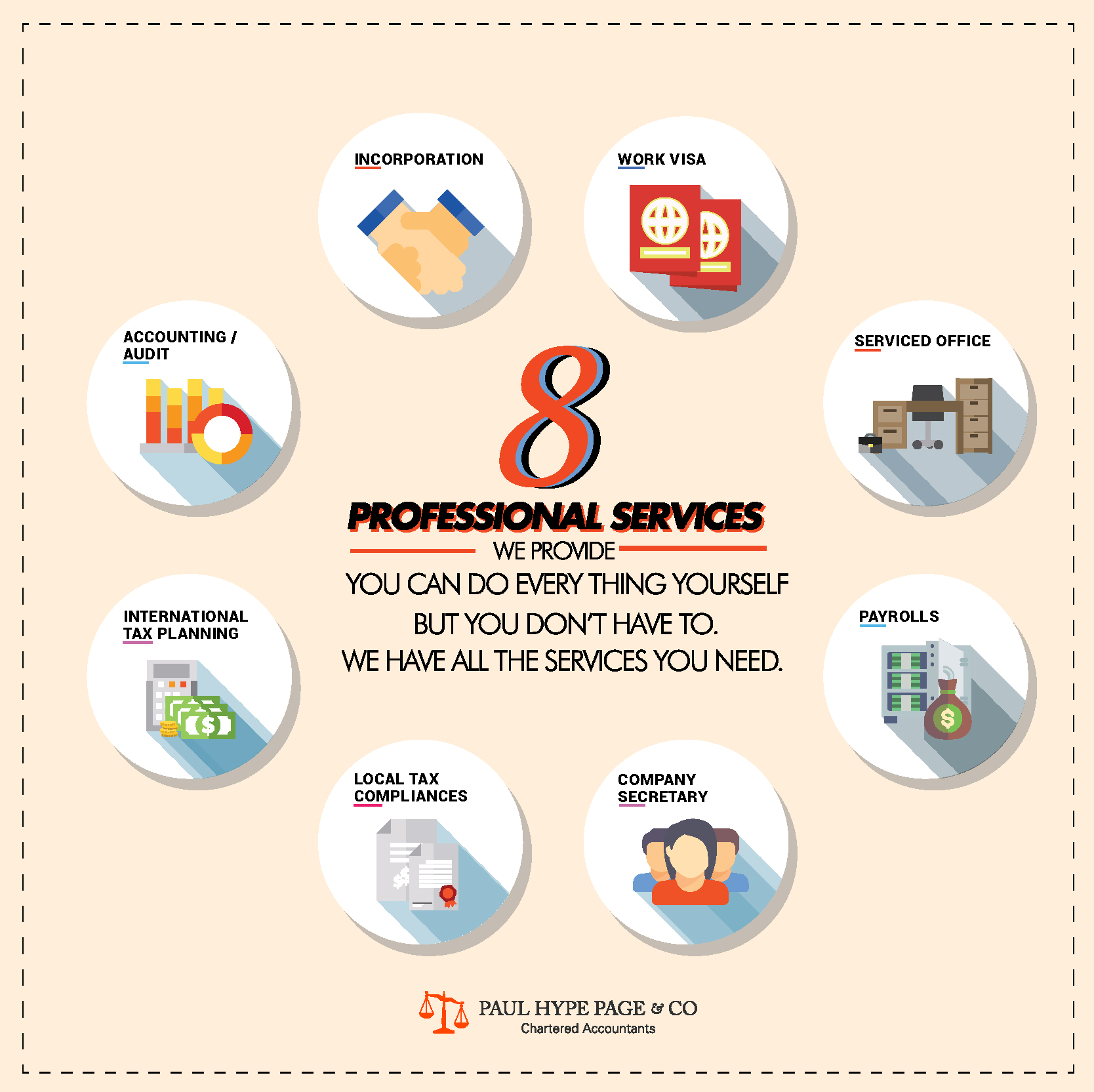 Why You Should Set Up a Company in Singapore FAQs