Student Pass
A foreigner is required to apply for a Student Pass if he/she wishes to pursue full-time studies in Singapore in a EduTrusted private education organization (PEO) that is registered with the Council for Private Education (CPE).

With the Council for Private Education (CPE)'s launch of the Enhanced Registration Framework, from 21 Dec 2009, all PEOs will need to be awarded with EduTrust to offer school placement for international students. Student Pass applications will be accepted only if they are for international students who are enrolled in a EduTrusted PEO. Please refer to http://www.cpe.gov.sg for a list of EduTrust-certified institutions.
Requirements
A foreigner is exempted from applying for a Student Pass if he /she is a:
Holder of the Immigration Exemption Order; or Visitor who has been granted a short term Visit Pass at the Singapore Checkpoint and wish to attend a short course that can be completed within the validity period of the initial Visit Pass granted to him/her at the Singapore checkpoint or 30 days, whichever is shorter. However, this is only applicable if the course: Is a complete and stand-alone module of its own. (i.e. the courses should not have multiple programme modules); and Does not involve hands-on practical occupational training and/or industrial attachment which have interaction with walk-in customers or be conducted at premises that are also the places of business, e.g. hair salons and beauty salons.
New Applications
New applications are to be submitted at least 2 months and not more than 6 months from the course commencement date. Applicants are not required to be present in Singapore while their applications are being considered. Hence, applicants are advised to apply for a Student's Pass before arriving in Singapore as no extension of stay will be granted while the applications are under processing. Applicants are advised to enter Singapore to complete the formalities for the issuance of a Student's Pass only after their applications have been approved. They will be issued with Student's Passes within one month from the date of commencement of the course.
Processing Time The general processing time for a new application is about 4 weeks.
Transfer of Schools / Courses of Study
Applicants who wish to apply for a new Student's Pass in order to take up a different course or to study in a different PEO, are to submit an application for the transfer of school/course of study at least 4 weeks before the course begins.
Processing Time
In general, an application to transfer school/course would take about 3 working days to process (excluding the day of submission and collection) after having received a duly completed application by ICA. Nonetheless, some applications may require a longer time to process.
Local Sponsor
No local sponsor is required for applications submitted from 15 December 2008 onwards
Security Deposit
When the application for a Student Pass is approved, an In-Principle Approval (IPA) letter will be issued for the applicant to complete the formalities and collect the Student Pass card at ICA. The Security Deposit, if required, would be indicated in the IPA letter to the applicant.
The amount of Security Deposit (if required) is listed in the table below: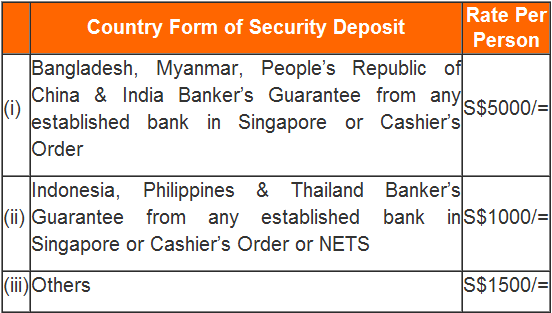 Applicants are not required to furnish a Security Deposit if they are
Nationals from Malaysia and Brunei;
Holders of valid Dependant's Pass, long term Visit Pass and Employment pass in Singapore.
Children/Spouse of Singapore Citizens/Permanent Residents;
Foreign students who are studying in kindergartens registered with MOE/childcare centres licensed by MCYS; Foreign students who are attending a full-time course at an approved PEO that is awarded the SQC(PEO)/EduTrust Star/EduTrust status;
Foreign students who are pursuing a full-time university degree (Graduate/Post-Graduate) programme, except for the University of London (UOL) tuition programme, at an approved PEO;
and Below 16 years of age at the point of application.